Pope Francis in Cuba — in Words and Pictures
Mass, a meeting with Fidel Castro and meetings with Cuban youth and consecrated men and women highlighted the first full day.
"Jesus goes before us, he precedes us; he opens the way and invites us to follow him," Pope Francis said in his homily at Mass in Holguin on day two of his stay in Cuba.  "He invites us slowly to overcome our preconceptions and our reluctance to think that others, much less ourselves, can change.  He challenges us daily with the question: 'Do you believe?  Do you believe it is possible that a tax collector can become a servant?  Do you believe it is possible that a traitor can become a friend?  Do you believe is possible that the son of a carpenter can be the Son of God?'  His gaze transforms our way of seeing things, his heart transforms our hearts.  God is a Father who seeks the salvation of each of his sons and daughters."
The following photos capture the Holy Father's second full day in Cuba.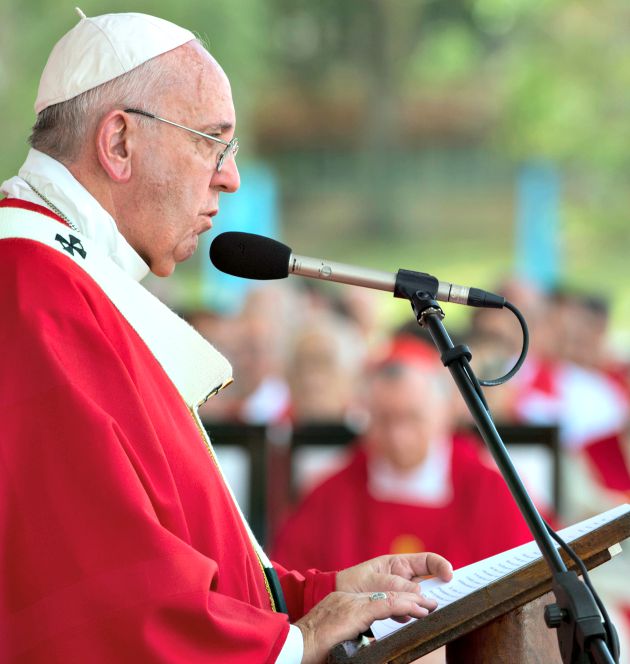 Pope Francis gives his homily during Mass for 200,000 pilgrims in Holguin. L'Osservatore ROmano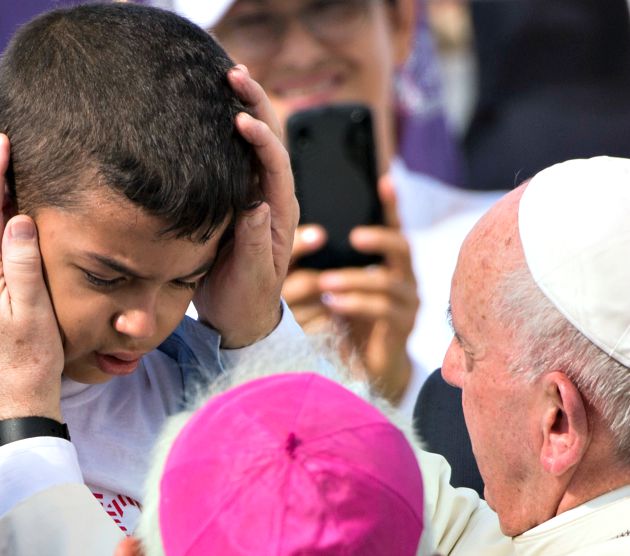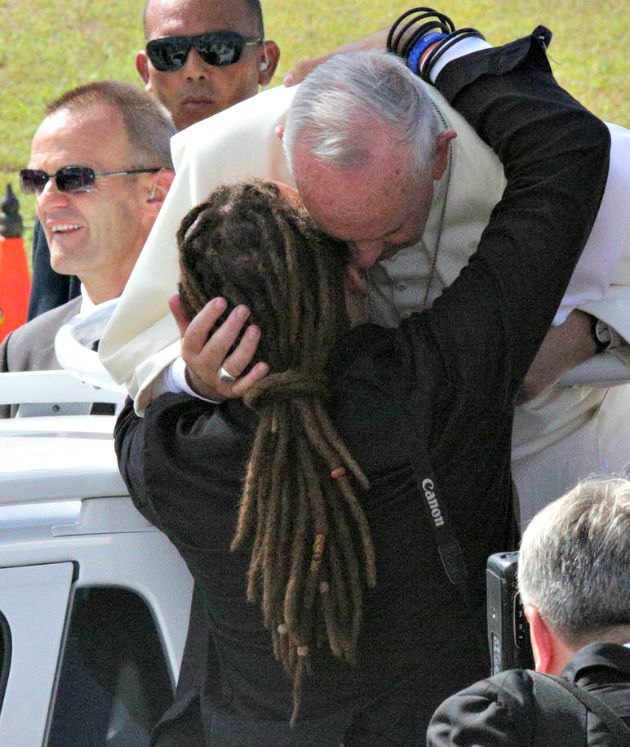 The Holy Father greets and comforts a little boy and a young woman during his arrival at Holguin's Revolution Square in Cuba, a country that has repressed religion for half a century. L'Osservatore Romano and CNA/Eduardo Berdejo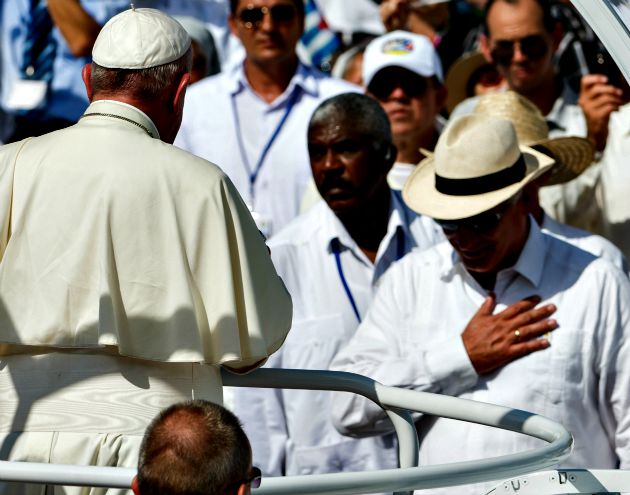 A Cuban man shows his reverence for Pope Francis as he arrives at Holguin's Revolution Square to celebrate Mass.
Day 1
In his homily at Mass on Sept. 20, Pope Francis told the overflowing crowd in Revolution Square to seek Jesus and serve him.
"Jesus is not afraid of people's questions," the Holy Father said in his homily. "He is not afraid of our humanity or the different things we are looking for. On the contrary, he knows the twists and turns of the human heart, and, as a good teacher, he is always ready to encourage and support us."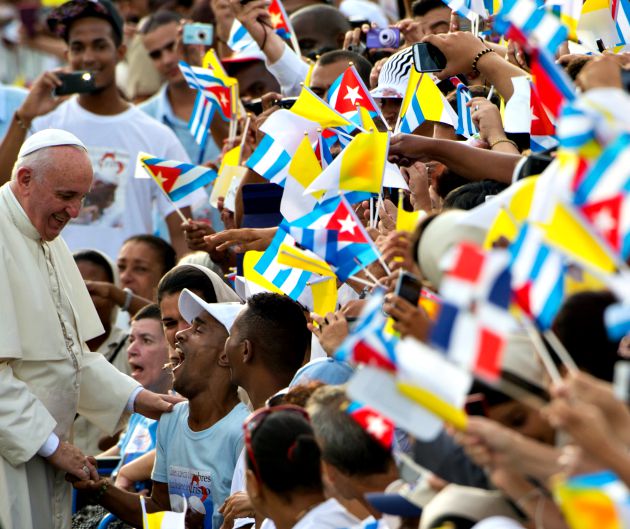 The Pope greets pilgrims in Havana's Revolutionary Square before Mass. L'Osservatore Romano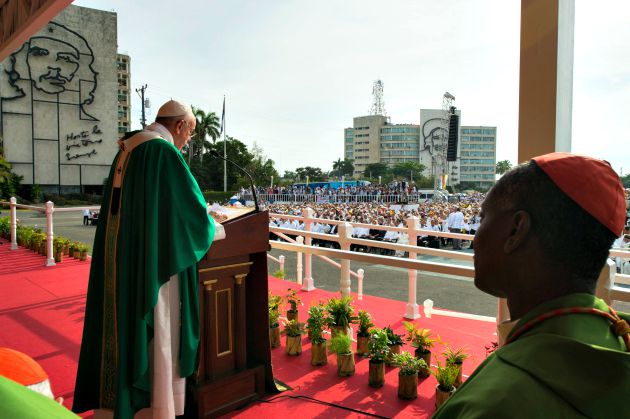 "Being a Christian entails promoting the dignity of our brothers and sisters, fighting for it, living for it," he told the throng in his homily during Mass in Havana's Revolutionary Square. L'Osservatore Romano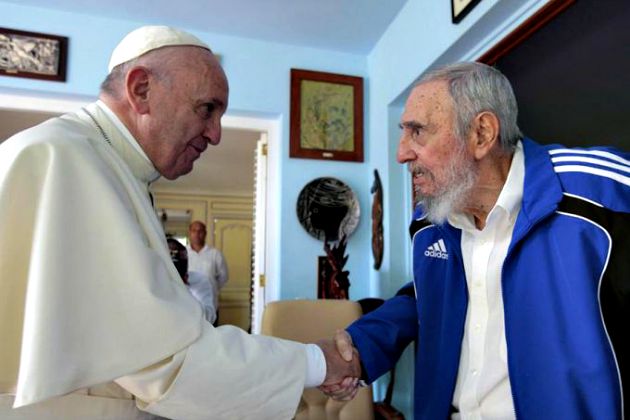 Pope Francis meets privately with Fidel Castro on Sept. 20. The two spoke briefly, and Pope Francis gave the former Cuban dictator and president copies of Laudato Si (The Care for Our Common Home) and Evangelii Gaudium (The Joy of the Gospel), as well as a book on happiness and the spiritual life by Italian priest Father Alexandro Pronzato. Most notable was the collection of writings and homilies by Spanish-born Jesuit Father Amando Llorente that Pope Francis gave him. A former tutor to Castro in his youth, the priest was later exiled from Cuba in 1961 under Castro's regime. CNA/Alex Castro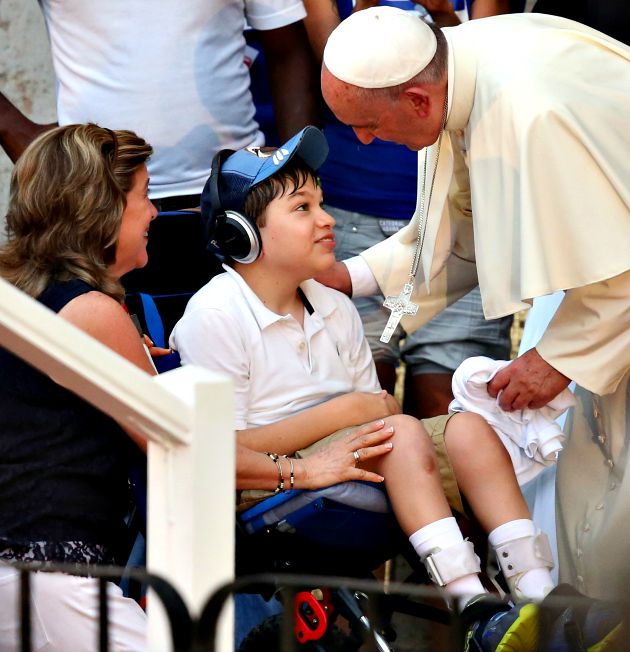 Pope Francis greets a disabled boy following a visit to the Father Felix Varela cultural center on Sept. 20 in Havana. Carl Court/Getty Images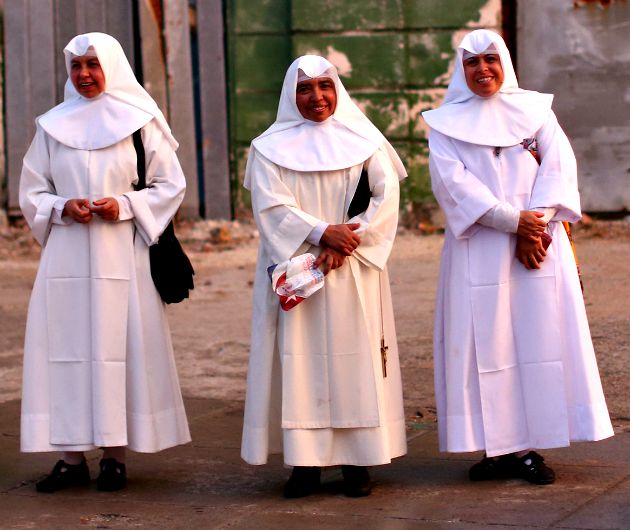 Religious sisters wait for transport after attending a speech by Pope Francis, following his visit to the Father Felix Varela cultural center. "Poverty is the wall and the mother of consecrated life," he told them, referencing St. Ignatius of Loyola, the founder of the Society of Jesus. "It is the mother, because it engendered trust in God, and it is the wall because it protected it from any mundane affections." Carl Court/Getty Images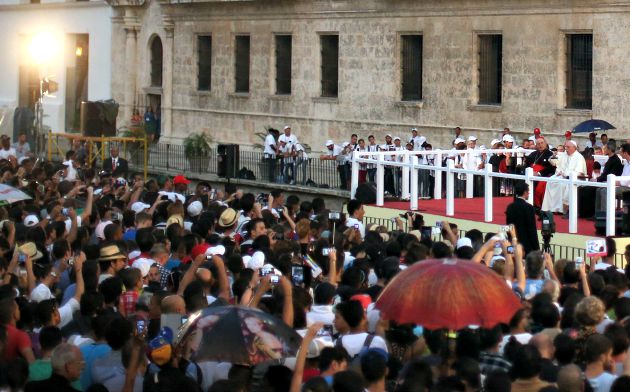 "An African proverb says: 'If you want to go fast, go alone; if you want to go far, go with others,'" the Holy Father told youth on Sept. 20. He encouraged them to go beyond ideology and to cultivate "the ability to dream."