Kamala Harris Promotes Abortion Access on Nationwide College Tour
Harris has long been considered a champion of the abortion industry, raking in numerous endorsements and campaign contributions from pro-abortion organizations.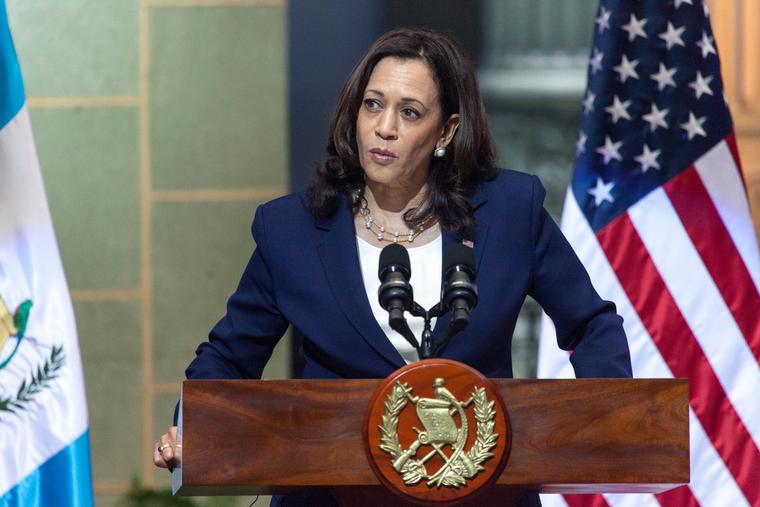 A monthlong nationwide college tour by Vice President Kamala Harris, meant in part to promote the expansion of abortion under law, has prompted repudiation from pro-life advocates.
The tour, announced Sept. 7, is aimed at bringing together "thousands of students for high-energy, large-scale events" focused on "key issues that disproportionately impact young people across the country — from reproductive freedom and gun safety to climate action, voting rights, LGBTQ+ equality, and book bans."
Harris is set to visit "around a dozen campuses in at least seven states," including historically Black colleges, Hispanic-serving institutions, community colleges, apprenticeship programs, and state schools, the White House said. Most of the states Harris will visit, such as Virginia and North Carolina, are considered swing states in U.S. presidential elections.
Harris' most recent stop was at North Carolina A&T in Greensboro on Sept. 15. In her speech, which focused mainly on voting rights, Harris urged voters to support, among other things, the "freedom to make decisions about your own body."
"One does not have to abandon their faith, or deeply held beliefs, to agree that the government should not be telling [a woman] what to do with her body," Harris said, taking issue with what she called "extremist so-called leaders" passing state pro-life laws. The vice president criticized those laws, especially those being passed without rape and incest exceptions, calling them "immoral."
"What the [Supreme] Court took away, Congress can put back in place. Congress can pass a law that puts back in place the protections of a case called Roe v. Wade, which gives you the right to make decisions for yourself," she told the crowd, urging them to vote for lawmakers who will do so.
Harris has long been considered a champion of the abortion industry, raking in numerous endorsements and campaign contributions from pro-abortion organizations. She and President Joe Biden, a Catholic, have on numerous occasions jointly reaffirmed their support for abortion and condemned efforts by pro-life lawmakers to enact restrictions on abortion.
In recent months, Harris has lamented the growing number of states that have restricted abortion since the U.S. Supreme Court overturned Roe v. Wade and encouraged Congress to enact pro-abortion legislation, drawing ire from national pro-life groups.
SBA Pro-Life America, a national advocacy organization, condemned Harris' urging the young people in attendance to use their votes to expand access to abortion.
"Vice President Kamala Harris just kicked off her 'Abortion Activism Around America' tour aimed at indoctrinating our young people. Today, she spoke in the beautiful and vibrant state of North Carolina. While there, she continued to push her no-limits abortion-on-demand beliefs. But Harris needs to understand that North Carolinians do not support her radical approach," said Michelle Ashley, SBA Pro-Life America's North Carolina state director.
"In fact, the majority of North Carolinians want serious limits on abortions, wanting no elective abortions after the first trimester," Ashley continued, citing a poll SBA conducted in January.
"This belief stands in complete opposition to the Biden-Harris administration's stance. I'm grateful to the brave North Carolinians who stand fearlessly for life in the face of this current administration's nationwide no-limits pro-abortion push."
Students for Life of America (SFLA) staged a protest in North Carolina ahead of Harris' arrival and said they were directed by university police to stand in a "free speech area." The group said that despite some resistance from students, a number of "genuinely curious students approached us, wanting to hear more about our beliefs and resources. Several minds were changed."
"Unfortunately, after Harris' event ended, a large mob surrounded us, and chaos ensued," SFLA member Lydia Taylor narrated.
"When they shouted 'Black Lives Matter,' I told them that pro-lifers agree with them and that the abortion industry was targeting Black lives in the womb. Together, we could protect those Black babies — but sadly, this made them even more aggressive. Finally, the police came through the mob to get us out and to safety. We were forced to leave some of our property behind in the chaos, and the deserted signs were torn up immediately and vandalized further."
The day before Harris arrived in North Carolina, SFLA president Kristan Hawkins sent a letter to Harris inviting her to debate the issue of abortion on a college campus. Hawkins is making her own college tour this fall and both women are stopping at Northern Arizona University, albeit on different dates.
"The administration that you help lead fights for abortion through all nine months, for any reason, with taxpayer funding, up to and including infanticide. Throw in the attacks on conscience rights and states passing pro-life laws, and it's clear that your administration is working to earn the money that Planned Parenthood Action and others have invested in your agenda," Hawkins wrote in part.
"While this is well known to those of us who track this human rights policy, for most students on college and university campuses, the extent of the radial abortion agenda of the Biden-Harris administration is more camouflaged by rhetoric about 'access' and 'justice.'"
The pro-life group National Right to Life responded the day before Harris' North Carolina stop, on Sept. 14, saying the Biden administration has "employed a whole-of-government approach to promoting abortion, using every lever of power at its disposal to make abortions more available and more common, with no thought of the innocent unborn children who would die."
"Joe Biden and Kamala Harris have made unlimited abortion throughout pregnancy a priority issue," said Carol Tobias, president of National Right to Life.
"The Biden-Harris abortion agenda is extreme and out of step with the majority of Americans."
Harris' next stop will be at another historically Black Morehouse College in Atlanta on Sept. 26, according to the White House website.