Art and Apert Syndrome: Serving a Greater Purpose - #Art4Sarah
I "met" Jeannie Ewing virtually a little over a year ago. In that time, we've worked together at CatholicMom.com, where Jeannie's a regular contributor, and I've had the chance to learn about her family's incredible story.
Part of what makes it so incredible to me is how very hope-filled it seems. I would not have expected that having a child with all of the complications Sarah has would inspire hope, but that's exactly what I find when I read about Jeannie's experiences as mom and about the many procedures and hurdles they face.
Sarah was born on March 16, 2013, and Jeannie and her husband Ben found themselves forever changed in ways beyond what they expected with the birth of their second child. The pregnancy had been completely normal, and Jeannie found herself much more laid back than she had been with her first pregnancy. "None of my three ultrasounds revealed any concerns," she told me. "[Sarah] appeared to be measuring slightly bigger than average, but otherwise had a healthy heartbeat and all of her necessary organs. It wasn't until she was born that my husband or I knew about her condition."
Not surprisingly, seeing their infant — who, as a result of a rare condition, didn't look at all like what they expected — caught Ben and Jeannie completely off-guard. "We placed her in God's hands as we wept and navigated our fears of this rare chromosomal anomaly called Apert Syndrome."
Among the very first people to meet Sarah in person after her birth were the Ewings' close friends Noah and Ruth Smucker. Since it was Palm Sunday, Ruth had offered to bring Jeannie Holy Communion, and Jeannie eagerly accepted the offer.
"As soon as they arrived," Jeannie said, "I saw tears well up in Ruth's eyes, which was a very rare occurrence for me to witness. Noah asked to hold Sarah, and as I passed her into his arms, the first words he spoke were, 'I think you have a little saint here, Jeannie.'"
Jeannie compared that moment to the bittersweet message of hope the Blessed Mother received from Simeon at the Presentation. And it's because of Ruth Smucker that the #Art4Sarah initiative was born.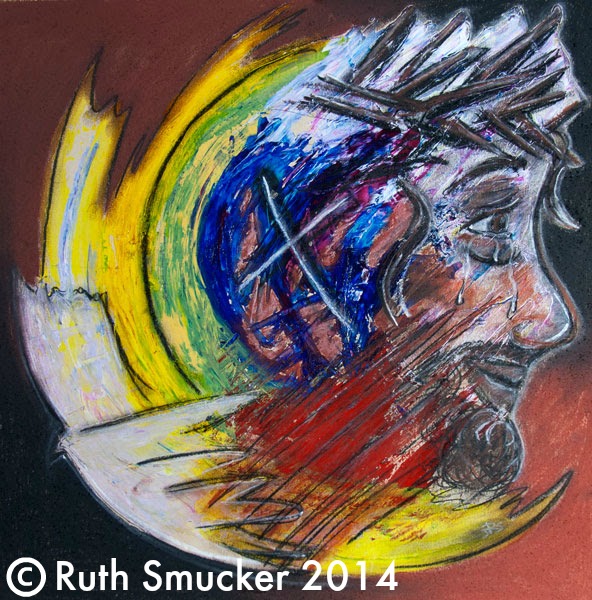 Last summer, Ruth was inspired to paint "Out of the Remnant," and she prayed for its purpose. She was clearly shown that the painting was to benefit Sarah and the Ewing family. Jeannie said that when she first saw it, it pierced her soul. "I truly felt it was a visual portrayal of the message of Sarah's life - redemptive suffering through the tear and crown of thorns of Christ, yet the joy that transcends the sorrow through the colorful palette," Jeannie shared.
The goal of #Art4Sarah is twofold: 100% of the proceeds from every painting sold will be donated to the Ewings to offset Sarah's ongoing medical needs. It also builds awareness of Apert Syndrome and of Ruth's artistic efforts.
You can purchase a high quality reprint of "Out of the Remnant" for $40 on Ruth's marketsquare website. She signs each copy. They are limited edition prints; only 75 will be sold.
"Sarah is not a burden," Jeannie insists. "She is such a joy. She has changed our lives forever and helped Ben and I confront our prejudices, our fears, our selfishness. Her existence alone has taken us from a place of longing for a 'normal' family life to embracing a very unique one; moreover, Sarah's visible differences have somehow shown us that we are all different in some way, and our differences should be celebrated rather than shunned. As a result, Ben and I feel much more at ease with our quirks and foibles than we did growing up in a culture of cookie-cutter people."
You can follow the Ewings' journey on Facebook and through their blog, "Love Alone Creates."