Why Ph.D.s Enjoy Teaching Elementary and High-School Students
Catholic Schools Week feature
It's a weekday morning in Atlanta, Georgia, and Nancy Herlihy is preparing her lecture for fourth-graders at Queen of Angels Catholic School.
"I love my job and all the uniqueness it offers," said Herlihy, who completed her doctorate in art education in August 2016. "I always tell people, 'I get to play all day.' The wonders and excitement of my students as they hear what they will be doing for the day is delightful."
Herlihy is one of a number of Catholic educators with doctorates across the United States who have chosen to teach at the elementary or high-school level instead of at the collegiate level.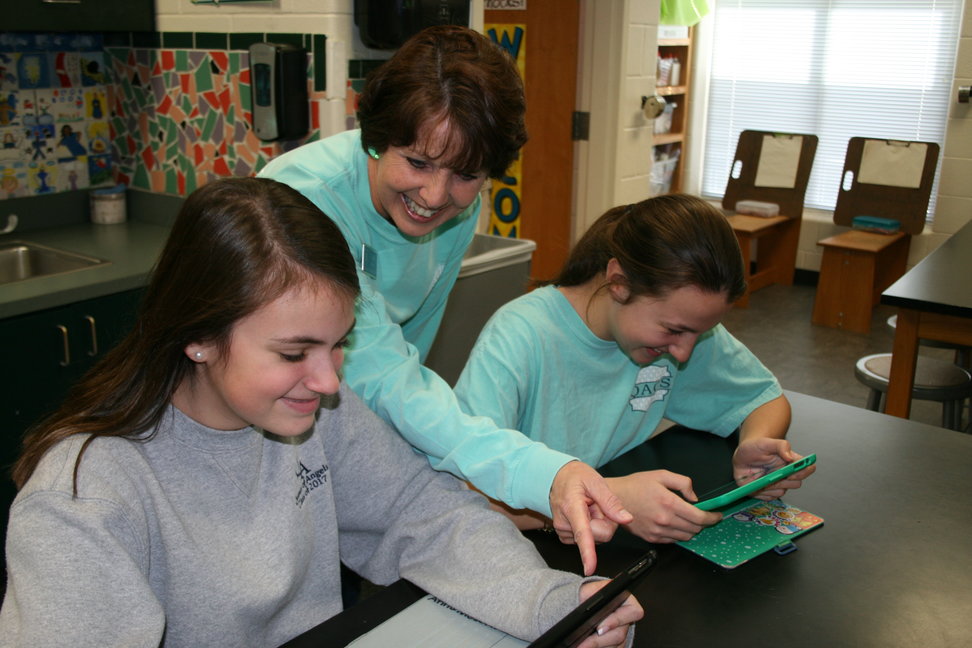 Queen of Angels was willing to pay for much of Herlihy's studies. The art teacher has been teaching at Queen of Angels since it opened in 1999. All 504 students at the school, from kindergarten through eighth grade, attend her classes at least once a week.
"While there have been many changes over the years, the results have created a school that provides students with a strong religious, academic and multifaceted education," Herlihy said. 
Her advanced degree has aided her in creating a guidebook to use with her students on museum field trips. "I still continue to experiment with the different approaches uncovered during my research with the students I teach," she explained. 
Overqualified?
At St. Christopher Middle School in East Hartford, Connecticut, James Tanguay teaches science and math to sixth-, seventh- and eighth-grade students.
He earned his Ph.D. as a young man, and teaching is his second career. He worked for more than 20 years in the pharmaceutical industry. He said he wanted to pursue a doctorate because it would allow more options for him in the workforce. Even with his long career and advanced degree, teaching middle-school math and science is still a challenge, he explained.
"While I certainly have a broad base of experiences to teach from, I must be careful in how I explain things, to keep them as simple as possible," Tanguay said.
"I think that my experience and qualifications add things to my explanations that can make topics more interesting and relevant to the daily lives of my students."
Kenneth Howell is also learning how to best implement his advanced knowledge with younger students. Howell, who has advanced degrees in linguistics and the history of science and philosophy, among other disciplines, spent some 30 years teaching at the university level. Much of his career was spent at the University of Illinois. He is a noted Catholic author and a senior fellow at the Steubenville, Ohio-based St. Paul Center for Biblical Theology, as well.
Howell now enjoys his time lecturing juniors on the Old Testament at The High School of St. Thomas More in Champaign, Illinois.
"Sure, there is a difference between a high-school student's intellectual level as compared to a college student's," he said.
"My [high school] students are still searching for their way. But I think the unique gift that I bring to the high school is my 'elderly' knowledge. Today, we've lost that sense of passing down knowledge or traditions from one generation to the next. So I see myself here to love these students and guide them, given my wisdom and life experiences."
Teaching, Not Tenure
Liberty Hall, who has a doctorate in historical studies in religion and theology, was on her way towards tenure at Southern Catholic College in Dawsonville, Georgia, before the school closed in 2010.
"I always thought I would be teaching college, and at Southern Catholic, I lived in a 'teaching wonderland,'" the wife and mother of two young children shared.
However, she soon learned that tenure wasn't as glamorous as it's often portrayed. She heard stories from "tenure-track" friends who were stressed out and worn down, with little time to craft creative classroom experiences. She heard about the pressure to find grant money and publish research, too.
"So I came to Pius X High School, and I've found 'home,'" Hall said. "Teaching high school works for me."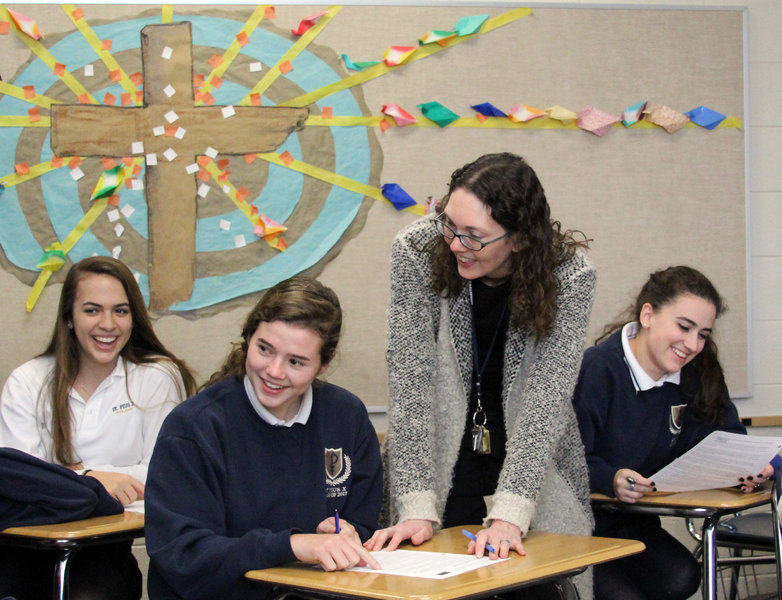 Among other topics, she teaches Church history and a world-religion class at the Atlanta secondary school. "I've realized I simply love to teach," Hall emphasized.
Education for Eternity
In reflecting on what is at the heart of a strong, Catholic education, Hall said it is the teachers: "A good Catholic education has educators who care about the salvation of their students."
"I try to translate the Catholic faith into something meaningful to dozens of students each day," she added.
Howell agrees that teachers are the hallmark of Catholic education.
"If the faith is dear to the teacher, then it will become dear to the students," he said.
"We [Catholic educators] have the opportunity to educate the whole person in all that is true, good and beautiful. In the end, Catholic education has the ability to fit together all the disciplines into a coherent, meaningful worldview that hopefully will last long after graduation."
Eddie O'Neill
writes from Missouri.