Thousands March for Life in Rome — Images and Testimonies
Archbishop Carlo Maria Vigano, the former apostolic nuncio to the US, was among the marchers taking part in Italy's 7th March for Life on Saturday.
"I would like to gently ask the feminists who are listening," said Gianna Jessen, an American survivor of a failed abortion attempt on her life, "if abortion is merely about women's rights, then what were mine?"
The crowd of thousands in Rome's Piazza Venezia erupted into loud cheers and applause, the culmination of Italy's 7th March for Life, which took place on a sunny afternoon in the city, on May 20.
Jessen praised Jesus for saving her life and urged anyone who has had an abortion to tell the Lord they are sorry, ask him to forgive them. She also urged young women not to engage in pre-marital sex, reminded them they are made to be loved and respected, and called on men to be "honorable and courageous."
Jessen's powerful testimony (see full transcript below) was one of half a dozen witnessing to life. Roberto explained how, having been in a coma after an accident and given up for dead by doctors, is now a staunch anti-euthanasia activist; Italian entrepreneur Roberto Brazzale explained how he gives an extra month's pay to employees who have a child; and Professor Stephane Mercier, of the Catholic University of Louvain in Belgium, testified to standing up for life having come close to dismissal after calling abortion "murder" in one of his classes.
"We mustn't be afraid, we must stand up for the truth because we can have no part, as St Paul says, in the works of darkness but stand up against them," he told the crowd. "We are here for life, truth, for the Lord Jesus Christ and our Mother."
Young couples with strollers, the elderly, children on a wheeled train, young sisters, seminarians, and priests all formed the march. Flags, banners and chants joined with recitations of the Rosary, crucifixes and Marian icons.
"No to abortion," "Let's not kill the future," and a large banner held up by Italy's Catholic union of pharmacists that read: "Conscientious objection: Why I refuse to collaborate in killing," were just some of the messages promoted by the marchers.
Others were also in English that read: "Choose Life" and "We Don't Need Planned Parenthood" as well as many promoting Rachel's Vineyard, the program to help those who have had an abortion. A large number of marchers also protested euthanasia as a bill is currently threatening to legalize the practice in Italy.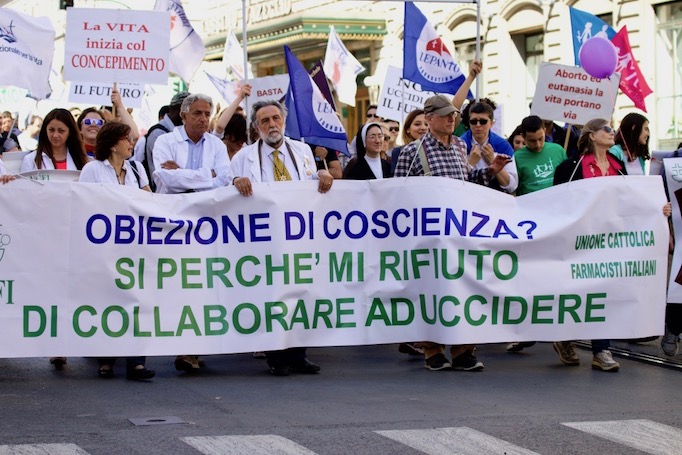 Pope Francis sent a message to the marchers via the Vatican Secretary of State, Cardinal Pietro Parolin, because he said "the event can promote adhesion to the values of human life and the acceptance of such an immeasurable divine gift, in all its alluring richness."
Among the marchers were Cardinal Raymond Leo Burke, Bishop Athanasius Schneider, and Archbishop Carlo Maria Viganò, the former apostolic nuncio to the United States.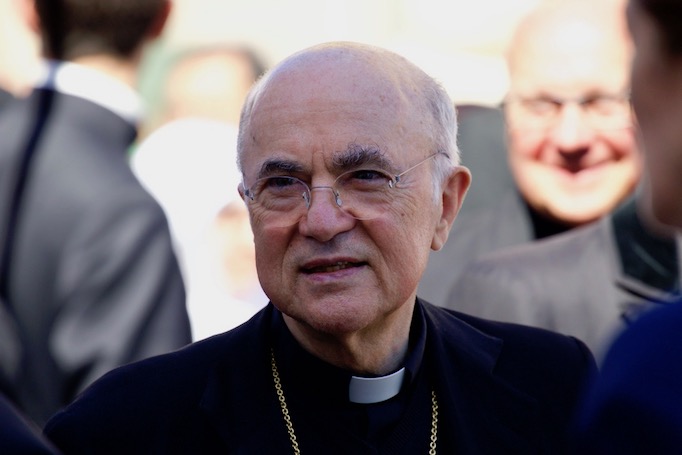 In comments to the Register, Archbishop Vigano, who was taking part in his first Italian March for Life since stepping down as nuncio last year, said this "important march" had been "inspired by the march in Washington," showing "how important it is to have a good example in the defense of life and the defense of faith."
"Also here in Italy the situation is very difficult because of the attacks on the family, this ideology of gender, and everything so terrible that's happening in Europe," he said.  
The retired Vatican diplomat also drew attention to the fact that it has taken "many years" for the march in the US to attract a significant impact in the media. "They report just what pleases them, so there's no fairness about that," he said.
Cardinal Burke told the Register it is important "to remain faithful, to keep doing this every year, giving this important witness." He said it also serves to bring "so many wonderful people" together who are "working to defend human life, the family — it's an encouragement to them and they can also network."
"It's important to testify," he said. "Someone asked me: 'Don't you get tired of this?' And I said, 'No I never get tired of it. It's our way of life. It's about life, love and truth, it's not about politics.'"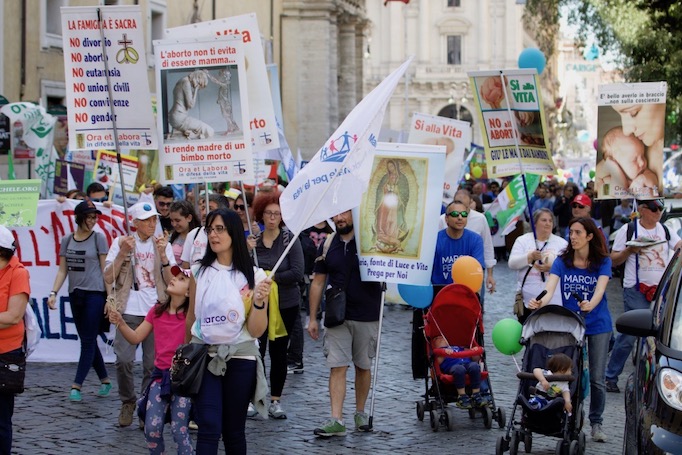 Church historian Professor Roberto de Mattei stressed the event's importance in exercising "strong pressure" on "our ecclesiastical and political elite to have a stronger defense of life." He also noted that this year the march was "very international."
"It is not only an Italian March for Life, it is a European and perhaps a world March for Life," he said.
In her concluding remarks, Virginia Coda Nunziante, the event's chief organizer, said she would be "politically incorrect" by saying that "our governments, our societies, are trampling on the law of nature, on the rights of God, the Creator of life."
"We want to reaffirm here today, publicly, that abortion is murder because it destroys a human life that is not ours," she said.
She noted that in Italy, roughly 100,000 abortions take place every year, that is 273 abortions a day. "And in Europe the situation is even more tragic," she said, "an abortion every 11 seconds, 327 every hour, 7,854 a day."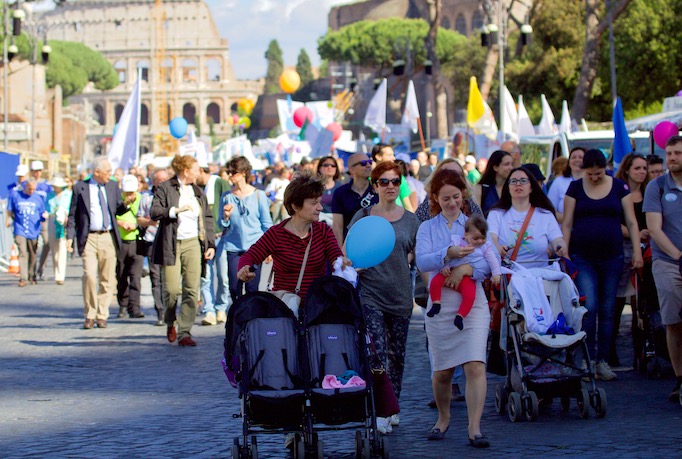 "Our presence therefore wishes to be a cry of protest against the injustice committed towards the weak and the defenseless," Coda Nunziante said. "We must defend the weak against those persevering with the culture of death: not only unborn children, but the elderly, the sick, the disabled, victims today of eugenics, of euthanasia — a crime that logically follows that of abortion, as a natural consequence of the denial of the fundamental right to life."
"This is because we live in a society that often has forgotten what it means to love one's neighbor, altruism, generosity," Coda Nunziante continued. "We live in a materialistic society, hedonistic, and often relativist."
Looking forward to next year, the 40th anniversary of law 194 that legalized abortion in Italy, Coda Nunziante urged all to remain convinced that "each of us can make a difference."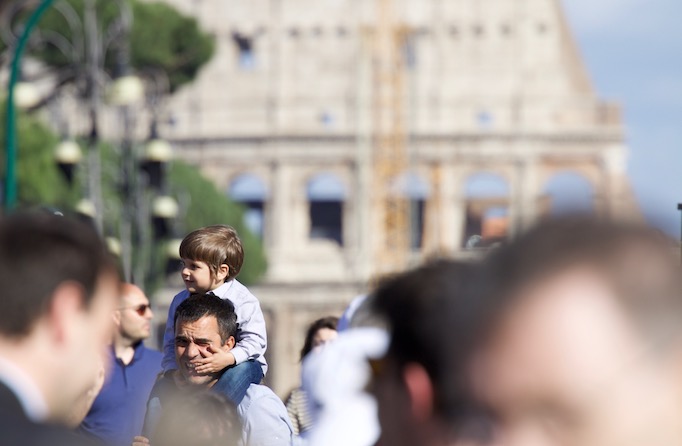 "We entrust everything, and mainly the cause of life, to Our Lady of Fatima on this hundredth anniversary of her apparitions," she concluded. "Fatima is the most extraordinary event of our time. Our Lady came to ask us to stop offending God, and in a hundred years, the situation is much worse because all nations are acquiring laws against life, against the family, against the very nature of man."
Noting that Sister Lucia wrote to Cardinal Carlo Caffarra in the 1980s to say the final battle between God and the devil would take place over life and the family, Coda Nunziante said: "We want to meet this challenge in the knowledge that with the help of God, life will always win against death."
***
Testimony of Gianna Jessen, March for Life, Rome, May 20, 2017: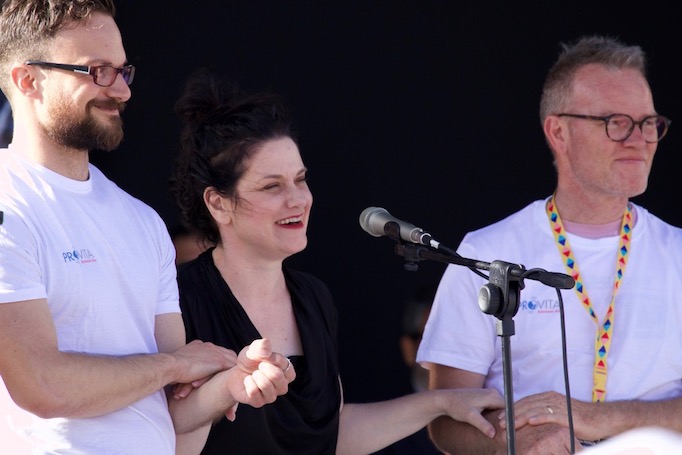 "I have cerebral palsy because I survived an abortion. I didn't have an abortion, I lived through one. My biological mother was seven and a half months pregnant and she had a saline abortion and this burns the baby. It burns the baby inside and out. It blinds and suffocates the child and then the baby is born dead within 24 hours.

But instead of arriving dead, I arrived alive, in an abortion clinic and not in a hospital. I love to say this: I am alive by the power of Jesus Christ. I am unashamed of Jesus, and I shout His Name in the streets of Rome so everyone can hear. Gesu! Gesu! Gesu! [loud cheers and applause]

I know that's not popular, sometimes pro-life people don't even like to speak about Jesus, but I'm telling you, I'm not ashamed of the God who saved my life. How could I be? This is a battle between life and death and we need God's help. It's a broken world and broken people need real answers that come from God.

It says on my medical records: "Born during saline abortion, 6am, April 6, 1977," in a clinic in Los Angeles. It went to record that she was twenty-nine and a half weeks' pregnant and I was only two pounds. The nurse called an ambulance because the abortionist wasn't at work yet. Had he been there, he would have ended my life by strangulation, suffocation or leaving me there to die. You may wonder why I have no burns on my body or why I'm not blind, but it's just a simple answer: Jesus [applause]. But I do have cerebral palsy, I was never supposed to leave my bed. It was caused by a lack of oxygen to my brain while surviving an abortion.

So I would like to gently ask the feminists who are listening, whether online, Facebook Live, whatever, in the audience: If abortion is merely about women's rights, then what were mine?

I have just a few things to say in conclusion and they are these: I was later adopted, I was told I would never walk, but I want to tell you than no human being can ever tell you what your destiny is. Only God can. Also I want tell you I have met my biological mother and I have said: I am a Christian and I forgive you.

I want to also say to anyone who's had an abortion, or more than one abortion, or any man who's paid for one or more abortions, and to anyone who doesn't believe in God, or Jesus, the only freedom any of us will ever find from our sin is Jesus. So just give him that abortion, tell him that you're sorry, ask him to forgive you and he will set you free. And if you don't believe in Jesus, tell him you don't believe in Jesus and he will answer you: just talk to Jesus and he will change your life.

The last thing is: to the young people listening, listen to me: there is great honor in honoring the marriage bed. Women, young women, you are made to be loved and respected. Women, we are not meant to be used and have the men walk away. Men, you are made to be courageous and honorable. You are meant to be faithful and kind, and guess what: I think men are wonderful, I love men, I don't hate men like feminists do. I think men are great, God bless the men! [applause]. Men you can only be courageous if you know who you are, and you are made in the image of God, just as women are.

So stand up and be who you're going to be: protect yourself, women and children, and be honorable. God bless you! Ciao, ciao!"


Photos and video: Edward Pentin