Cardinal O'Connor Pro-Life Conference Held at Georgetown
This year's conference was among the largest in its history, with attendees from across the East Coast and as far as Texas, Missouri and North Dakota.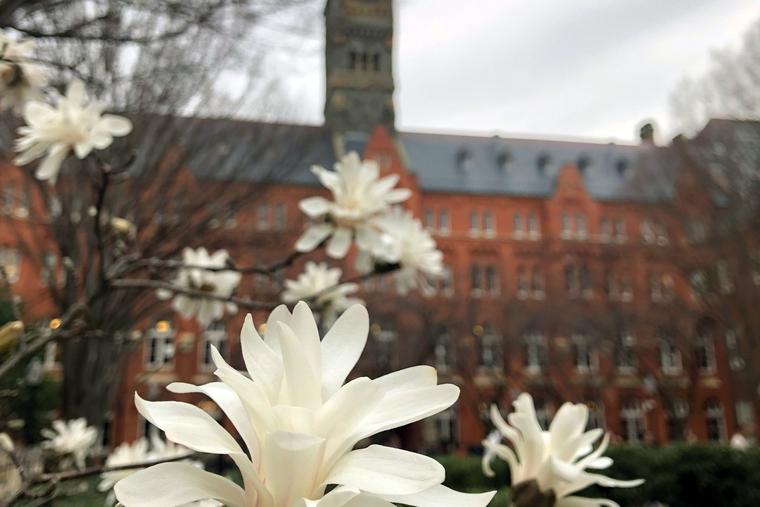 The 24th Cardinal O'Connor Conference on Life, a student-organized pro-life conference held each year in proximity to the March for Life, took place Jan. 21 at Georgetown University.
Jeanne Mancini, President of the March for Life Education and Defense Fund, opened the morning keynote, while a five-woman panel moderated by EWTN's Catherine Hadro wrapped up the day discussing "Next Steps: Humanizing Our Political System" in the post-Dobbs era. Thirteen other speakers led individual break-out sessions on topics as diverse as making a constitutional case for life, pro-life feminism, post-abortion healing, abortion in the black community, and capital punishment.
Mancini reiterated her statement to the Jan. 20 March for Life, saying that the March continues because it's not enough for abortion to be illegal — it must become "unthinkable." Noting that March founder Nellie Gray might never have imagined her annual civil rights demonstration going on for a half-century (the first March was in 1974), Mancini called the protest a visible symbol that "Roe was not settled law."
In the wake of Dobbs throwing abortion back to the states, Mancini spoke about the growing development of state-level marches to bring the pro-life message to local legislators. While some state marches have been organized for several years, 2023 will mark the first or second time for four of them. Mancini's plan envisions every state having its own march within five years. 2023 marches are planned in Arizona, California, Connecticut, Michigan, Ohio, Pennsylvania and Virginia.
While accenting the importance of the states, Mancini stressed the need to stay focused on Washington, where federal policy can subvert state action. One particular goal is codification of a permanent ban on taxpayer money being used for abortion. The Hyde Amendment, which has cut off such funding for Medicaid since the mid-1970s, is not codified law, but is inserted annually into appropriations legislation.
Mancini concluded by identifying the March's three goals: legislative work at federal and state levels to protect life; strengthening the social safety net for women and children to afford real options against abortion; and the cultural work of changing hearts and minds.
The concluding panel included Catherine Glenn Foster, President of Americans United for Life; Kathleen Domingo, Executive Director of the California Catholic Conference; Monica Sparks, President of Democrats for Life; and Sparks' sister, Jessica Ann Tyson, a City Commissioner in Kentwood, Michigan. (Louisiana State Senator Katrina Jackson bowed out due to COVID-19.)
All the panelists emphasized the need to identify ways for society to support women who choose life. Foster pointed out that Americans United for Life had just released a white paper on working to make childbirth a free service, insisting taking a life by abortion should not be cheaper than giving a life through birth. The need for foster-care reform and facilitating adoption was also noted.
All speakers recognized that a half-century of abortion on demand, with a 64 million death toll, has left its scars on many American women. They stressed the need to promote post-abortion healing. The panelists also urged pro-lifers to find common ground with diverse, sometimes even otherwise unfriendly partners, in support of advancing concrete policy efforts for women and children, even if those other parties might not otherwise be political allies.
The University of St. Thomas's "Celts for Life," the Houston-based school's pro-life group, was the recipient of this year's Rev. Thomas King S.J. Award. Each year, the Cardinal O'Connor Conference recognizes a pro-life student group for its achievements over the preceding 12 months. Jesuit Father Thomas King was a Georgetown theology professor for 40 years who was instrumental helping found Georgetown University Right to Life, the Cardinal O'Connor Conference, and University Faculty for Life.
Following the conference, Chicago auxiliary bishop Joseph Perry was the principal celebrant at the closing Mass in Dahlgren Chapel. In his homily, Bishop Perry stressed the incongruity of the acceptance of abortion and denigration of life as "choices" in "a civilized society."
This year's conference was among the largest, with spill-out video sessions of students in the university chapel and a makeshift tent on campus. Students came from across the East Coast and as far as Texas, Missouri and North Dakota.
The Cardinal O'Connor Conference for Life is co-sponsored by Georgetown University Right to Life, Georgetown University Knights of Columbus Council 6375, and Catholic Women at Georgetown. The Conference is named in honor of Cardinal John O'Connor, a dedicated pro-life champion who helped form the religious community, the Sisters of Life, in 1991. O'Connor served as archbishop of New York from 1984-2000.