Hug Pope Francis (in Plush Form)
World Meeting of Families Sells Papal-Themed Merchandise
Whether or not you will be in attendance at the World Meeting of Families (WMF) Sept. 22-27 in Philadelphia, you can commemorate the event with your own Pope Francis doll — plus other papal-themed merchandise.
For $20, the smiling Pope Francis plush offers attendees and others the chance to remember His Holiness' visit to Philly, where he plans to appear at the Festival of Families celebration at the close of the World Meeting on Sept. 26, in addition to celebrating Mass with the 1.5 to 2 million pilgrims expected to be in attendance.
Aramark, official retailer provider of event merchandise, will offer other customized merchandise for the historic congress as well, including t-shirts, coffee mugs, holy medals, rosaries and crosses, the WMF announced June 1. Various traditional branded merchandise and faith-based products will range from $5 to $500.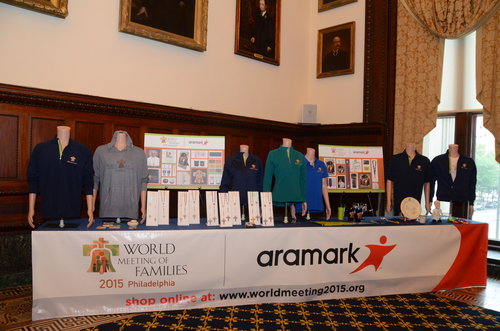 "We have a catalog of 200 customized items that is sure to include something for everyone," said Aramark spokesman David Freireich. "Among the items we expect to be the most popular are the Pope plush doll, rosaries and apparel."
Donna Farrell, executive director of the World Meeting of Families, told Philly.com that merchandise proceeds "will help to defray costs, but it's not why we're doing it. When you go to a papal event, at the end, the Pope offers a blessing, and the tradition is to take items that you want to be blessed."
Mark Ginter of St. Joseph's Holy Family, Inc. expressed interest in purchasing the Pope Francis plush for his grandson, John Paul. "Our daughter, Katie, and her husband, Jeremy, are rearing him in a Catholic home, [and] with a plush toy of Pope Francis, he can — literally — get his hands on an image of the vicar of Christ."
Lizanne Pando, director of marketing and communications for WMF, confirmed that the plush doll will be available for purchase in late June 2015 at WorldMeeting2015.org. When asked if Pope Francis will be gifted with one of the plush dolls made in his likeness, Pando replied, "While we cannot speculate on the gifts that the Holy Father may receive during his visit to Philadelphia, we'd certainly love to see Pope Francis receive his plush doll."
The World Meeting is particularly exciting because it will be the Holy Father's first trip to the United States.
"We are very excited to be involved with this once-in-a-lifetime event and can't wait to welcome the world to Philadelphia," said Freireich.
"The opportunity to help create memorable experiences commemorating the World Meeting of Families congress and papal visit makes it even more meaningful to us."
The Archdiocese of Philadelphia and the coordinators of WMF are also confident that the entire event will be noteworthy.
"The World Meeting of Families congress and the papal visit will truly be an unforgettable experience for Philadelphians, as well as for our national and international visitors," Pando elaborated. "Through the World Meeting of Families-Philadelphia 2015 souvenirs and special mementos, produced by Aramark, those participating in the congress and the papal visit can cherish the wonderful memories here for years to come."
While Ginter attends the World Meeting of Families representing his apostolate, which is dedicated to the renewal of Catholic families, and leads participants in a "Readers' Theater Rosary," he hopes to create and bring home memories to his family.
"We look forward to bringing home the plush toy so that we can tell the story of WMF to John Paul for years to come."
Katie Warner writes from California.
Her upcoming book Head & Heart
will be released by Emmaus Road Publishing.