Father Michael Scanlan (1931-2017): 'When You Met Him, Your Life Changed'
The Franciscan friar was a 'giant in our midst' who helped revitalize the Catholic faith at Franciscan University of Steubenville and throughout the United States and the entire Church.
STEUBENVILLE, Ohio — Father Michael Scanlan — a Third Order Regular Franciscan, president emeritus of Franciscan University of Steubenville and a major figure in the revitalization of Catholicism at the school and in the United States — died the morning of Jan. 7, after a long illness. He was 85 years old.
According to Franciscan University spokesman Tom Sofio, Father Scanlan died at 5:37am. It was noted that the friar, who had a special devotion to the Blessed Mother, died on a First Saturday, traditionally dedicated to the Virgin Mary.
"During his tenure as president from 1974 to 2000, his ideas, guided by the Holy Spirit, turned things around at the struggling College of Steubenville and led to its prominence as Franciscan University of Steubenville," noted Father Sean Sheridan, current president of Franciscan University of Steubenville. "He emphasized the importance of academics, particularly theology — now, by far, our largest major — and stressed the role of campus ministry and student life in the daily lives of the students."
"Father Mike," as he was affectionately known, "also focused on the importance of deepening his relationship with Christ and his fellow friars."
On becoming president of the College of Steubenville, as it was originally named, in 1974, Father Scanlan rescued the struggling regional college from the brink of closing and rebuilt it into an internationally recognized Catholic university. Its name was officially changed to Franciscan University of Steubenville in 1985.
The transformation inspired others to also restore faithful Catholic education here and abroad.
During his priesthood, Father Scanlan also, for 18 years, hosted Franciscan University Presents on EWTN, a program now in its 23rd year and the longest running theology discussion program on EWTN. He wrote 16 books and booklets on spirituality, became a leading figure in the Charismatic Renewal, and preached to thousands across the United States and overseas.
As Father Sheridan said, "He led countless people into a deeper relationship with Jesus Christ and the Catholic Church. It is, perhaps, most of all, for his spiritual fatherhood that so many will remember him with gratitude."
Franciscan Father Richard Davis, provincial minister for the Province of the Most Sacred Heart of Jesus, said that what the good Father Scanlan has done for the province, the order "and, most importantly, for the entire Church is a tremendous source of honor. I thank God he was my brother, my mentor and my friend."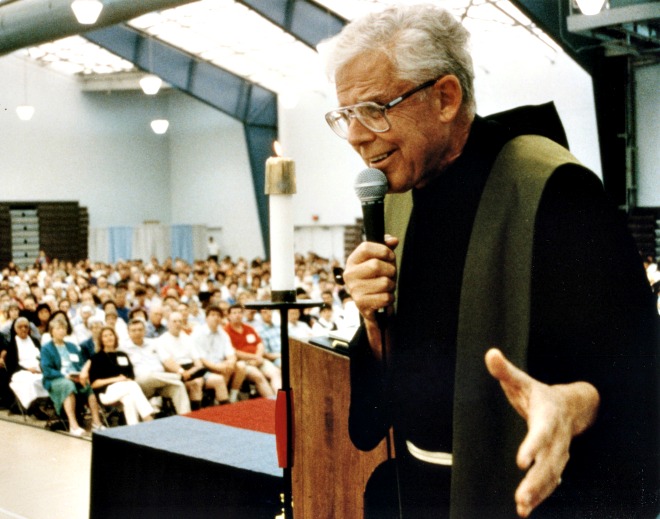 Far-Reaching Fruits of His Labors
Father Scanlan's work and life echoed far and wide.
George Weigel, distinguished senior fellow and director of Catholic studies at the Ethics and Public Policy Center, said in a statement, "Father Michael Scanlan was a dynamo of evangelical energy who knew that the renewal of Catholic higher education was a critical component of the New Evangelization. His personal witness, exuberant manner of life, and ability to communicate the Gospel in a joyful way made major contributions, not only to Franciscan University, but to the entire Catholic Church in the United States — indeed, to the world Church."
Theologian and Franciscan professor Scott Hahn likened Father Scanlan to one of the pillars of the temple that revitalized the Catholic Church after the Second Vatican Council. He included him with EWTN foundress Mother Mary Angelica, who died last Easter, and Father Benedict Groeschel, a Franciscan Friar of the Renewal who died in 2014. They're "like the greatest generation," Hahn said, "a national generation of giants in our midst."
Early Life
Father Scanlan was born Vincent Michael Scanlan in Cedarhurst, Long Island, New York, in 1931, grew up in Manhattan, and attended boarding schools from elementary through high school. He graduated from Williams College in Massachusetts and then from Harvard Law School, where, during Lent, he began praying the Rosary and going to daily Mass.
After law school, he served as a judge advocate in the U.S. Air Force, when — as he told the Register during an interview on his retirement — "I sensed God saying, 'Be a priest in community.'" He joined the Franciscan Third Order Regular. Ordained to the priesthood in 1964, he was sent to Steubenville — at the time a college — as acting dean, then assigned as rector-president of St. Francis Seminary in Loretto, Pennsylvania, before going back to Steubenville in 1974 as its president.
"He made the name of a small, relatively unknown, Franciscan university of the United States resound throughout the entire Catholic Church," Capuchin Father Raniero Cantalamessa, preacher to the papal household, said in a statement.
"He is the spiritual patriarch of the renewal in Catholic higher education, especially by combining higher education with the New Evangelization," said Hahn.
Minor College to Major University
Over his 26 years as president, the university soon became debt-free and enrollment doubled. He transformed the college into Franciscan University of Steubenville, which gained a worldwide reputation for academic excellence and its fervent Catholic atmosphere.
The program with the most sweeping effect on the Church that Father Scanlan added in 1976 was the degree in theology. He hired faith-filled theology professors dedicated to his vision of "dynamic orthodoxy," an approach marked by fidelity to the Church and openness to the Holy Spirit.
The impact was tremendous. It became the largest undergraduate theology program in any Catholic university in the country. Today, nearly 600 students major in either theology or catechetics. Add to that a pre-seminary program he began in 1985, from which, in the last decade, 115 young men entered seminaries or religious orders. Today, more than 400 Franciscan University graduates serve in the priesthood, and more than 700 alumni have become bishops, priests and religious brothers and sisters.
In 1975 on campus, Father Scanlan hosted a summer conference for priests and the next year a Catholic evangelistic conference for teens. Today, 55,000 high schoolers and adults attend 31 Franciscan University summer conferences in 16 states and Canada.
In 1989, with Father Scanlan's initiative, Franciscan became the first U.S. Catholic college or university where theology faculty and priests took the "Oath of Fidelity" publicly.
His concern for offering the best for the students in every respect was legendary. The year after he arrived as president, knowing the difficulties colleges students can face, he instituted the household system at Franciscan as an alternative to sororities and fraternities.
"He wanted students to have regular support and encouragement, knowing how essential it was in our modern world," said Sister Ann Shields, a sister with the Servants of the Gospel of Life. "Father Michael cultivated that from the very beginning."
Despite his high position — 26 years as president of Franciscan University, then 11 years as its chancellor, before retiring to the province's motherhouse in Loretto in 2011 — his love for Christ and his tangible concern for others is a major part of everyone's memories.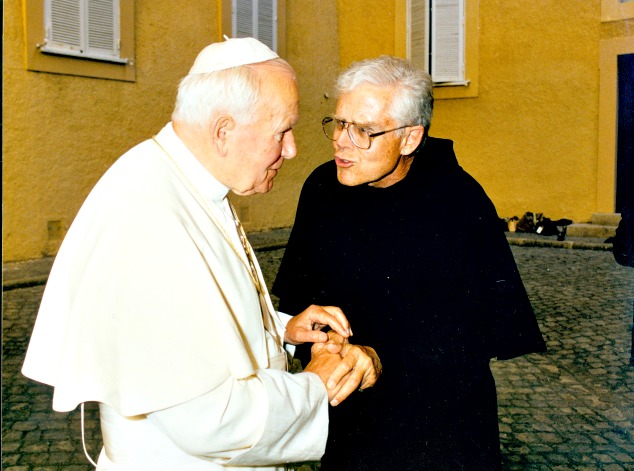 Father to All
Hahn, the Father Michael Scanlan Professor of Biblical Theology and the New Evangelization at Franciscan, pointed out that, of all the titles Father Scanlan had, he once told Hahn the one that meant the most to him was "Father." It wasn't just the title "Father"; it was about being a father to all.
The Hahn family experienced that fatherhood in many ways. Father Scanlan baptized their three youngest children. Son Jeremiah is now in the seminary. "I don't think that's coincidental," Hahn said.
Before that, Hahn described the love Father Scanlan showed to his wife, Kimberly, who at the time was not Catholic. She was suffering after a miscarriage, and Father Scanlan prayed over her. The Hahns soon conceived again, and, shortly after, Kimberly became Catholic.
"He had this gut intuition, supernatural in its origin," Hahn said. "He fathered more than 12 tribes like Jacob — students, faculty, being accessible for spiritual direction and confession, and laying hands on anyone who desired it. … He was a man of prayer, and this was a spillover."
Sister Ann also saw this charism in action, after she and several others arrived on campus in 1976 at Father Scanlan's invitation to help him build and strengthen the faith environment — his first major priority. She is an international speaker, author of books on Catholic spirituality, and one of Renewal Ministries' leaders.
In her years at Steubenville, and then working with him in Renewal Ministries, two things stand out for her.
One was "his relationship with others. He was always bringing people and situations to the Lord," Sister Ann said, and was often in "prolonged prayer." In ministering to people, she saw how "he cultivated relationships with Christ and in Christ. He didn't preach it; he lived it."
She knew he spent countless hours ministering to others, whether members of the administration, faculty, board or staff workers in the cafeteria or those working in security, housekeeping or maintenance. "He had a way of bringing people to Christ in a way their faith would grow, and in turn they would be a help to others," she said.
Prayer Was the Foundation
Father Scanlan's foundation for everything immediately stood out for Sister Ann.
"The first thing was his commitment to put the Lord first and to turn to the Lord for every decision for the development of that campus," she said. "That was really something to watch. He asked his secretary to hold all his appointments till he had finished praying, until God gave him his marching orders for the day."
Father Davis, the order's provincial, said that in community Father Scanlan "would be up way before most of us and in the chapel before the Blessed Sacrament. He'd have his daily planner and [would be focused in prayer on] asking: 'What should he do with this?' Any decision he made was always rooted in the Holy Spirit."
Sister Ann described how "Father Michael was an instrument of God and willing to be used by God. 'How could it work?' he kept asking the Lord — not that all his gifts, talents and abilities didn't come into play. He was able to use them. It really was his dependence on God. That was what is engraved on my life and everything I do now. I can't do it without a long time before the Lord, to make sure I have the right priorities."
No One Left Unchanged
"Father Mike had this charism that, when you met him and left him, your life was never the same," Hahn said. "Your life changed." He recalled how, in Illinois, a week before he moved to the campus in 1990, a young man at Mass behind the family gave him a hearty handshake and started talking about how he went to Franciscan as an atheist, heard Father Mike's homily and realized, "I'll never be the same." Today, he heads his parish's youth and young adult ministry.
"It might have been five minutes, one day or one semester" you met him, but people "were changed for the good," Hahn said. "He did what fathers do — they generate life." He "opened himself up to the Holy Spirit, told us all the time to 'Open yourself to the Holy Spirit.'"
Shortly after Jesuit Father Mitch Pacwa, host of EWTN Live, was ordained to the priesthood, he attended a summer priests' conference at Steubenville. Father Pacwa related that it was "just the beginning of many ways that Father Mike Scanlan affected me, along with millions of others over the decades."
Just one of the takeaway points from the years he knew Father Scanlan was sharing some of the difficulties, challenges and pain of taking his role as a leader.
"Then," observed Father Pacwa, "he pulled out a photograph of a severely deformed young man that he knew, saying, 'Compared to him, I don't have any real problems.' This indicated the mature Christian approach to life that made it possible for him to maintain a healthy perspective on life's problems. I will never forget that."
Father Davis knew Father Scanlan since 1964, and for years, he was his superior.
"Living with him and working with him was a tremendous privilege," Father Davis said. "[Father] Michael has always been a role model and example for me." He had the humble simplicity as a Franciscan, with faithfulness in living all community aspects.
Father Davis said Father Michael respected everyone: "There was no position, great or small, that wasn't respected. He had those Irish smiling eyes; an intellect and tremendous faith and trust in God the Holy Spirit." And he "had tremendous joy."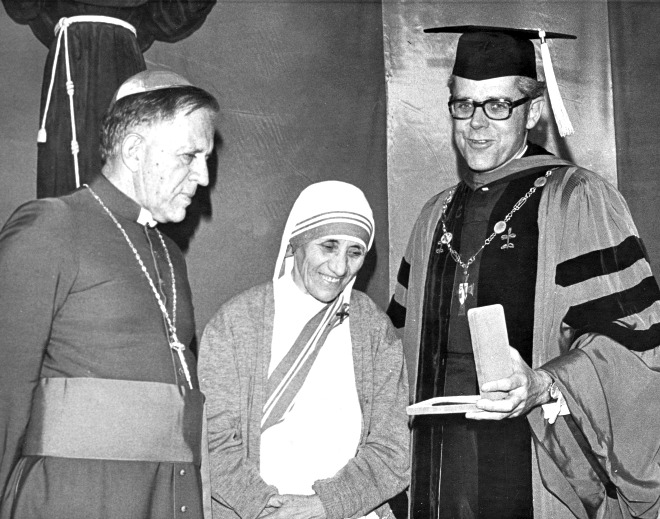 Charismatic Renewal Figure
Father Scanlan was also a major figure in the Catholic Charismatic Renewal movement in the United States from its early days. In 1975, he was invited to preside at the first assembly of the Catholic Charismatic Renewal at the Vatican.
Ralph Martin, director of graduate theology programs in the New Evangelization at Sacred Heart Major Seminary in Detroit and consultor to the Pontifical Council for Promoting the New Evangelization, served side by side with him in the Charismatic Renewal, worldwide FIRE rallies, and work renewing Franciscan University as a member of the board of trustees for 12 years.
"One of the most moving experiences I've ever had in my life happened because of Father Mike," he said.
In 1980, when Martin was giving lectures called, "A Crisis of Truth," which addressed serious controversial issues in the Church that included attacks on faith, morality and mission, he didn't have much in the way of theology credentials. But he "received a call from Father Mike. 'Ralph, I've been listening to your talks on 'A Crisis of Truth,' and I just had to pull my car over and give you a call right away. The Lord has told me to stand with you, side by side with you, and travel with you and support you in this really important message. I have the credentials that you don't have, and I want to use them to endorse what you are doing and protect you from the counterattack that will come.'"
So Father Scanlan accompanied him as they traveled the world giving this message.  
"This was one of the most deeply moving experiences of my life, and one for which I am forever grateful," said Martin. "I look forward very much, God willing, to our heavenly reunion."
Author and speaker Patti Gallagher Mansfield, co-liaison of the Catholic Charismatic Renewal of New Orleans and a leader in the Catholic Charismatic Renewal from its earliest days, met Father Scanlan in 1971 and speaks of "the way he welcomed the Holy Spirit into his own life and allowed himself to be used by the Spirit in exercising the special charisms he received."
She explained how it was his radical opening to the Spirit and his charisms "that enabled Father Michael to transform the College of Steubenville into Franciscan University, known throughout the world as the best in Catholic education."
Mansfield recalls that, in 1974, right after she and her husband, Al, just had their first child, she told the Steubenville admissions person visiting New Orleans to promote the college: "I don't know where Mark will go to kindergarten, but I know where he will go college! Why? Because of Father Michael and the strong, courageous, Spirit-filled leadership he exercised on campus."
As she told the Register, "Today, all three of our sons and their wives are graduates of Franciscan."
For Mansfield, Father Scanlan's outstanding charism was prophecy, often expressed in his preaching. She said he not only exercised charisms, but magnificently called forth gifts in others. He encouraged her to write her first book.
His remarkable example encouraged many. When he deepened his own entrustment to Our Lady and started wearing a Rosary ring on his finger, Mansfield heard a priest say, "If Michael is doing this, I want to do it, too."
She finds it fitting "the heavenly Father has called Father Michael home in this year of Golden Jubilee for the Charismatic Renewal."
Greatly honored Father Scanlan asked him to preach at his funeral, Father Davis has stated, "Thank God for the gift Father Michael Scanlan, TOR, has been to us. May God now grant him the fullness of eternal life."
Joseph Pronechen is a Register staff writer.
More information:  For tributes to Father Scanlan, videos, a timeline and more, go to www.Franciscan.edu/FatherMike