Catholic Ballerina Dances With Added Purpose in 'High Strung'
Keenan Kampa takes a different stage with filmmakers also devoted to St. John Paul in new movie
Sustained by her Catholic faith and with St. John Paul II as a patron, Keenan Kampa became the first American member of Russia's famed Mariinsky Ballet in 2012.
Now, she is adding acting to her repertoire, with a starring role in her first film, High Strung, a family-friendly dance movie that opens in theaters April 8.
Co-written by husband-wife team Michael and Janeen Damian, who also are Catholic, High Strung takes viewers into the radically divergent spheres of hip-hop, classical music and dance. Those worlds converge in New York City when subway violinist Johnnie Blackwell (Nicholas Galitzine) and ballerina Ruby Adams (Kampa) meet and find enough common ground to enter a string-and-dance competition. The film also stars Jane Seymour (Dr. Quinn: Medicine Woman), Maia Morgenstern (The Passion of the Christ) and Paul Freeman (Raiders of the Lost Ark).
How Kampa got from the Mariinsky to a movie set is something she can only attribute to divine Providence. After almost two years with the Russian ballet company, Kampa returned to the United States in 2014 for surgery on her hip. Her plan was to take eight months off and return to the Mariinsky, but while she was recovering, she got a tweet from Michael Damian asking if she had ever considered doing a dance movie.
The Damiens had seen Kampa on an NBC special on ballet in Russia during the Sochi Olympics and felt instinctively that she was right for the role of Ruby. Coincidentally, Kampa had been interested in acting since she was a child and had signed up for private lessons on her return to the U.S. After reading for the part while she was still recovering, she told the Damians she thought she could be ready to dance in time for filming and agreed to keep them apprised of her progress.
When she sent them a video she made on her iPhone showing what she was able to do post-surgery, Janeen said, "Let's book her."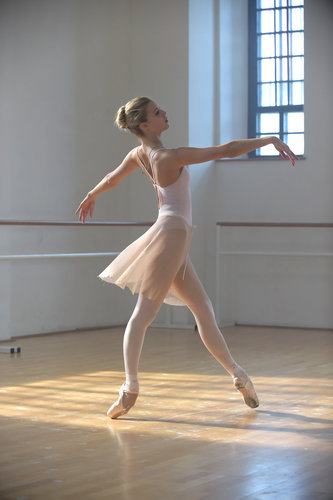 Dream Project
High Strung is a dream project for the Damians because it brings together their passions for dance and music, reflecting their own story of coming from different artistic worlds. Janeen studied for five years at Balanchine's School of American Ballet in New York and went on to perform with the Dallas Metropolitan Ballet and Mississippi Ballet Theater, before moving to Los Angeles and dancing for various television series, movies, music videos and musical specials, among them, Michael Jackson's 3-D film Captain EO.
Michael Damian, on the other hand, was best known earlier in his career for playing Danny Romalotti on The Young and the Restless. He also has starred as Joseph in the Broadway production of Joseph and the Amazing Technicolor Dreamcoat and has recorded five albums and eight "Top 40" hits, including Rock On and Was It Nothing at All. 
Together, he and Janeen have written and produced 12 films, among them A Princess for Christmas, Sweeter Side of Life and Moondance Alexander.
Michael said they wanted High Strung to be a family-friendly film for all ages, but especially geared toward young people who have a dream and passion for music and dance.
"This whole adventure started when Michael and I wrote the script and wrote the story we wanted to put out in the world," Janeen said. "We take our voice that God has given us very seriously. We want to put out positive messages and positive role models."
When they sent the script out, Janeen said, every studio passed it up: "They wanted it edgier." The Damians knew that would mean a PG-13 or R rating.
"We prayed really hard about it," Janeen said, "and we woke up the next day and said, 'We're not giving in. We're making the movie we want to make. We want a PG movie that families can see together and young people can be inspired by.' That was a huge decision on our part, and we're happy we made it. ... We were guided the whole way, and it was such an amazing experience — the way everything clicked into place for us. We felt we were in the loving hands of God, and he was going to take care of us."
In the end, the film was produced independently and picked up by Bloom, an international sales, production and financing company, in time for introduction at the Cannes Film Festival. 
"People say, 'You're so lucky,'" Michael said. "It's not luck. You can't call it luck. ... You've got to have faith."
Informed by Faith
Just as the Catholic faith informs the Damians' work, Kampa relies on it to guide this new phase of her career: "The more you're surrounded by this industry and what's going on and what you see in movies and magazines, you become more and more used to seeing things [that aren't edifying] so that they're not as shocking. So I always have to evaluate everything that comes my way." Knowing she has young girls following her on Instagram, she said, makes her ask herself, "What do I want these girls to see?"
Another thought that influences her is: "If it's not something beautiful or something I want God to walk with me in, it's just not worth it."
Kampa tries to get to Mass daily and Eucharistic adoration regularly, keeping a journal in which she records her personal and professional questions and heeds the advice of her mother, Kate: "Whenever you have a problem, just put it on our Blessed Mother's lap, and she'll take care of it for you."
Kate Kampa said that by not going away to ballet school in Boston or New York, Keenan was able to remain grounded in her faith. "Everybody I knew that had a child who was serious in ballet sent them off to these prestigious schools," she said, but Keenan, who was homeschooled with her sisters, studied dance at a local academy in Reston, Va., and took summer classes with the Boston Ballet and American Ballet Theater.
Kampa's father, Joe, added that he is convinced that, without her Catholic faith, Keenan could not have withstood the challenges of dancing with the Mariinsky and, before that, attending Russia's prestigious Vaganova Ballet Academy in St. Petersburg, where she was invited to study in 2007.
"Her faith became as strong as it has ever been in Russia," her father said, "because she knew she had to cling to it to get through it."
Devoted to St. John Paul
Keenan said her love of St. John Paul, who also was an actor, goes back to a general audience she attended with her parents and sisters when she was 13. "We were way in the back, and I just took off from my family and got up in the front row. I remember being so moved by him," she recalled. Before the end of the trip, she sent him a clay rosary she had made. "He sent me back a thank-you note and said he was praying for me. He's my guy."
Not surprisingly, the Damians are St. John Paul devotees, too. Janeen said she remembers well John Paul reaching out to Hollywood and those involved in the film industry to take seriously the gift they've been given. "As Catholics, we do take that very seriously," Janeen said. "If you take a look at our body of work, we have been very careful about the projects we choose and write and put out there."
Added Michael: "There's a lot of negative cynicism, dysfunction, violence — a lot of really depressing films out there. ... They're just cranking them out, and they get big awards and kudos, but you're not going to be able to bring a family to 95% of them."
Still, he continued, "We can't change the other filmmakers, but we have control over changing it from our perspective, our body of work. Maybe that will inspire others."
Catholics who complain about the dearth of movies with strong family values need to support the good ones by going to the theater to see them, Janeen said. "If you don't, they're not going to make the movies. It's all driven by box office. We can get out there and support these films and make it happen."
Although High Strung is not a religious movie, it contains an abundance of good messages about gutsy kindness to others and people from diverse backgrounds working together. Keenan's character, for example, offers to help Johnnie when his violin and money are stolen, but she also lets him — and her roommate — know when he makes poor choices. 
When Johnnie and Ruby realize they need some help with their act for the string-and-dance competition, they ask a hip-hop group to join them, requiring everyone to adapt to new ways of performing.
In Ruby, Keenan said she sees someone who demonstrates the importance of perseverance, holding onto one's values and showing respect for others. "It's the perfect message for a little girl ... and a storyline all people can relate to."
Judy Roberts writes from
Graytown, Ohio.