Boys Town Marks 100 Years Rebuilding Youngsters' Lives
The Catholic organization founded by Father Edward Flanagan in the middle of the prairie continues to serve families.
"There are no bad boys. There is only bad environment, bad training, bad example, bad thinking," Father Edward Flanagan, the founder of Boys Town in Nebraska, famously said.
At first, some scoffed at his optimism, but his words proved perfectly true as Boys Town flourished and grew: So much so that on Dec. 12, 2017, Boys Town will celebrate its 100th anniversary serving children and families.
By 1939, everybody in the country knew about the Irish priest when actor Spencer Tracy won the "Best Actor" Oscar for portraying the priest in the 1938 movie Boys Town. But that award was minor in comparison to the tributes modest Father Flanagan received from scores of boys who went on to prove that, as he said: "There is nothing the matter with our growing boys that love, proper training and guidance will not remedy."
The founder's statement has proven true countless times during these past 100 years.
According to Father Steven Boes, who became the fifth national director in 2005, Boys Town has directly served more than 392,000 children — and families — from the time it opened in Omaha with six boys Dec. 12, 1917.
Success Stories Abound
One graduate is John Mollison, Boys Town Class of 1964.
"Boys Town gave me the stability to have a normal life," he told the Register. "Prior to coming to Boys Town at the age of 11, I lived in 15 different places, and my father was rarely present in the family."
But things took an upward turn once Mollison arrived. "At Boys Town I learned that with hard work I could do anything and that people could believe in me."
As a result, after graduating, he went to college, was commissioned a second lieutenant in the Air Force and flew a combat tour in Vietnam as a weapon systems officer in the F-4 Phantom. His last assignment was as commander of the 55th Support Group at Offutt Air Force Base, Nebraska, before he retired as a full colonel.
Mollison married and raised a family of two sons who followed him into the Air Force.
"As Boys Town was there for me," he explained, "I made it a priority for me to be there for them. That is a very powerful lesson I took from my almost seven-year stay at Boys Town."
So powerful was his childhood experience that Mollison remains connected to the organization. For 10 years, he served as vice president for human and physical resources, and for the last nine he has been the senior adviser for alumni matters, working with hundreds of alumni from all generations and keeping connected with many of today's graduates.
"We share a common heritage and legacy and view ourselves as a very large extended family as a result of our common experience," he said. "Boys Town's life lessons stay with you throughout your entire life."
Fascinating History
On Dec. 12, 1917, 31-year-old Father Flanagan borrowed $90 to rent a home in Omaha to begin to help troubled boys. Six youngsters from juvenile court were the first residents. By the next spring, as the courts sent more boys, or people referred them, Father Flanagan had to move Boys Town to a vacant building across town to accommodate all of the newcomers.
Success from the start in helping troubled youth meant that by 1921 Boys Town needed even more space. So the facilities were moved to Overlook Farm, 10 miles from Omaha. Six years later, famous people like New York Yankees' sluggers Babe Ruth and Lou Gehrig visited Boys Town.
In 1935, Boys Town was named an incorporated village and began a student government program. Young resident Tony Villone was elected Boys Town's first mayor. A year later, Boys Town became a municipality, with its own fire and police departments, post office and schools.
So strong were the bonds formed at Boys Town that, in 1942, with World War II raging, many of the graduates serving in the war officially listed Father Flanagan as their next of kin. As a result, the American War Dads Association named him America's "No. 1 War Dad."
In 1948, after 31 years as national director, during a child welfare mission of mercy to devastated areas of Germany after the war, Father Flanagan died of a heart attack while in Berlin at the age of 61. He was buried at Dowd Memorial Chapel at Boys Town.
"The work will continue, you see, whether I am there or not, because it is God's work, not mine," Father Flanagan had said. By 1950, with a major expansion finished, Boys Town grew to 900 boys. In 1974, the Family Home Program replaced dormitory living. Today, the home campus in Nebraska has 70 of these family homes. In 1976, St. Teresa of Calcutta visited Boys Town and was presented with the "Father Flanagan Award" for her service to young people.
A year later, what would eventually become Boys Town National Research Hospital opened in Omaha. By 1998, its researchers discovered the gene accountable for Usher syndrome, a condition that produces a combination of blindness and deafness.
In 1983, the model of "Boys Town USA" was developed to bring its proven principles to sites around the nation. Today's nine sites, counting the Nebraska home campus, are open in places such as Washington, D.C., Orlando, New Orleans and Las Vegas.
Father Boes pointed out that, last year, Boys Town USA directly cared for more than 30,000 children across the country. And to date, the organization's national hotline, launched in 1989, has answered more than 10 million calls.
Another Major Step
"The poor, innocent, unfortunate little children belong to us, and it is our problem to give them every chance to develop into good men and good women," said Father Flanagan.
That phrasing anticipated a step taken decades later, in 1979, when Boys Town received girls into the program. In 1991, Sarah Mohn was the first girl elected mayor. Boys Town made all the difference in their lives, too.
Kim Warner (then Kim McGiffin) graduated in 2004 from the home campus after she was sent to Nebraska from her home in Boulder City, Nevada.
"At first, for me, Boys Town was a place where I was able to run away from my problems back home. I thought that going across the country away from old influences and surroundings I would dazzle everyone with my personality and my vices wouldn't follow me," Warner told the Register. "I was wrong."
She described her experience: "Boys Town welcomed me with open arms and with loving certainty that I was going to do great things — all of me. They didn't say, 'Oh, you lie? Cheat? Steal? You have drug issues?' No, you leave those at the door."
Warner explained that when the "honeymoon phase wore off" and she couldn't help being her old self again because it was all she had known, "Boys Town was calm and loving, and yet held their ground and demanded better. They held me accountable when I did wrong or didn't do my best, and they did so without yelling or threatening."
She wondered how they could be so calm, relating, "My 'family teachers' didn't get worn down by my attempts to intimidate, humiliate, belittle or manipulate them to get myself out of working hard or to avoid facing tough issues. They stayed with me. They wore me down with love. I eventually was literally so exhausted from trying to buck the system that wouldn't buck that I waived my hands and said, 'Okay God, you win. I'll try doing what these people say. I don't think it will work, but I'm going to try ... just to prove them wrong.'"
She recalled how she then "tried to do it the Boys Town way. It was hard work — emotionally, mentally, physically." She remembered running in the snow — which she had never seen before — in track clothes. Boys Town pushed her beyond limits she never thought she could go, yet she did, successfully.
Warner emphasized how Boys Town instilled in her a desire and awareness that everyone should continually be striving to be better in everything, and that outlook helped her finish college and become a teacher and a good parent. She has four children and at one time also had two foster children.
"When I'm at my best in my marriage and parenting and communicating, that's Boys Town in me," she highlighted of her life-changing time there. She'd love to take her family on vacation to Boys Town to live and experience what she did, "to give them the amazing, life-changing experience I was so blessed to have. Boys Town is my home."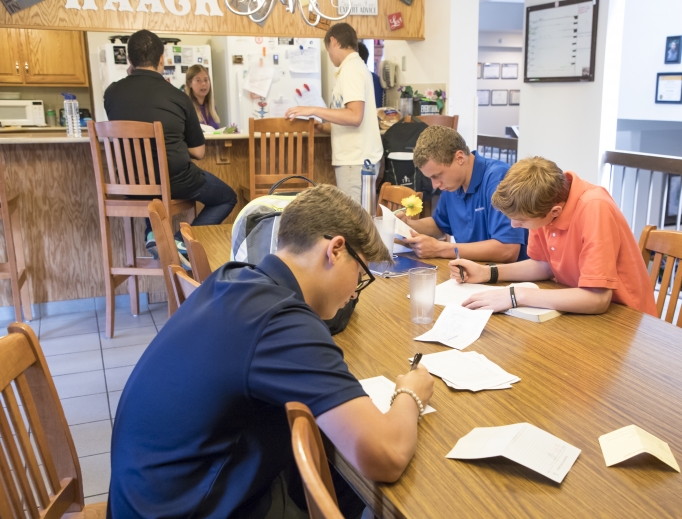 Ever-Fresh Flanagan Philosophy
Looking back over the years during this centennial celebration, Father Boes, who considers it an honor to follow in Father Flanagan's footsteps, observed how he sees the founder's philosophy working 100 years later.
"His love of the kids, his vision for a better system of care and his spirituality inspires me," he said. "Father Flanagan's unique genius was the ability to simultaneously engage his heart and his head to find lasting solutions to the social problems of kids in his day."
"The foundation of his approach is that he made room in his heart for those hurting street kids," Father Boes said. "He then engaged his intellect by examining Catholic theology and applying it to his situation. The Catholic Church teaches that God's grace remains at our core despite all the sins we pile up on our souls. This notion of 'Prevenient Grace' allowed him to create a radical new approach to troubled kids. In my time as national director, those same principals have guided the hope and healing at Boys Town."
Among those principles, Father Flanagan said he never thought taking in all races and creeds was remarkable. He said they are all God's children and he had to protect them to the best of his ability. At the same time, he said, "A true religious training for children is most essential if we are to expect to develop them into good men and good women — worthy citizens of our great country."
Father Boes observed that Boys Town "is unique in the U.S. because we not only provide innovative, research-based, effective care for kids, but we advocate for changes to the system of care." That includes "a focus on advocacy in order to keep kids first as they enter into the system of care."
Looking ahead to the next 100 years, Father Boes stressed Boys Town will continue to fight for hurting kids "using our head and heart. We will continue to make room in our hearts for kids. We will also use our heads to create and advocate for innovative, research-based and effective systems of care so that every kid in the U.S. can be healthy in body, mind and spirit."
Also in the next 100 years, sainthood is a prospect for Father Flanagan, as his canonization cause continues.
In 2013, he was named a "Servant of God," and in 2015, the diocesan phase of the cause was completed and sent to Rome.
In any event, what Father Flanagan said and proved over and over remains true at Boys Town: "A boy given the proper guidance and direction — kept busy and constructively occupied during leisure or free time — will prove my statement that there is no such thing as a bad boy."
Joseph Pronechen is a Register staff writer.