Ordinary, Like a Wedding, Like Wine
User's Guide to Sunday, Jan. 17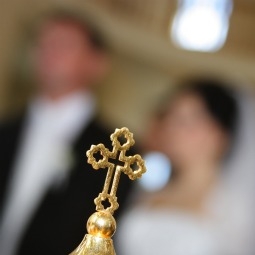 Sunday, Jan. 17, is the Second Sunday in Ordinary Time (Year C).
Mass Readings
Isaiah 62:1-5; Psalm 96:1-3, 7-10; 1 Corinthians 12:4-11; John 2:1-11
This Sunday is the Second Sunday in Ordinary Time — the baptism of Jesus being the first. But the readings show that "Ordinary Time" is far from ordinary: In the Gospel, Jesus turns water into wine; in the second reading, St. Paul describes the extraordinary gifts of the Holy Spirit.
First of all, this is because, liturgically, "Ordinary" doesn't mean plain; it means "in order" or "in the ordinal book." But just as importantly, Ordinary Time is extraordinary because there is no such thing as "plain Christian life."
Life for a Christian is what Gerard Manley Hopkins describes in his poem God's Grandeur.
"The World is charged with the grandeur of God," he writes, and later, he lapses into unfamiliar speech patterns to describe it: "There lives the dearest freshness deep down things."
If he sounds like someone caught up in a romantic relationship that makes everything in the world beautiful and new, that is because he is.
Today's readings explain how. The first is God's love poem to us: "You shall be called 'My Delight' and your land 'Espoused.' … As a bridegroom rejoices in his bride, so shall your God rejoice in you."
Think of what that means. We are used to saying we love all people; and it's true, we do. But we don't love them the way a bridegroom loves his bride.
That's a special, intense, focused kind of love. And that's the love God has for us, ordinary, flawed human beings.
The Gospel draws attention to this "ordinary" love of God by presenting the story of Jesus' first public miracle: changing water into wine at a wedding. Every detail of the story shows God's love for ordinary people.
The miracle reveals that:
God likes weddings.
God cares about the amount of wine at weddings; he wants there to be enough.
God cares about work; he transforms the ordinary work of servants lugging jugs of water into an integral part of his plan.
It also says God's transformation of water into wine can be seen as a kind of metaphor for what he always does: Just like wine is mostly water, but with a key difference that changes everything, Christian life is just like regular life, but with added blessing.
"The world is charged with the grandeur of God," Hopkins wrote.
Specifically, it is filled with the Holy Spirit, as Paul reminds us in the second reading. "To each individual the manifestation of the Spirit is given," he says.
This makes the ordinary extraordinary. As Hopkins puts it: "Because the Holy Ghost over the bent world broods with warm breast and with ah! bright wings."
Thank God for his head-over-heels love of you, and ask the Father, Son and Holy Spirit to give us a Christian vision that sees the "dearest freshness deep down things."
Tom Hoopes is writer
in residence at Benedictine College in Atchison, Kansas,
where he lives with April,
his wife and in-house theologian and consultant,
and their children.