Iconic Beauty: Museum Houses Icon Treasures in Rural New England
With more than 1,000 icons and other artifacts, the Russian Icon Museum is an unexpected treasure amid the outlying horse farms and downtown manufacturing mills of the tiny town of Clinton in central Massachusetts.
It claims to have the largest icon collection of its kind in North America, but the museum immediately impresses visitors with its ability to display its collection without seeming cluttered.
On the main level, three Marian icons — including a copy of the Smolensk icon of the Mother of God dating to 1680 and a recent replica that sparkles with gems and precious stones — are among an initial handful that welcome visitors.
The icons seem to be beckoning to a downstairs orientation room, where visitors learn how icons are made and displayed. Two glass cases contain the materials and illustrate the process of icon "writing" — which normally involves the application of egg tempera applied to a wood panel covered in linen and coated in a mixture of chalk and glue.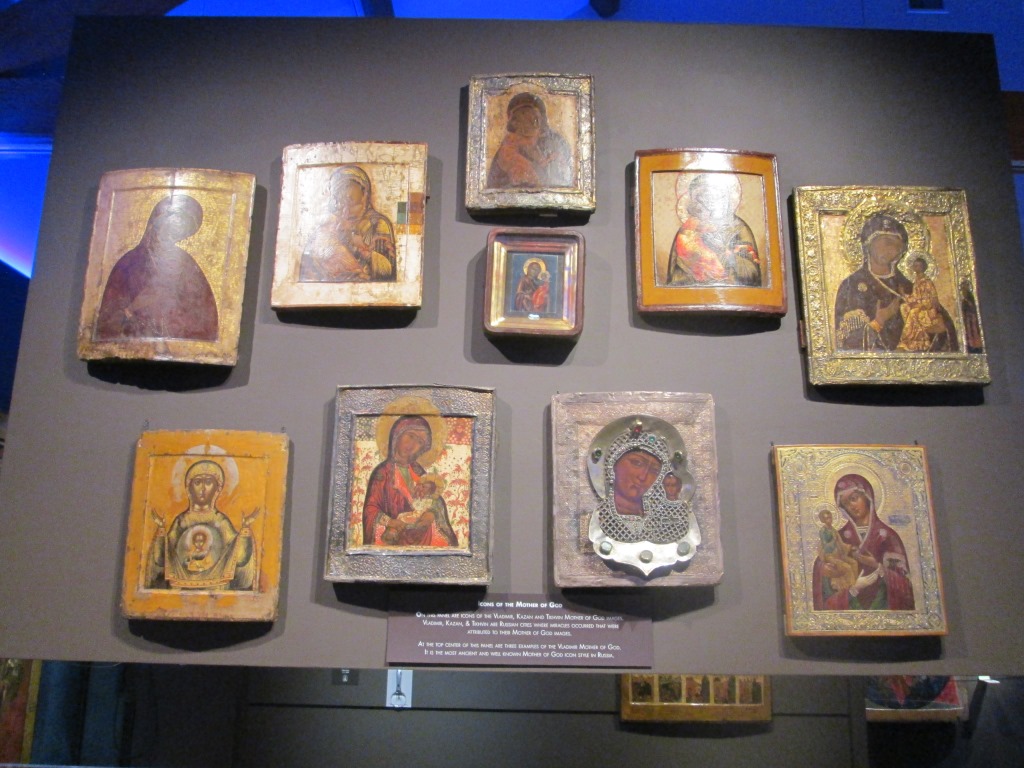 The museum has also recreated a "beautiful corner" — a spot near the entrance of traditional Russian Orthodox homes that would have at least three icons, of Christ, the Mother of God and the family patron saint, along with a cross and vigil candle. On an opposite corner, a floor-to-ceiling photograph captures what an iconostasis looks like in a typical church — this one happens to be the Church of the Dormition in the Kremlin — while music from the Moscow Cathedral Choir sets the mood.
A passageway leads to a lowly-lit re-purposed set of old jail cells — serendipitously evoking a monastic's cell; each has a listening station for a six-minute video that further explains how icons are "written," a verbal nod to their status as visual Scripture in the Orthodox tradition.
This museum has other treasures, as well. On the lower level is a Russian Tea Room, featuring a gleaming row of samovars (urns used to boil water for tea). The tea room pours into a cavernous lecture room that hosts events on all things Russian-related: from a recent panel discussion of what life was like in the former Soviet Union to a film on Ukrainian Easter eggs. Upstairs is a special exhibit of Russian nesting dolls on display until June 25, a gift shop and a small research library, which is available by appointment.
The museum is the vision of Gordon Lankton, the former CEO of Nypro, a local plastics manufacturer next door. Lankton, now retired and in his 80s, founded the Russian Icon Museum in 2006, provided the initial funding to get it off the ground and supplied icons from his personal collection.
"He's a collector at heart," Lise Graham, one of the museum workers, told me.
She later granted me a peek into his personal office at the museum. Looking part toy store and part African art gallery, it has one bay window with alternating shelves of Russian saint statues and antique miniature cars. His collector's penchant for African art has generated another nearby gallery. "He loves culture and people," Graham said.
The heart of the icon collection is on the second floor. Every major icon from the Russian-Orthodox tradition seems to be represented, often across centuries of variations. I pause before a pair of icons depicting the Anastasis — Christ's descent into hell. In the late-17th-century version, the jagged open head of a large Satan seems to be sucking in perdition's permanent residents and dwarfs in size to Christ. By the 19th century, Christ is larger, and Satan seems to have disappeared.
The main gallery has so many icons that the museum has hanging panels suspended between the ceiling and floor. One has 10 icons of the Vladimir, Kazan and Tikhvin Mother of God icons. A caption explains that icons came to be associated with cities where those icons are believed to have occasioned miracles.
Icons are known for their rigid adherence to traditional guidelines, but when it comes to the details, there is a striking variety on the panel. One style emphasizes maternal tenderness, depicting the infant-like Christ pressed to Mary's cheek. In another style, Mary seems to be gesturing towards Christ; in others, she simply cradles Christ. Most intriguing is one with Mary's arms up, palms outstretched in prayer. Over her heart appears a circular image of Christ.
One of the most arresting Marian icons in the entire collection lies farther back in the gallery. Titled the Mother of God of the Unburnt Bush, it depicts the infant Christ with Mary in a circle within a four-pointed blue star, itself over another four-pointed red star. Legend holds that the icon was originally depicted on the rock where God called to Moses out of the burning bush, as recalled in Exodus 3. A wall panel next to it briefly identifies key symbols and biblical figures.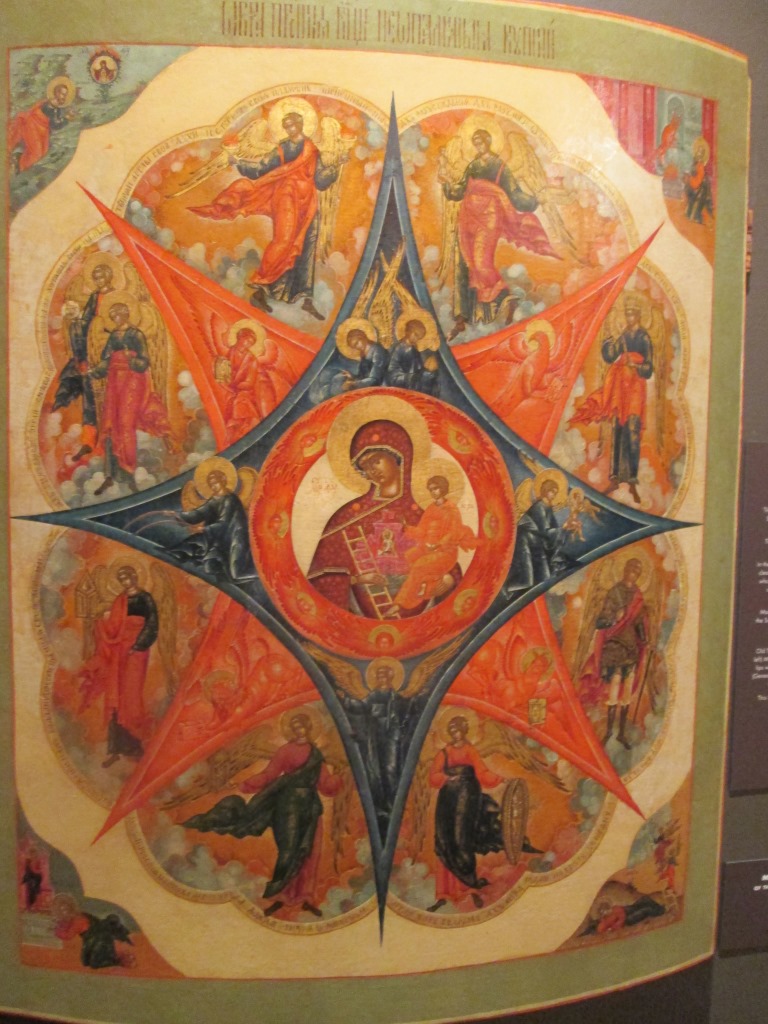 Visitors with smartphones can scan "QV" codes to listen to brief audio recordings about legends associated with some of the icons. Another series of recordings — narrated by Lankton — sketch out the basic biblical background. Lower-tech types can pick up handheld audio players from the reception desk, while those desiring a more human touch can seek out one of the volunteer guides for 45-minute-to-one-hour formal tours or just a quick question.
One of the last icons I saw was, perhaps fittingly, a dramatic scene of the Last Judgment. At the bottom is a giant dragon-headed "sin worm" with the names of 20 possible sins inscribed on its serpentine body. In the lower right corner are the fires of hell, within which are the barely discernable figures of Satan and Judas. High above is Christ, seated in judgment with Mary on his right and John the Baptist on the left. I was suddenly gripped by the realization that I could spend hours here, simply studying and contemplating icons like this one.
Stephen Beale writes from
Providence, Rhode Island.
PRAYERFUL CONTEMPLATION. Jesus and Mary icons are highlights of a unique museum in the Bay State. Christ icon, courtesy of the museum; Marian icons, Stephen Beale
"Sacred images in our churches and homes are intended to awaken and nourish our faith in the mystery of Christ. Through the icon of Christ and his works of salvation, it is he whom we adore. Through sacred images of the holy Mother of God, of the angels and of the saints, we venerate the persons represented." — Catechism, 1192
If You Go
Admission is $10 for adults and $5 for children ages 5 to 17. Call (978) 598-5000 or visit http://MuseumofRussianIcons.org for more information, including directions and a listing of local restaurants and places to stay.
Planning Your Visit
Although this was a solo pilgrimage for the writer, a trip to the Russian Icon Museum is just as feasible for families with children. The orientation room has a "kids' corner," complete with crayons and drawing paper for those inspired to attempt their own iconic imitations. Across the street is a small park, and minutes away from the museum is the 4,135-acre Wachusett Reservoir, with hiking trails and spots for fishing and picnics. About a 20-minute drive further west is Wachusett Mountain, with panoramic views of fall foliage and ski trails in the winter. Boston is just one hour to the east.