Catholic Faith at the Core of Walsh University
Ohio campus is anchored to religious order's mission.
Walsh University is a home away from home for roughly 3,000 students from 30 states and several countries.
The spring of 2017 was quite a year at the university. In April, the commencement speaker was the U.S. papal nuncio, Archbishop Christophe Pierre. Then, on May 10, President Richard Jusseaume and his wife, Theresa, led the annual student pilgrimage to Rome, where they met with Pope Francis and presented to him Walsh's new "Servant of the Servants of God Scholarship" established in the Holy Father's name.
"He was very pleased and very grateful about that," said Jusseaume. "I also gave him a 'Walsh' rosary in the school colors of maroon and gold — our patroness is Our Lady of Perpetual Help — and a copy of a book on Edith Stein by one of our professors."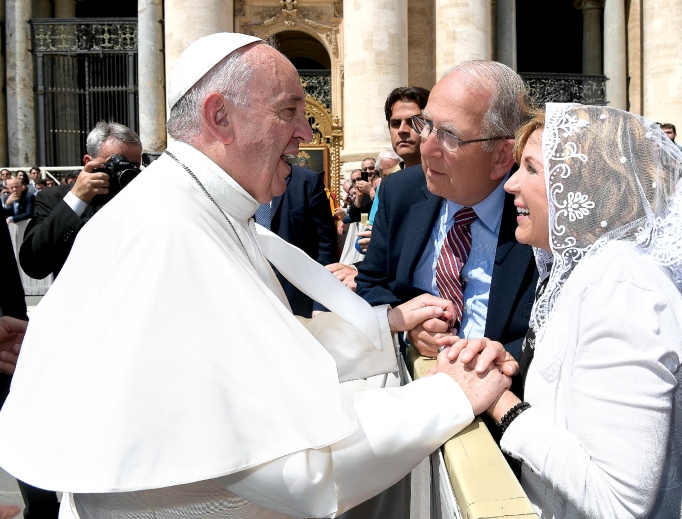 Jusseaume said as Pope Francis held the couple's hands and asked, "'Please pray for me; I need a lot of prayers,' I said we will be happy to do that, but please pray for us and our university."
Jusseaume explained it was thanks to Archbishop Pierre that they were blessed to meet the Pope. A Walsh staff member driving the archbishop to the airport after his speech mentioned the school pilgrimage and how the president would like to meet the Pope if possible; shortly afterward, a pleasantly surprised Jusseaume received a call arranging the impromptu request.
The aid of the archbishop has a connection to Walsh — through the order of the Brothers of Christian Instruction.
The nuncio grew up in Brittany in France, where the Brothers of Christian Instruction was founded. He was ordained in the church where the founder of the order served. At one time, the archbishop also worked with the brothers in Haiti, where they had dozens of schools, and Uganda.
The order also came to Ohio.
The land on which Walsh University began to be built in 1960 was once an alfalfa field. But since the Brothers of Christian Instruction came to establish a university, Bishop Emmet Walsh of Youngstown sold the land and gave the brothers money to build a home for themselves on the campus. They named the college after the good bishop.
One and Only
Walsh University is the only college the Brothers of Christian Instruction founded in the United States. Their mission: "to educate the children of the working class in a faith-based environment."
Jusseaume explained three parts to the founding mission.
"Part One: We're going to educate working-class families and their children. It's not about prestige, not about being elite, but taking a generation of people who would not be going to college and helping them."
He pointed out that 46% of current Walsh students are the first in their families to go to college. More than 30% are from families at or below poverty level. "One-third of our income, our annual revenue, goes back to students," Jusseaume said. Last year, from the $77-million budget, $27 million went back to students in various ways.
The new scholarship also honors the Brothers' founding mission because it will be given to students below the poverty line who otherwise could not afford a private Catholic higher education.
"Part Two: This is a faith-based environment deliberately in the Catholic tradition," Jusseaume said. The school enrolls "60% Catholic students [who] are from 37 countries, with most races and faiths represented on the campus. But no one can spend more than five minutes on campus and not know this is a Catholic university."
There are crucifixes in every classroom, 13 Masses a week, and confession and adoration every single day. "The chapel dominates the academia quadrangle," he said. "Every student, regardless of background, takes a couple of theology classes and all take a Scripture class. We start with the premise we are all God's children," and "that creates the culture. Our strategy is simple. We invite everybody to everything and let God keep score. That has served us well."
Jusseaume became president in 2001, and, as he recalled, "When I decided the guiding vision would be returning to the founding mission and proclaim that everywhere, and we would be a resource to the whole Catholic community, things started to turn." In a few years, enrollment doubled, and the campus grew from 11 buildings to the current 27.
As he spoke, Jusseaume looked out his window toward Our Lady of Perpetual Help Chapel and noted the beautiful mosaic of Jesus the Teacher, holding the Bible with the Alpha and Omega, and below him the words, I am the Way, the Truth, the Life. He then pointed out the school's motto over the main entry: Sed Deus Dat Incrementum. Jusseaume translated it: "God Gives the Increase. As long as the members of the Walsh community keep sowing the seeds and let God worry about the harvest, God gives the increase."
"Part Three: preparation for service," the president said. "You can't just take; you have to give back. Last year, our undergraduates gave 47,000 hours of volunteer service. I'm not talking about across the street."
For example, Walsh students worked with children in Haiti, and nursing students traveled to Tanzania to work alongside Tanzanian nurses and nursing students.
Walsh honors students volunteered for 12 days in Uruguay working at the Brothers of Christian Instruction's youth center and property in Maldonado Nuevo.
Students in a graduate program in Uganda helped with small-group work in basic and advanced counseling skills training for the participants of the Archdiocese of Gulu as part of a program to aid people recovering from the effects of years of internal wars.
"Young people are unbelievable," Jusseaume said. "If you articulate the need for them, they respond."
Unique Connection
Walsh also has a campus in Castel Gandolfo, Italy, the town of the papal summer residence, thanks to an estate the brothers acquired shortly after World War II. Walsh not only has a building on that estate, but it's a 10-minute walk to the popes' summer residence, which is now a museum. There, Walsh students serve as tour guides in a practical way — the university is one of only a handful in the United States to offer a degree in museum studies.
Walsh's newest academic building is the Global Learning Center, opening in January 2018, which will include the Mother Angelica Video Production Lab. There are discussions between the university and EWTN, which Mother Angelica founded 36 years ago, about possibly working together in the future.
Coincidentally, Mother Angelica once lived in the convent just a few minutes away from campus, and Theresa Jusseaume's aunt was in the convent with her, the president said. He added that a saint came to Walsh to speak and receive an honorary degree in 1982 — St. Teresa of Calcutta.
Jusseaume has been associated with the university for more than five decades. He began studies at Walsh in 1963, shortly after its founding. (From the age of 11, he was educated by the Christian Brothers of Instruction in Massachusetts.)
At Walsh, he became a brother postulant for a time, then dean of students twice, and a member of the Walsh Board of Directors 1992-2001. During those years, he also became a successful businessman. In 2001, he was asked to become president.
Reasons Make Sense
Jusseaume offers three quick reasons Walsh is attractive to prospective students.
"No. 1: They're going to be part of a family. There will be significant challenges, but lots of support. Two: God and the faith are at the center of activity on this campus. Three: If they persist and stay, they are going to walk out professionally competent, able to articulate their faith and prepared to be of service to others wherever that may be."
It seems to be working since freshman and sophomore retention is 95%, earning the university recognition this year as one of only three receiving this retention award from a recognized leader in higher education enrollment and fundraising management solutions.
The president maintains that Walsh succeeds because it does not compromise the faith to attract and retain students but ensures the Brothers' mission will always lie at the heart of the university.
"If we did not proclaim ourselves as a Catholic institution and live it, I seriously doubt that would be the situation today," Jusseaume explained.
"The only common thread in what has kept us going despite some challenges on occasion is when we went back to our mission and how to do God's work on this campus. All of a sudden we were able to overcome the most difficult challenges."
Joseph Pronechen is a Register staff writer.
INFORMATION