Campion College Australia
Australia's only liberal arts college, forming future leaders of the Church and society through a broad program of learning that integrates faith and reason.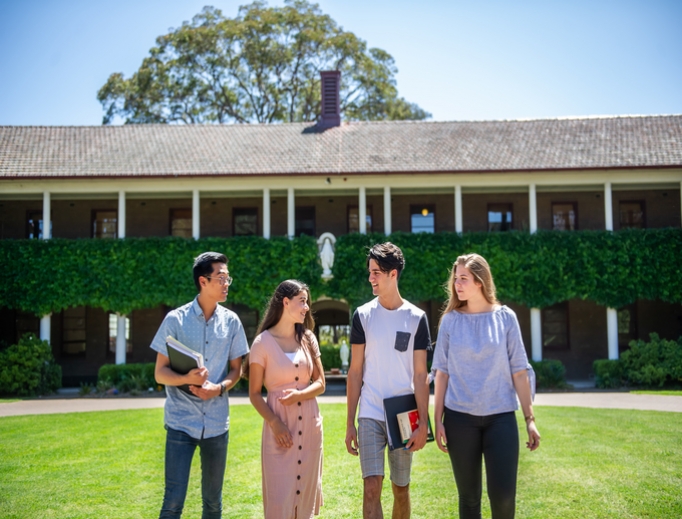 📍8-14 Austin Woodbury Pl.,
Toongabbie NSW 2146
📞 (02) 9896 9300
🌐 Campion College Australia Website
No. of Students: 100
No. of Majors/Areas of Study: history, literature, philosophy, theology, classics
Mandatum: Yes
Daily or Weekly Eucharistic Adoration: Yes
Places Where Students Can Study Abroad: Canada and America, subject to the dean's discretion
Annual Cost of Tuition: $17,560 AUD (8 units of study)
Typical % of students who receive scholarships and/or typical amount of financial aid: 60%
Student-to-Faculty Ratio: 1:10
Why Campion
Campion College Australia stands apart with its vibrant campus life and faith-filled atmosphere. Its integrated liberal arts curriculum cultivates critical thinking, nurturing individuals for intellectual and moral leadership within a close-knit community.
The Institution:
President's Oath
Catholic Board
Catholic Faculty
Mandatum Required
Theologians' Oath
Campus Culture:
Mass and Confession
Speakers Vetted
Unobjectionable Clubs
No Coed Dorms *
Health Services Okay
School's Comments:
Institution: The only Catholic liberal arts college in Australia, Campion puts a strong emphasis on cultivating a tight-knit community of learning, faith and human flourishing. Located in western Sydney, Campion offers a uniquely integrated and fully accredited Bachelor of Arts in the Liberal Arts and a Diploma of Classical Languages. Through the study of history, literature, philosophy, theology and science, studied in tandem in a chronological timeline from antiquity to the present day, Campion students are taught to think critically, argue rationally and develop the creative, analytical and research skills that are foundational in any vocation and sought after in many careers. While many university students feel like just another number in a crowd, at Campion everyone knows your name. Rather than viewing university education as mere job training, Campion strives to embody St. John Henry Newman's prescription for a university education in forming the entire person: spiritual, intellectual, social and vocational. We have an active college community, which runs numerous social, sporting and chaplaincy societies and events throughout the academic year, including the popular Annual Ball. Politicians, journalists, authors, academics, bishops, lawyers and other professionals are regularly invited to speak at Campion, giving students an unparalleled opportunity to meet and talk to esteemed members of the community in an intimate setting, as well as to seek advice and create professional networks. Campion offers daily Mass, as well as opportunities for adoration, confession, recitation of the Rosary and other faith-based activities, run by Campion's chaplain and chaplaincy team. A private institution not run by the Church, Campion is grounded in the Catholic faith and exercises faithfulness to Church teaching, helping students live out their faith in all areas of life.
Dorms: On-campus accommodation is segregated, male and female, across all dorms and residences. Students are not permitted to enter rooms of the opposite sex, and access to living spaces is limited. Each residential area is assigned a residential assistant, a senior student of the college who plans social activities and assists students with settling into college life. All residential assistants are under the direct supervision of the senior residential tutor, a member of staff. Campion is currently in the second phase of its master development plan, with several new on-campus residential houses under construction, as well as a large new wing to encompass lecture theaters, classrooms, study spaces and an expanded library. These were due to open at the start of the 2023 academic year.