Pope Francis Outlines Paths to Peace, Christian Unity on Arrival in Georgia
Full texts of the Pope's opening discourses.
To achieve peaceful coexistence, priority must be given to "human beings in their actual circumstances", Pope Francis said on his arrival in Georgia today, adding that ethnic, political, religious and linguistic differences should be seen as "a source of mutual enrichment" rather than grounds for exploitation and discord.
The Pope made the remarks to diplomats and civic leaders in his first discourse of his Sept. 30-Oct. 2 visit to Georgia and Azerbaijan.
The three day apostolic voyage, expected to largely focus on the topics of peace, ecumenism and interreligious dialogue, concludes Francis' tour of the Caucasus region following his visit to Armenia in June.
Later this afternoon, at a meeting with the Catholicos and Patriarch of All Georgia, Ilia II, the spiritual head of the Georgian Orthodox Church, the Pope said that a world "thirsting for mercy, unity and peace" demands an ardent renewal of "our commitment to the bonds which exist between us."
Through "peace and forgiveness", he went on to say, "we are called to overcome our true enemies, who are not of flesh and blood, but rather the evil spirits from without and from within ourselves".
On the plane to Georgia, the Pope welcomed Vatican spokesman Greg Burke on his first papal visit as Holy See Press Office Director and expressed gratitude to God that this visit will be short, but refrained from making any further remarks, saving them for his now customary return in-flight press conference.
Here below are the full texts of both discourses.
---
Pope Francis' address to political and religious leaders, the members of the diplomatic corps and representatives from the world of culture at the presidential palace in Tbilisi:
Mr President,
Distinguished Authorities and Members of the Diplomatic Corps,
Ladies and Gentlemen,
I thank Almighty God for granting me the opportunity to visit this blessed land, a place of encounter and vital exchange among cultures and civilizations, which, since the preaching of Saint Nino at the beginning of the fourth century, discovered in Christianity its deepest identity and the solid foundation of its values. As Saint John Paul II observed when visiting your country: "Christianity became the seed of successive flowerings of Georgian culture" (Address at the Arrival Ceremony, 8 November 1999), and this seed continues to bear fruit. Recalling with gratitude our meeting in the Vatican last year and the good relations which Georgia has always maintained with the Holy See, I sincerely thank you, Mr President, for your gracious invitation and for your cordial words of welcome in the name of the Authorities of the State and all the Georgian people.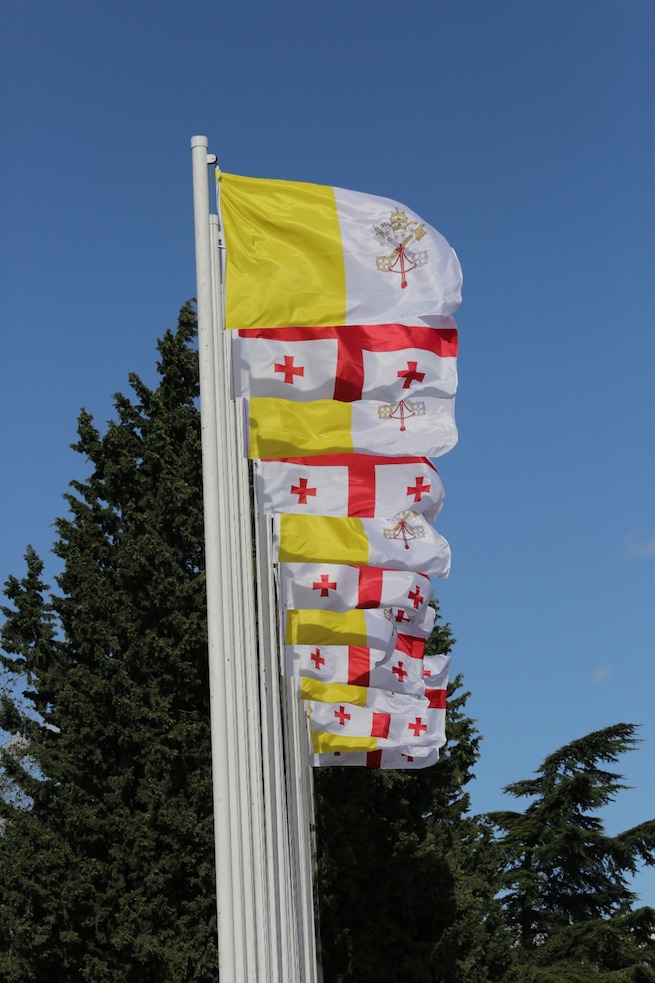 The centuries-old history of your country shows that it is rooted in the values expressed in its culture, language and traditions. This places your country fully and in a particular way within the bedrock of European civilization; at the same time, as is evident from your geographical location, Georgia is to a great extent a natural bridge between Europe and Asia, a link that facilitates communication and relations between peoples. Through the centuries this has facilitated commercial ties as well as dialogue and the exchange of ideas and experiences between diverse cultures. As your national anthem proudly proclaims: "My icon is my homeland… bright mountains and valleys are shared with God". The country is an icon expressing its identity and tracing its features and history; its mountains, rising freely towards heaven, far from being insurmountable walls, give splendour to the valleys; they distinguish them, connect them, make each one unique yet all open to the one sky, which covers them and offers them protection.
Mr President, twenty-five years have passed since Georgia's independence was proclaimed. During this period when Georgia regained its full liberty, it built and strengthened its democratic institutions and sought ways to guarantee the most inclusive and authentic development possible. All of this was not without great sacrifice, which the people faced courageously in order to ensure their longed-for freedom. I hope that the path of peace and development will advance with the consolidated commitment of all sectors of society, so as to create conditions for stability, justice and respect for the rule of law, hence promoting growth and greater opportunities for all.
The peaceful coexistence among all peoples and states in the region is the indispensable and prior condition for such authentic and enduring progress. This requires increasing mutual esteem and consideration, which can never lay aside respect for the sovereign rights of every country within the framework of international law. So as to forge paths leading to lasting peace and true cooperation, we must recall that the relevant principles for a just and stable relationship between states are at the service of a practical, ordered and peaceful coexistence among nations.
Indeed, in far too many areas of the world, there seems to be a dominant way of thinking which hinders keeping legitimate differences and disagreements – which can always arise – within a climate of civilized dialogue where reason, moderation and responsibility can prevail. This is all the more necessary in the present historical moment, with no shortage of violent extremism that manipulates and distorts civic and religious principles, and subjugates them to the dark designs of domination and death.
We should wholeheartedly give priority to human beings in their actual circumstances and pursue every attempt to prevent differences from giving rise to violence that can cause ruinous calamity for people and for society. Far from being exploited as grounds for turning discord into conflict and conflict into interminable tragedy, distinctions along ethnic, linguistic, political or religious lines can and must be for everyone a source of mutual enrichment in favour of the common good. This requires that everyone make full use of their particular identity, having the possibility, above all else, to coexist peacefully in their homeland, or freely to return to that land, if for some reason they have been forced to leave it. I hope that civil authorities will continue to show concern for the situation of these persons, and that they will fully commit themselves to seeking tangible solutions, in spite of any unresolved political questions. It takes far-sightedness and courage to recognize the authentic good of peoples, and to pursue this good with determination and prudence. In this regard, it is essential to keep before our eyes the suffering of others, in order to proceed with conviction along the path which, though slow and laborious, is also captivating and freeing, and leads us towards peace.
The Catholic Church, which has been present for centuries in this country and has distinguished itself in a particular way for its commitment to human promotion and to charitable works, shares the joys and concerns of the Georgian people, and is resolved to offer its contribution for the well-being and peace of the nation, by actively cooperating with the authorities and civil society. It is my ardent desire that the Catholic Church may continue to make its own authentic contribution to the growth of Georgian society, thanks to the common witness to the Christian tradition which unites us, its commitment to those most in need, and the renewed and strengthened dialogue with the ancient Georgian Orthodox Church and the other religious communities of the country.
May God bless Georgia and give her peace and prosperity!
---
Meeting with His Holiness and Beatitude Ilia II, Catholicos and Patriarch of All Georgia at the Patriarchal Palace
It is a great joy and a special grace to be with you Your Holiness and Beatitude, and with the Venerable Metropolitans, Archbishops and Bishops, members of the Holy Synod. I greet the Prime Minister and all the distinguished representatives of the academic and cultural world.
With the first historic visit of a Georgian Patriarch to the Vatican, Your Holiness opened a new chapter in relations between the Orthodox Church of Georgia and the Catholic Church. On that occasion, you exchanged with the Bishop of Rome a kiss of peace and a pledge to pray for one other. In this way, there has been a strengthening of the meaningful ties that have existed between our communities since the first centuries of Christianity. These bonds have been consolidated and are characterized by cordiality and respect, evident in the warm welcome given here to my envoys and representatives. Our ties are also manifest in the study and research projects being pursued in the Vatican Archives and at the Pontifical Universities by members of the faithful of the Orthodox Church of Georgia. So too, they are seen in the presence in Rome of a Georgian community who have received hospitality at a church in my own diocese; and in the cooperation with the local Catholic community, especially on a cultural level. As a pilgrim and a friend, I have come to this blessed land as the Jubilee Year of Mercy for Catholics approaches its conclusion. Saint John Paul II also visited here, the first among the Successors of Peter to do so in a moment of great importance on the threshold of the Jubilee of 2000: he came to reinforce the "deep and strong bonds" with the See of Rome (Address at the Welcome Ceremony, Tbilisi, 8 November 1999) and to recall how necessary, on the verge of the Third Christian Millennium, was "the contribution of Georgia, this ancient crossroads of culture and tradition, to the building... of a new civilization of love" (Address, Meeting with the Catholicos-Patriarch and the Holy Synod, Tbilisi, 8 November 1999).
Now, Divine Providence allows us to meet again and, faced with a world thirsting for mercy, unity and peace, asks us to ardently renew our commitment to the bonds which exist between us, of which our kiss of peace and our fraternal embrace are already an eloquent sign. The Orthodox Church of Georgia, rooted in the preaching of the Apostles, in particular that of the Apostle Andrew, and the Church of Rome, founded on the martyrdom of the Apostle Peter, are given the grace to renew today, in the name of Christ and to his glory, the beauty of apostolic fraternity. Peter and Andrew were indeed brothers: the Lord Jesus called them to leave their nets and to become, together, fishers of men (cf. Mk 1:16-17). Dear Brother, let us allow the Lord Jesus to look upon us anew, let us once again experience the attraction of his call to leave everything that prevents us from proclaiming together his presence.
We are sustained in this by the love that transformed the Apostles' lives. It is a love without equal, a love which the Lord incarnated: "Greater love has no man than this, that a man lay down his life for his friends" (Jn 15:13). The Lord has given this love to us, so that we can love each other as he has loved us (cf. Jn 15:12). In this regard, it is as if the great poet of this land, Shota Rustaveli, is speaking to us with some of his renowned words: "Have you read how the Apostles write about love, how they speak, how they praise it? Know this love, and turn your mind to these words: love raises us up" (The Knight in the Tiger's Skin, verse 791). Truly, the love of the Lord raises us up, because it enables us to rise above the misunderstandings of the past, above the calculations of the present and fears for the future.
The Georgian people, over the centuries, have testified to the greatness of this love. In it they have found the strength to rise up again after countless trials; it is in this love that they have reached the heights of extraordinary artistic beauty as another of your great poets has written: Without love, "no sun rules in the dome of the heavens" and for men "there is no beauty nor immortality" (Galaktion Tabidze, Without Love). Within love itself lies the raison d'être of the immortal beauty of your cultural patrimony expressed in so many different ways, such as in music, painting, architecture and dance. You, dear Brother, have given worthy expression to your culture in a special way through your distinguished compositions of sacred hymns, some even in Latin and greatly cherished in the Catholic tradition. They enrich your treasury of faith and culture, which are a unique gift to Christianity and to humanity; this gift deserves to be known and appreciated by all.
The glorious history of the Gospel lived in this land is owed in a special way to Saint Nino, who is considered equal to the Apostles: she spread the faith with a particular form of the cross made of vine branches. This cross is not bare, because the image of the vine, besides being the most abundant fruit in this land, represents the Lord Jesus. He is, indeed, "the true vine", who asked his Apostles to remain firmly grafted onto him, just as shoots are, in order to bear fruit (cf. Jn 15:1-8). So that the Gospel may bear fruit in our day too, we are asked, dear Brother, to remain yet more firmly in the Lord and united among ourselves. The multitude of saints, whom this country counts, encourages us to put the Gospel before all else and to evangelize as in the past, even more so, free from the restraints of prejudice and open to the perennial newness of God. May difficulties not be an obstacle, but rather a stimulus to know each other better, to share the vital sap of the faith, to intensify our prayers for each other and to cooperate with apostolic charity in our common witness, to the glory of God in heaven and in the service of peace on earth.
The Georgian people love to celebrate, toasting with the fruit of the vine their most precious values. Joined to their exaltation of love, friendship is given a special place. The poet reminds us: "Whoever does not look for a friend is an enemy to himself" (Rustaveli, The Knight in the Tiger's Skin, verse 854). I want to be a genuine friend to this land and its beloved people, who do not forget the good they have received and whose unique hospitality is intimately united to a way of living that is full of true hope, even though there is no shortage of difficulties. This positive attitude, too, finds its roots in the faith, the faith which leads Georgians, when gathered around their tables, to invoke peace for all, and to remember even one's enemies.
By means of peace and forgiveness we are called to overcome our true enemies, who are not of flesh and blood, but rather the evil spirits from without and from within ourselves (cf. Eph 6:12). This blessed land is rich in courageous heroes, in keeping with the Gospel, who like Saint George knew how to defeat evil. I think of many monks, and especially of numerous martyrs, whose lives triumphed "with faith and patience" (Ioane Sabanisze, The Martyrdom of Abo, III): they have passed through the winepress of pain, remaining united with the Lord and have thus brought Paschal fruit to Georgia, watering this land with their blood, poured out of love. May their intercession bring relief to the many Christians who even today suffer persecution and slander, and may they strengthen in us the noble aspiration to be fraternally united in proclaiming the Gospel of peace.