How Do You Prepare to Pray?
Finding God through Meditation, by St. Peter of Alcantara, brings the wisdom of the great saint into your hands. St. Peter directed St. Teresa of Avila on difficult questions she had about prayer and she turned to this work for guidance.
I'll be sharing excerpts from the book here, in the hope that you'll be inspired to spend time prayerfully reflecting on them and growing closer to God as a result. The section I'm sharing today comes from the first chapter of the book, "Perspective on Meditation and Devotion."
Of the Preparation Necessary to Prayer
It will not be beside our purpose to handle all these parts severally; we will, therefore, first begin with preparation, which we did put first. He, therefore, who goes about to meditate, after he has placed his body after a decent manner either kneeling or standing, or composing himself in manner of a cross, or prostrating himself upon the ground, or sitting, if infirmity or necessity does so require, let him first sign himself with the Sign of the Cross; then let him recollect the dispersed powers of his soul, especially the imagination, and sequester it from all temporal and transitory things. Let him elevate his understanding to God, considering his divine presence, with what due reverence and attention is requisite; and let him imagine Almighty God himself to be present in his soul, as in reality he is. If it be the morning meditation, after a general act of contrition for his sins, let him make to God a general confession; if in the evening, let him examine his conscience concerning all his thoughts, words and works of that day; of the forgetfulness of the benefits of Almighty God; and of the sins of his former life; humbly prostrating himself in the sight of the Divine Majesty, in whose presence he now is, after a particular manner, saying the words of the patriarch Abraham: "I will speak to my Lord, seeing I am but dust and ashes" (Gen 18:27). And singing the psalm: "To thee have I lifted up my eyes, who dwellest in the heavens. Behold, as the eyes of servants are on the hands of their masters; as the eyes of the handmaid are on the hands of her mistress: so are our eyes unto our Lord God, until he have mercy on us. Have mercy on us, O Lord, have mercy on us." (Ps 122).
And because we are not able of ourselves to think any good, but all our sufficiency is from God; and because none can say Lord Jesus, that is to say, call upon the name of Jesus, without the Holy Spirit (1 Cor 12:3), to thee, therefore, O Holy Ghost, do I turn myself, with tears imploring thy assistance: "Come, Holy Ghost, send forth from heaven the glittering beams of true light; come, father of the poor; come, giver of rewards; come, light of our hearts, sweet comforter, sweet guest of the soul, sweet refreshing, rest in labor, temperature in heat, in mourning a grateful solace, O blessed light, replenish the hearts of the faithful." Then follows the prayer, "God, who [did instruct] the hearts of the faithful . . . [by the light of the Holy Spirit]," etc. These being said, he shall pray to God to bestow upon him his divine grace, to assist at this holy exercise, with that attention, due recollection, fear and reverence fitting to so great a majesty, humbly beseeching him, so to pass over this time of holy prayer that he may return from thence fortified with new fervor, to execute whatsoever shall belong to his holy service; for prayer which bears not this fruit is lukewarm, imperfect, and of no value before God.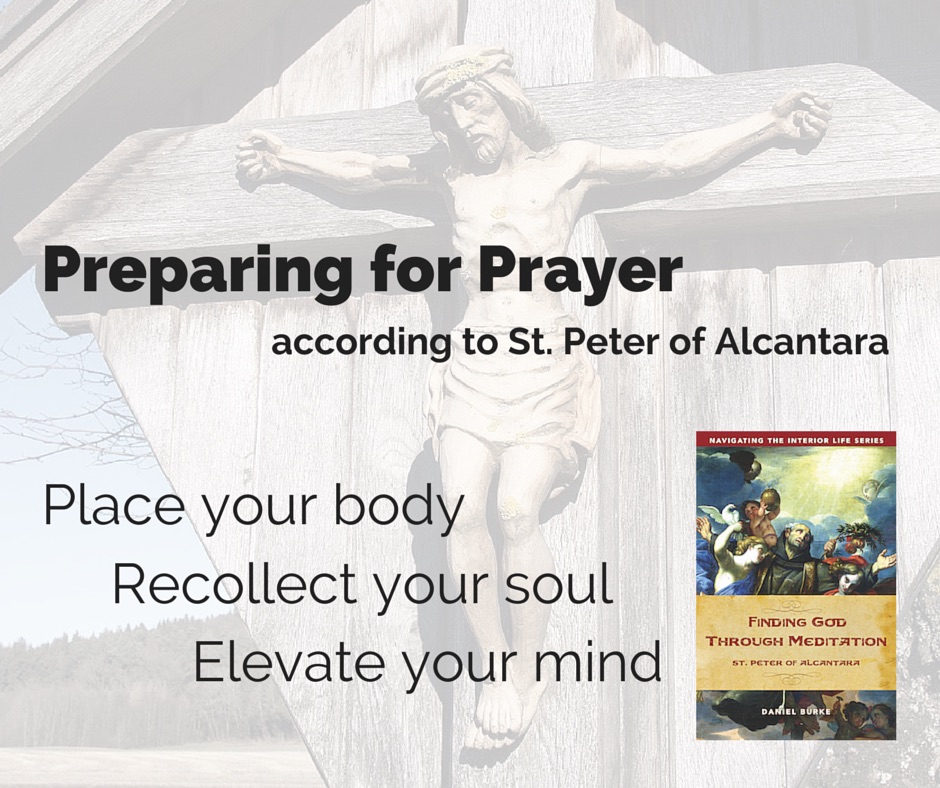 Note: If you would like to read the complete work, please click here and purchase Finding God through Meditation, by St. Peter of Alcantara, through the EWTN Religious Catalogue and support the worldwide efforts of EWTN.
Webinar Opportunities: If you are interested in webinars on the spiritual life, spiritual growth, prayer, etc., click here so I can put you on the list.