Catholic Artist Preserves Memories of Parochial School Life
St. Mary Elementary School still exists in paintings as vivid as Bernadine Stetzel's childhood memories.
She sometimes neglected to sign her name on her paintings, but artist Bernadine Stetzel routinely marked her completed work with "JMJ" for "Jesus, Mary, Joseph." As a pupil at St. Mary School in Tiffin, Ohio, Stetzel acquired the habit from the Ursuline Sisters who taught her.
The artist explained this finishing touch when I interviewed her in 2014.
"I thank God for giving me the ability to paint the painting," she said.
She also began her art sessions with prayer, asking God to help her do her best.
Stetzel died on Aug. 5 at age 89. Her legacy includes more than a 1,000 paintings and a sterling example of faith in adversity. Art and faith helped her bear sorrows that included her husband's dementia and her son's murder at age 30. She said she coped with "a lot of prayer."
"I couldn't have done it without faith," the artist said. "It gave me the strength to endure."
Her work, too, comforted Stetzel in times of trial. After her son's death, she wrote and illustrated stories for his children, then 2 and 4 years old. The tales usually offered a simple lesson. In Rainbow, for example, a little boy discovers the "pot of gold" is not what he expected. Four of Stetzel's books are in print today.
Stetzel mined her childhood for cheerful subjects for her art. She depicted adults going about their errands and children playing hopscotch, picking apples or ice skating.
She also recorded parochial school life in the 1930s and early 1940s, in classroom scenes peopled by uniformed pupils under the guidance of a sister in habit. Stetzel's inspiration sprang from her own education.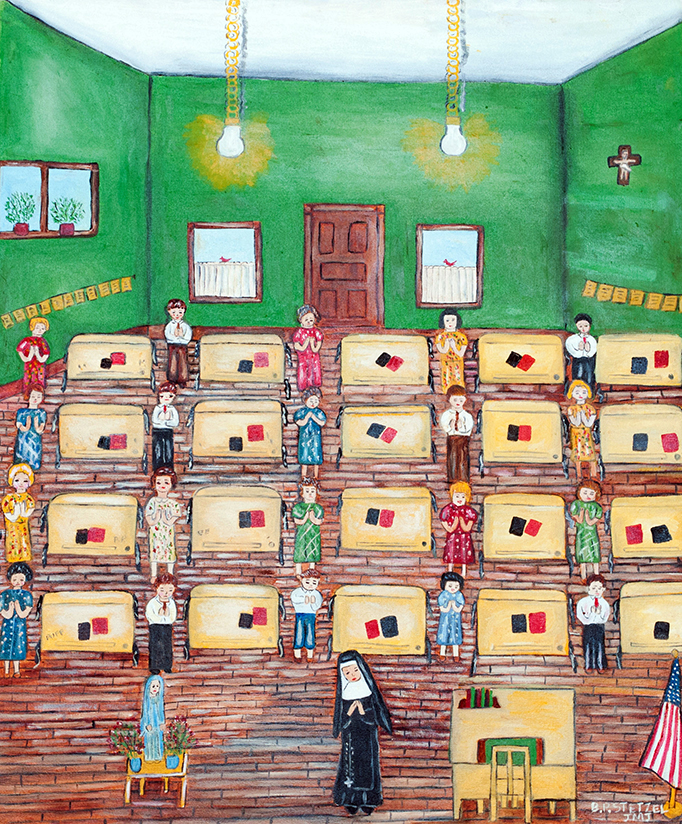 The late Sister Mary Benigna unknowingly pointed Stetzel to her career, when she started to suggest a correction to an art project.
Sister Benigna abruptly stopped herself.
"Go ahead and do whatever you want to do," the teacher told Stetzel. "You're a better artist than I am now."
The seventh-grader took that praise to heart. After high-school graduation, she worked and saved money for art school. She relinquished that plan when she met and eventually married Fred Stetzel. Her decision not to pursue formal training proved to be a blessing.       
"I've had professor after professor tell me never to take an art lesson as long as I live," Stetzel later said.
She worked in the realism style, until a good deed led her in a different direction. Although a busy young mother of three small children, she took meals to an elderly neighbor. Stetzel's friend displayed a reproduction of a snow scene by Anna Mary Robinson, "Grandma Moses," that intrigued Stetzel and prompted her to experiment with the primitive style. Not only did she enjoy it, but the artist also excelled at it. She soon sold her work at art shows and in an upscale gallery on Long Island. Bowling Green University made Stetzel the subject of a documentary. In 2014, she held a one-woman show in Toledo, Ohio.
Dr. Dorinda Shelley opened Our Town Gallery in Grand Rapids, Ohio, to exclusively showcase Stetzel's art.  She said that customers find the classroom scenes particularly appealing.
"It's the nostalgia," Shelley said. "They went to schools like that. It takes them back."
In paintings such as Pledge of Allegiance and Music Class, Stetzel preserved ordinary moments. In I Must Not Be Late, a tardy boy repeatedly writes the sentence on a blackboard as punishment.
The artist showed kids celebrating all major holidays, too. She also painted special occasions: students receiving their report cards from the pastor, first communicants lined up outside of church and parishioners holding an outdoor May Crowning. Because of their popularity, Shelley made some of these pictures available as prints.
Stetzel's health declined rapidly in recent months, but she continued to paint until shortly before her final hospitalization.
Ironically, the artist did not enjoy grade school, but she flourished at Calvert Catholic High School, which she called the happiest days of her life. Stetzel's family suggested donations in her memory to her parish or to Calvert High School, which continues to educate young Catholics.
As for St. Mary Elementary School, it closed decades ago — but it still exists in paintings as vivid as Bernadine Stetzel's childhood memories.
(For more information about Bernadine Stetzel's art, contact Our Town Gallery, 24155 Front Street, Grand Rapids, OH 43552, tel: 419-832-0585.)