When Science and Technology Ignore a Deeper Truth
Catholic bioethicists tackle current thorny issues, such as tampering with a human embryo's basic genetic code.
BISMARCK, N.D. — The announcement last month from the Nuffield Council on Bioethics in the United Kingdom that changing the DNA of a human embryo could be "morally permissible" is the most recent example of how some applications of science and technology can conflict with Catholic teaching.
The codicil to the U.K. announcement, "if it is in the child's best interest," is also an example of the manipulative language used in these debates to gain acceptance of controversial technologies within the broader culture. On the heels of the announcement, Catholic bioethical experts roundly rejected it.
The words "best interest" regarding DNA editing in babies has an emotional appeal that ignores the deeper truth, John Haas, president of the Philadelphia-based National Catholic Bioethics Center (NCBC), told the Register. "Everything is sugar-coated these days," he said. "If you explain to people what is actually going on, usually their innate moral sense will be repulsed by it."
Haas and a number of world-renowned bioethics experts gathered Aug. 10-11 for a two-day seminar at the University of Mary, in partnership with the NCBC, to address the bioethical issues of our day. The University of Mary hosts the annual seminar in Bismarck for students in its graduate bioethics program, but the public is always welcome to attend.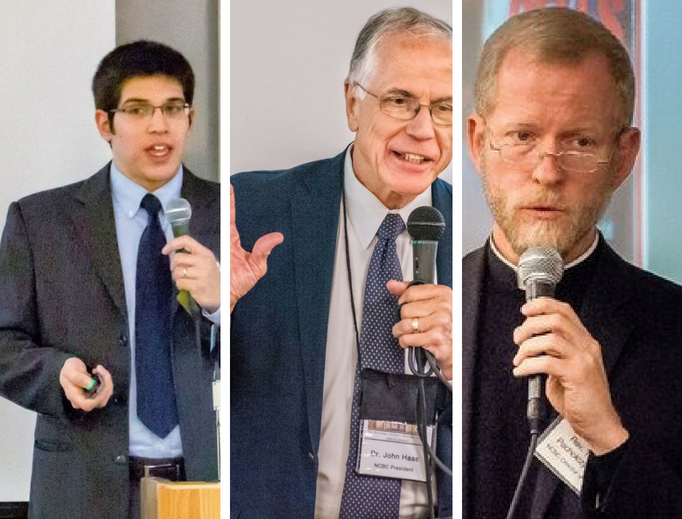 "We live in a time where bioethical concerns are rapidly escalating, and laypeople should have a rudimentary understanding of them," Msgr. James Shea, president of the university, explained to the Register. "Just because we can do something doesn't mean we should. It's important to step back, and ask: What will this do for the future of human kind? We need to ask these profound questions using the deep insights of the Catholic faith."
It Began With Contraception
The roots of many of today's issues lead back to contraception, according to Haas. The NCBC began in 1972, one year before Roe v. Wade legalized abortion and following Blessed Paul VI's 1968 encyclical Humanae Vitae that warned of the negative effects that separating procreation from sex in marriage would have on individuals and society.
The NCBC began as a think tank for the Catholic Hospital Association based out of St. Louis, focusing on ethical issues arising from advances in sciences. "Contraception was a controversial issue, and Humanae Vitae divided the Church terribly," Haas explained. "Other issues soon emerged, like establishing criteria for what constitutes death and the use of extraordinary means to prolong life."
From the beginning, the NCBC has defended the conscience rights of Catholic medical providers to follow their religious beliefs, often against pressure from the government. One of the earliest cases was in 1973, when an Idaho judge ruled against a physician's right not to perform a tubal ligation. That same year the Idaho State Legislature passed a bill to protect the consciences of health care providers.
"At no time have we ever faced the danger more acutely than we did during the Obama administration, when the HHS mandate directly targeted Catholic employers," Haas said. "There had been a hostility on the part of government against our beliefs."
The problem in our culture, he explained, is the decline in respect for the sacredness of the human person and an increasing willingness to dehumanize the weak and the vulnerable for our own purposes. Yet not everyone is aware of what is at stake. "Many people don't even realize IVF [in vitro fertilization] means fertilizing a dozen eggs in a petri dish, implanting maybe three, and pouring the rest down the drain or storing them in liquid nitrogen; then later, if too many children end up growing in the womb, injecting potassium chloride into the beating hearts of one or two of them so the remaining children can grow better without competition from their now-deceased brothers and sisters."
Haas noted, however, that children born through IVF are themselves blameless and have infinite value in the sight of God.
Missing Piece for Humanity
John Di Camillo, a full-time staff ethicist at NCBC, originally planned to be a doctor, but felt called to bioethics when he noticed professors and students tended to consider humans no different from animals. "Just as a doctor should explain that an antibiotic will work and can help you, the same is true of morality," he told the Register. "It ultimately helps the human person to be truly happy — body and soul — in this life and the next life."
As bioethical issues grow in number and complexity, it has become increasingly difficult to communicate with the culture, according to Di Camillo. "Any question about truth is perceived as an attack, instead of finding what is true and therefore good for everyone," he said.
Gender issues such as "gender dysphoria" are a prime example.
"Those pushing for gender-reassignment surgery do so with a lack of scientific data and a lack of respect for human sexuality and free will," Di Camillo said. "The science is being used with an agenda to give the impression that this is in the best interest of those experiencing gender dysphoria." Yet he noted that the data on harm from sex-reassignment surgery, studies indicating children with gender dysphoria tend to grow out of it in most cases, and testimonies such as those at "Sex Change Regret" are ignored.
"We've shifted the focus from the notion of a problem to a question of how a person feels," Di Camillo said. He acknowledged that people are truly suffering and need help, but the prevailing messages encourage the opposite. "That we are either male or female is a guiding principle; a feeling or emotion about who we are cannot substitute for that reality," he said. "Instead of eliminating the disorder, we are accommodating it. That ultimately is not a holistic understanding of the person as body and soul, because it fractures that person. Another big danger is that it can mask other psychological issues that may be at the root of the problem, such as abuse or relationship issues."
Consistent Answers
The steadfast answers taught by the Church offer us a high degree of clarity and direction in a tumultuous world, according to Father Tad Pacholczyk, who obtained his Ph.D. in neuroscience from Yale and is now one of the world's leading experts in the bioethics field and the director of education at the NCBC. He recalled for the Register a conversation he once had with an Episcopal minister following a debate with representatives from several religious traditions on stem cells.
"You Catholics have it so good because you have a clear way to get to answers," the minister told him. "I've been on a commission for my church discussing stem cells, and all we've been able to do is talk and talk and never arrive at any conclusions."
"He was right," Father Pacholczyk said. "There is something very reassuring to have the wisdom, and Tradition, and breath of the Catholic Church behind you. Consistency is one of the marks of Catholic thinking."
The secular media recognizes the Catholic Church as a unique authoritative voice on moral questions, so Father Pacholczyk is often interviewed by them. "They know we ponder these questions closely," he said. "There's an approach and a mechanism for forming answers in the setting of religious thinking. It's important to reflect on the objective limits of human actions and to understand clearly the goods that need to be safeguarded in bioethics."
Father Pacholczyk encourages Catholics to understand the Church's positions to be able to share a reasoned, non-emotional explanation with others and also to be personally prepared to make intelligent, moral decisions in their own lives. "For instance, what does it mean to take good care of Dad as he's dying? Should we put him on a ventilator? If it's the first time we have to make these decisions, it can be tough and stressful, and a lot of interfamily dynamics come to the fore," he said.
"Learn the issues and explain them in your own language," he said. "And realize that God calls us to grow where he has put us, and to ourselves plant seeds, so we don't need to feel like we have to convert everyone, but simply witness to them the depth of our own respect for what the Church teaches."  
Patti Armstrong writes from North Dakota.