Vatican Asked to Step Into Korean Cauldron for 'Authentic Peace Talks'
Archbishop Hyginus Kim Hee-joon, the president of the Catholic Bishops' Conference of Korea, discusses the path to peace with the Register.
South Korea President Moon Jae-in sent an envoy to the Holy See two weeks after his election May 9 to seek the Holy Father's help in establishing peace on the Korean Peninsula.
President Moon, a devout Catholic, is a son of North Korean refugees. He sent Archbishop Hyginus Kim Hee-joong of the Diocese of Gwangju, the president of the Korean Bishops' Conference, to represent him at the Holy See.
He met Pope Francis twice. He also sat down with Cardinal Pietro Parolin, the Vatican's secretary of state.
"I will prevent war at all cost," Moon declared last week. "I want all South Koreans to believe with confidence that there will be no war."
Some 10% of South Korea's 52 million population is Catholic. The stakes are dramatic: Should there be military conflict, millions of people's lives will be annihilated, including thousands of Americans stationed on the peninsula.
Register correspondent Victor Gaetan recently conducted an interview via email with Archbishop Kim to learn more about his visit to Rome and President Moon's platform of reconciliation and economic exchange with the North Korean regime — a plan reflecting social teachings of the Catholic Church.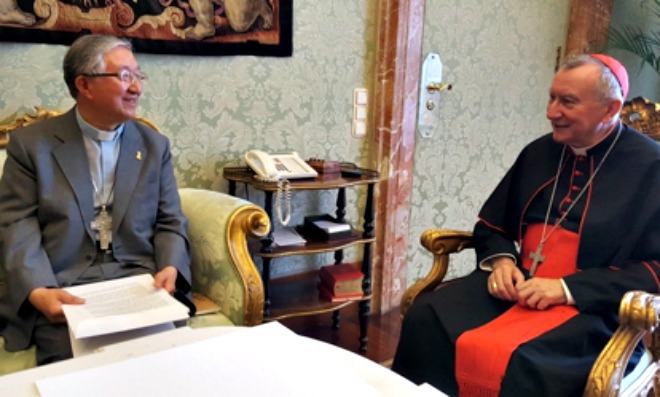 Your Excellency, President Moon has said South Korea will "work toward the de-nuclearization of the Korean Peninsula by guaranteeing North Korea's safety and the construction of a permanent peace system." You responded that you "deeply agree with President Moon's direction for the future relations of the two Koreas."
How do you, specifically, intend to help President Moon achieve this most difficult task?
The majority of people want to improve South-North relations. We want to guarantee the safety of North Korea for peaceful coexistence and convert the cease-fire agreement [signed in 1953 between the U.S. and North Korea], into a peace agreement for permanent security. President Moon has clarified the importance of this point for the people.
Neglecting a situation in which brothers and sisters — for we are the same people — cannot meet for 70 years is a threat to world peace, as well.
If it is necessary, I want to travel to the U.S. or other Western countries to appeal for peace on the Korean Peninsula. Especially, I think the United States can help a lot because Korea and the U.S. are strong allies. Peace on the Korean Peninsula can also create a lot of political and economic profits for the U.S.
President Moon asked you to meet with Pope Francis and Cardinal Parolin in late May. What was your mission?
As an envoy of the president, I explained the situation on the Korean Peninsula and President Moon Jae-in's policy for peace at the meetings with Pope Francis and Cardinal Parolin.
President Moon is a credible leader who keeps principles and steps toward true peace and justice beyond today's conflicts and confrontations.
I also asked Pope Francis and Cardinal Parolin to remember and pray for the success, and fruitfulness, of the new government's efforts pursuing dialogue and negotiation for peace.
It appears that what would really matter to the North Korean leader, especially because the 1953 armistice was signed between the U.S. and North Korea as principal parties, is a direct meeting with President Donald Trump. Do you think this is something Pope Francis could try to advance?
I think, when a situation is severe, meeting without prior conditions is an important step in solving the problem.
If someone already sets a goal before the meeting, and pushes on that demand to the last, it is hard to have a good result. First, participants have to meet and fully exchange opinions with each other.
After reducing the potential for misunderstanding, they must try hard to understand the other party's opinion. It is not reasonable to consider "different" opinions to be "wrong" opinions. Of course, "different" opinions, which are against moral principles and law can be "wrong."
But I think it can be a great accomplishment when we understand important points of various "differences" and harmonize them. The orchestra conductor can harmonize various instruments and create great music.
Why haven't negotiations succeeded in the past? How could Pope Francis and his diplomats make a difference?
There have been a lot of prior efforts at dialogue for peace here, such as the four-party talks and the six-party talks. However, we need to think about whether we talked to each other, in the past, based on trust.
The person who really wants to talk sincerely does not require any conditions, for conditions could themselves be the subject of dialogue.
For that reason, when a party requires dialogue based on unacceptable conditions, then it might be considered that they do not truly have the will to talk. The best conversation skill is having truth and trying to respect each other to build a trust relationship.
I think Pope Francis can help to promote authentic peace talks for the Korean Peninsula, which would contribute to peace for Northeast Asia, and world peace, by moving away from national interest.
You were planning to visit North Korea yourself this summer, but the trip was canceled. Why? Who are your counterparts in North Korea?
Several Korean religious leaders were invited by North Korea and planned to visit in June, but the meeting was postponed. We were told it was because our government participated in a United Nations Security Council resolution on North Korea.
However, I expect an increase in the number of visits and dialogue, of Catholics and other religious, between South and North Korea. I think South and North Korea can restore trust with each other through these meetings.
As president of the Korean Conference of Religions for Peace, I usually meet Kang Ji-young, representative of the Chosun Religions Conference and president of the [North] Korean Religious Association. 
How, specifically, does the Korean Catholic Church help its North Korean brothers and sisters in the sphere of humanitarian aid?
The Korean Catholic Church provides medicine and food, which are allowed by the United Nations. Also, we try to help to increase their agricultural productivity.
However, we could not help our North Korean brothers and sisters actively for a long time because the legal process for South and North exchange and cooperation has been very strict.
So the number of North Korean people who have benefited from this humanitarian aid is limited, unfortunately.
Senior Register correspondent Victor Gaetan is an
award-winning international
correspondent and a
contributor to Foreign Affairs magazine
the Washington Examiner.