Rebuilding From the Ruins: Cardinal O'Malley on the 2002 Boston Sex-Abuse Scandal, Part 2 of 2
The Vatican point man on clergy abuse discusses early efforts to address crisis and role of same-sex attraction.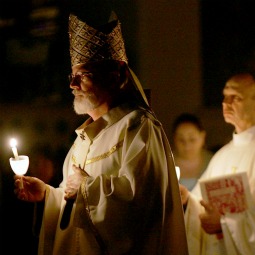 A decade ago, the Boston clergy sexual abuse crisis engulfed the archdiocese, ultimately drawing global attention to a once-hidden scourge that has destroyed the innocence of minors, shattered families, severely damaged the credibility of Church leaders everywhere and led to an estimated $1.5 billion in settlements to American survivors.
Cardinal Seán Patrick O'Malley was named archbishop of Boston in 2003. He replaced Cardinal Bernard Law, who resigned after the 2002 publication of archdiocesan personnel files revealed that clergy with credible allegations of child sexual abuse were reassigned to new parishes, rather than removed from ministry, and that parishioners were not warned about their history.
In the second part of his two-part interview with Register senior editor Joan Frawley Desmond, Cardinal O'Malley discusses why the Vatican has chosen him to address clergy sexual abuse in four separate scandals, his approach to financial settlements for victims, and the admission of candidates with same-sex attraction to the seminary.

You were chosen to address a succession of clergy sexual abuse scandals — Fall River, Mass., West Palm Beach, Fla., Boston, and then Ireland. Aren't there other bishops available and trustworthy for this kind of mission?
Well, the Church needed to find someone who had credibility and was capable of dealing with [the issue], as I had already dealt with it in Fall River.
It may also help being a religious. They wanted a different approach, and there aren't many religious bishops. When I came here, I said that St. Francis' mission was to rebuild the Church, and that is what we needed to do in Boston.
We are to be available for wherever we are needed. Certainly, it's not an ordinary thing for a Franciscan to have these positions of responsibility. On the other hand, when we were in the seminary, our German Capuchin professors would tell us that the "Capuchins are the Marines of the Church. We are asked to go to the most difficult, challenging assignments."
At a meeting of Capuchins in September 2011, it was edifying to realize that many of them were in difficult ministries. Two had been murdered since the previous meeting in 2000.

You arrived in Fall River in 1992, and you quickly discovered a number of irrefutable truths: Pedophiles can't be "cured" and ignoring or transferring predators only creates more victims and increases financial settlements. Without national policies in place, what did you do?
When I got to Fall River, I realized that the first thing we had to do was establish some policies. We had town meetings. I put the proposed guidelines in the diocesan paper for people to react to and contribute to. I developed a lay review board and used it extensively. … It made for a very good process. … For us, at that time, it worked.
I found a good lawyer. And when I came to Boston, one of my first acts as archbishop was to hire that lawyer, Tom Hannigan. He had a bigger view, a pastoral view: that the Church needed to bring about healing. It wasn't about shutting people up or doing it cheaply. He had a sense of justice and passion and was very aware of what the Church's pastoral role with these people [should be].
Many of the victims were from devout families. The offense put them in harm's way, but there was a greater betrayal: an assault on their faith, an undermining of their relationship with God.

A fellow Capuchin, Archbishop Charles Chaput, was challenged during a recent press conference about his fight against lifting the statute of limitations on Catholic abuse cases in Colorado. Archbishop Chaput defended his action, saying he was the steward of the people's resources. He said that unless the statute of limitations was lifted across the board it was unjust to single out the Church. How do you approach the issue of settlements for victims?
Unfortunately, the American way [of redressing these wrongs] is through litigation and monetary settlements. It's when people feel they are being taken seriously and feel believed. I think it's part of the healing process.
Obviously, the settlements need to be commensurate with the [local] Church's ability to give money. [In Boston] we were able to pay for a lot of the settlements by selling the bishop's residence for $105 million.
Here our financial problems were the result of the scandal, not because of the settlements. People stopped contributing, and the annual appeal went from $17 million to $8 million. This year, the numbers are up to $14 million-$15 million.
A bishop has to be concerned about the patrimony. In Massachusetts there is a statute that caps the maximum amount of damages against a charitable organization at $20,000. Not many states have that; it is a just system. It is the people's money; the poor and others are affected by that.
We made a strategic decision to make a global settlement. Tom Hannigan came up with the idea that the Church would put up a certain amount of money and then judges and arbitrators would look at the cases and make a distribution.
That removed us from the process of how the money was distributed. It allowed us to settle many cases at once. It also allowed us to provide the pastoral care for nine years. Costs for pastoral care are about $2 million a year.
Archdiocesan finances are segregated, with the annual fund and parish contributions separated from the funds used for clergy abuse victims and other related needs. Our website spells that out.

The first John Jay Report, "The Nature and Scope of Sexual Abuse of Minors by Catholic Priests and Deacons in the United States 1950-2002," noted that 81% of the victims were post-pubescent boys and that same-sex attraction was a likely factor in the crisis. But the second report, issued in 2011, "The Causes and Context of Sexual Abuse of Minors by Catholic Priests," disputed that judgment. In 2005, the Vatican issued guidelines
stating that candidates with an established homosexual orientation should not enter the seminary. How have you addressed this issue in Boston?

We have instructions from the Holy See. Although they are not as specific as I would like to see, we try to follow them.
Many of us were puzzled by the John Jay interpretations. In fact, I wish they had not been so speculative, in either of the reports, trying to interpret the findings. Just tell the findings.
The most important fact completely obscured is that the incidence of [clergy sexual abuse] fell off dramatically as the Church responded appropriately. That should be a great consolation for American Catholics and encourage other organizations not to be complacent. An ounce of prevention is worth a pound of cure.
And the second report's interpretation of [the data regarding] homosexuality was very puzzling.
From my observation, the real predatory pedophiles crossed over to boys and girls. But most of these cases were not pedophilia, but teenagers. To say it wasn't homosexual … is very speculative.

This year you posted an online archdiocesan database with the names of all archdiocesan clergy with credible allegations of abuse. The list did not include clergy from religious orders, and they have not independently posted their own online database. Will you do anything to encourage religious orders to follow your example?
They were the ones who investigated these cases; we did not. That's one reason why we didn't want to [post the names]. My hope is that we'll be able to have more conversations with them. I don't think it would be necessary to involve the Holy See in this. The names are out there anyway.

False accusations have reached a new level of complexity regarding concerns about boundary violations. Meanwhile, I've heard of accused priests waiting over a decade to appeal their cases before the tribunal.
Each case would be different. Sometimes there are so many boundary violations and so much irresponsibility on the part of the minister there is great hesitation to put that kind of person back in ministry; because they don't have any realization or willingness to curb their behavior that may be a source of alarm to parents.
When I came there were over 1,000 lawsuits filed against me from victims, as the acting archbishop. There have been so many cases to expedite. They are beginning to move faster.
We are trying to expedite these cases. In 2004, I sent Msgr. Robert P. Deeley, JCD — now our vicar general and moderator of the Curia — to Rome to work at the Congregation for the Doctrine of the Faith to help with the process.
We have tried to beef up our own staff here. Sometimes delays are caused by the Holy See; sometimes here.

You have struggled with this crisis for almost two decades. During this extended spiritual and logistic battle, how have you held on to your faith, your sense of hope? How do you stay mindful of the Holy Spirit?
My religious life, my religious community and my family have helped me make sure there is time and space for God.
I find great joy saying Mass in a prison; to ordain; to confirm; to do things with young people. We took 500 kids to World Youth Day. It's a reminder that there are good things happening in the Church.
It's not all gloom and doom. The joy of discipleship is still there.
Register senior editor Joan Frawley Desmond writes from Chevy Chase, Maryland.