Metropolitan Hilarion: Europe Must Defend Christian Roots
The Russian Orthodox Church leader warns that the continent will lose its Christian identity if it doesn't.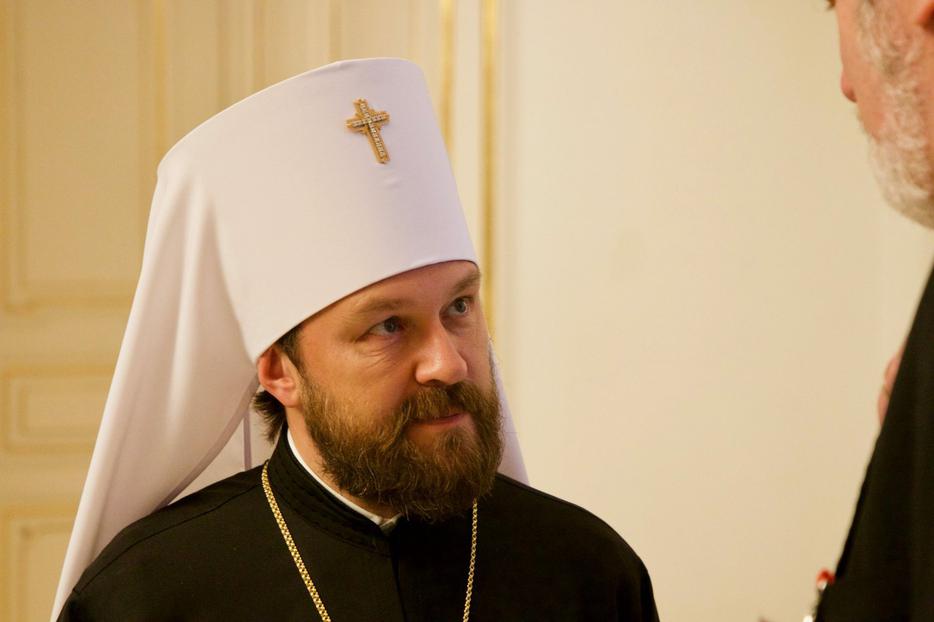 BUDAPEST, Hungary —  Metropolitan Hilarion, the head of the Russian Orthodox Church's department for external affairs, believes Europe must defend its Christian roots and change its immigration policies or "face annihilation."
Speaking to the Register Oct. 12 at a conference for persecuted Christians in Budapest, Hungary, the Russian Orthodox leader warned that if Europe "officially denies Christ and Christianity, in a few generations there will be other people living in Europe professing other faiths."
He congratulated the Hungarian government for the attention it is giving to persecuted Christians, and also praised its Prime Minister, Victor Orban, for urging Western nations to put aside "political correctness" and draw attention to concrete problems.
What is your opinion on Hungary's unique help for persecuted Christians?
I think it's very important that Hungary is a country which takes the issue of persecution of Christians very seriously. Also it is one of very few countries whose officials are openly speaking about persecution of Christians. There are many countries that would prefer to avoid speaking about persecution of Christians and instead use other phrases such as discrimination of religious minorities. Hungary, in the person of its Prime Minister Viktor Orban who spoke at this conference, is very outspoken about this phenomenon. And as a country, it not only speaks about helping Christians, but helps Christians.
How are they doing this?
We heard today about several projects, including donations to Syrian Christian churches, scholarships for Christian students from the Middle East. Also what I find it very important about Mr. Orban's position is that we should not provide help for Middle Eastern Christians here in Europe, but we should provide possibilities for them to stay in their homes. It is for them to stay in their homes or return to their homes.
Viktor Orban spoke about the need to do away with political correctness when it comes to addressing the issue. Are you of the same view?
Yes I am very much of the same mind and we in the Russian Orthodox Church always try to name things the way they are. I'm glad there is a politician in the European Union who, contrary to trends of political correctness, says what he thinks.
How is Russian Orthodox Church working with Hungary in practical terms to help persecuted Christians?
We do not, as yet, have common projects although I think we may develop some. We have close links with the Hungarian government and we have a common vision of the situation in the Middle East, on what should be done for the Middle East Christians.
There is a different kind of persecution going on in West. What can Hungary teach us from its past, especially with regards to immigration?
I think the immigration policy of most countries of the EU is very shortsighted and in the long run it may bring disastrous results for European identity. I also believe Europe, which denies its own Christian identity and Christian roots, will be destined to annihilation. If Europe officially denies Christ and Christianity, in a few generations there will be other people living in Europe professing other faiths.
As in parts of the Middle East?
Yes, but in the Middle East, Christians are not denied their Christian identity, so their situation is quite different. In the Middle East, they are forced to leave because nobody seems to care to protect them. In Europe, on the contrary, many governments, official rhetoric and political correctness, deny Europe as a Christian continent. I believe it is only by continuing to be Christian and identifying itself as a Christian continent that Europe can survive.
On Ukraine, the Greek Catholics in the country are concerned about being cast aside by the Holy See to build better relations with Russian Orthodox Church. How much is that a concern you share?
I should not comment on relations between UGCC and the Vatican, it's an internal affair of the Catholic Church but I can say the rhetoric used by the UGCC regarding the current situation and the canonical Orthodox Church is rather aggressive. I believe it is not a rhetoric that should be used in this situation. The role of the churches is to bring peace and not to bring a clash.
Edward Pentin is the Register's Rome correspondent.