Love Come Alive Fest Sings for Life
Nashville concert features Catholic musicians to promote 40 Days for Life. Oct. 23 issue feature.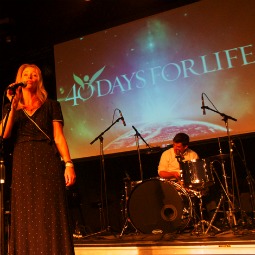 NASHVILLE — The 40 Days for Life's fall campaign in the Diocese of Nashville got a rocking boost on Sept. 24 with a festival of music that garnered support and commitment from a youthful audience. Produced and promoted by Mysterium Records, the live concert of eight Catholic musicians and rock bands was recorded for a CD that will help promote 40 Days for Life. (The CD will be released by Mysterium Records and made available to LifeTeen and through Ignatius Press.)
Jimmy Mitchell, 25, president of Mysterium Records and producer of the Love Come Alive Festival, was inspired to get more deeply involved in the pro-life movement because of 40 Days for Life.
He was also moved by reading Abby Johnson's book Unplanned.
"I couldn't put it down. It changed my life and the perspective of the gravity of the issue at hand, not just the loss of unborn children — but if we don't understand the value and dignity of human life, it's hard to understand anything else," says Mitchell. "I started praying in front of the abortion clinic regularly, rather than sporadically. As I started to pray more, I had a desire welling up in me to bring more and more people into that prayer by inviting them into the 40 Days for Life, which I believe is the most successful campaign out there. I'm hoping this festival helps bring more people into this movement."
This fall, more than 100,000 people across 303 cities are expected to participate in the largest 40 Days for Life campaign in history, according to David Bereit, national director. The fall campaign started on Sept. 28 and runs through Nov. 6. The Love Come Alive Festival included testimonies from post-abortive women, and a phone call from Bereit, who fired up the audience with an inspiring pep talk to get involved. He says the festival is an excellent format to attract young people.
"It meets youth where they are and uses elements of pop culture to motivate them to help save lives and impact souls in the pro-life movement," he says. "This festival has enormous potential to be replicated in other cities as an innovative way to attract young people to 40 Days for Life campaigns."
Mitchell brought together a cadre of Catholic musicians, including L'Angelus, Kevin Heider, Colleen McCarron Nixon, Marian Grace and Marie Bellet.
Heider has been writing and playing music for nine years, starting while in college at Franciscan University of Steubenville in Ohio. Some of the music from his CD, Salzburg Revolution, was inspired by studying in Austria. Now married and residing in Baltimore, he has played all over the country in secular venues, but also at Catholic high school and college events.
"What's unique about the music and performers at Love Come Alive is that not all of our music is overtly Christian; it is implicitly," he says. "It's great to meet a lot of these other people that I'm sharing the stage with, and I hope to be part of future festivals."
Marie Bellet, a mother of nine who resides in Nashville, started writing music when she was pregnant with her sixth child; she released her first album in 1997. She regularly prays in front of abortion clinics. Most of her music focuses on family themes.
She is inspired by the growing Catholic influence in the music industry.
"There's a lot of Catholic music happening in Nashville, and there's so much enthusiasm for the pro-life cause among young people," she says. "Jimmy's trying to put together an energetic, community-building event that will hopefully get a lot of people to sign up and pray in front of abortion centers."
Barb Ernster writes from Fridley, Minnesota.