Journey 'The Way' Through the Eyes of a 17th-Century Priest
A 1997 Book Reignites Interest in the Pilgrimage Route to Santiago de Compostela
The historic shrine of St. James (Santiago de Compostela) in Galicia, northern Spain, has grown enormously in popularity in recent years.
In 2014, some 237,886 pilgrims collected their compostela (the certificate earned for walking a minimum distance of 100km — 200km if cycling — to the renowned site; the whole distance is 500 miles); and 11,577 of these hailed from the United States. The most popular time to travel along "El Camino" (The Way) route is ahead of St. James' feast day, July 25.
Not all travel for religious reasons; indeed, the appeal of the "Camino" to people from a wide variety of backgrounds, each on a particular "journey," is conveyed very powerfully in the 2010 film The Way, starring Martin Sheen and Emilio Estevez, which introduced the ancient pilgrimage route to an even larger international audience.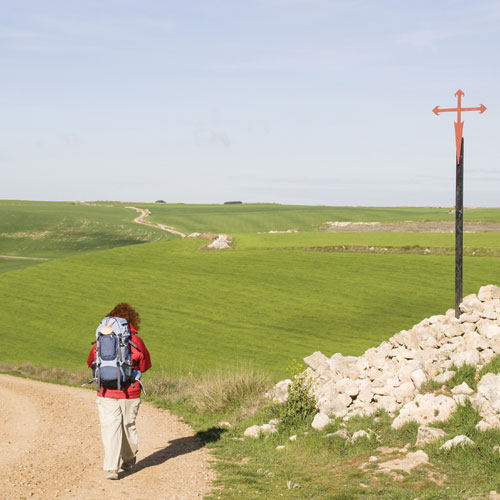 While many modern pilgrims have written about their experiences on the Camino, it is worth remembering that there are some accounts that have come down to us from those who undertook the pilgrimage in the more distant past. One of the most fascinating of these comes from a Bolognese priest called Domenico Laffi, who traveled more than 1,300 miles on foot from Bologna to Compostela on three separate occasions (in 1666, 1670 and 1673), recording what he saw along the way and publishing his account in 1681. And it is his journey to Santiago, rather than at the shrine itself, which is of the most interest.
Father Laffi was an inveterate traveler, with an eye for detail, which brought architecture, religious customs and, indeed, people, to life. However, despite being reprinted in the early 18th century, his work remained largely forgotten until it was translated into English by James Hall in 1997, when the Spanish shrine and its associated pilgrim routes were gaining popularity once again.
Father Laffi and his traveling companion, also a priest, followed the traditional three-country route to Santiago from Bologna (Italy) via Milan, Turin, Montgenèvre (France), Avignon, Toulouse, Roncesvalles, Pamplona (Spain), Burgos and León. There was much to see along the way. Upon reaching Reggio, in the territory of the duke of Modena, Laffi made mention of the image of the Madonna of Reggio, which had been minted onto a gold coin, depicting Mary adoring her infant Son with the words: Quem genuit adoravit ("She adored him whom she bore").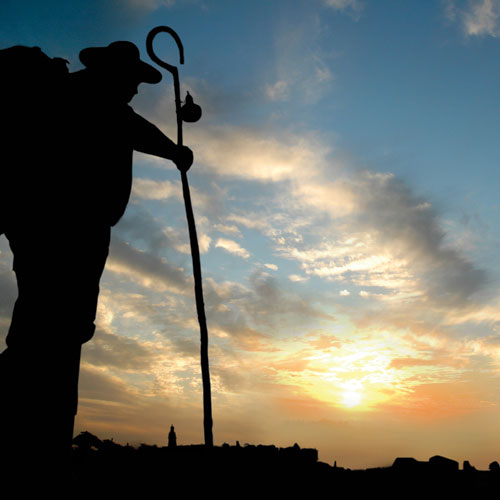 At Milan, he called the cathedral an "eighth wonder of the world" and made special mention of its relics collection, which included one of the nails of crucifixion, a gift from the Emperor Theodosius to St. Ambrose, and no fewer than 11 bodies of the Holy Innocents killed by Herod.
In the town of Vercelli, he visited a Dominican monastery, which housed a "chastity belt" given by angels to St. Thomas Aquinas, when he was locked up in the family castle by his brothers, who tried to dissuade him from becoming a Dominican by plying him with some young female company.
Father Laffi arrived at Turin in early May, for he was present for the Festival of the Holy Shroud on May 4, and he described the new chapel that was being built for it (completed in 1694). During the procession, the shroud was unwound by no less than "seven bishops wearing full canonicals." Upon its display, everyone knelt and wept out loud for the forgiveness of their sins.
Father Laffi entered the county of Avignon in May 1670, during a papal interregnum. He reported the beliefs of the local people: that during the period of sede vacante, following the death of a pope, the olive trees dry up and the leaves wither and fall until a new pope is elected. Father Laffi, while not blindly accepting this, nevertheless attested that the olive trees that he and his companion saw in the region were all stripped of their leaves.
Tales that included elements of the miraculous clearly appealed to Father Laffi.
When in Avignon, he related the story of a miracle wrought by "St. Benedict" (a local 12th-century saint called Jean Bénézet) concerning a boy who told a lie and who swore that if it was not the truth that his head should be turned back to front, which it allegedly was! A visit to the St. Bénézet's chapel was organized to reverse (if you'll pardon the pun) the damage.
Father Laffi also recorded some local customs relating to popular piety and the liturgy. In Montpellier, for instance, he spoke of the custom of lighting a row of large red wax candles at the moment of the elevation of the Host at Mass, which remained lighted until after holy Communion.
In a town between Carcassonne and Toulouse, Father Laffi and his priest friend celebrated Mass in a Carmelite chapel "and gave Communion to many people, as it was Pentecost." Afterwards, many of those attending asked them to go around the tombs and recite the De Profundis and other prayers for their dead relatives.
Father Laffi celebrated Corpus Christi in the village of Orthez, which he described as being "full of heretics." His account of participating in the Corpus Christi procession made mention of "heretic scoundrels … laughing like lunatics while the procession passed" — one of many references he makes to the Christian divisions of his day. Although the inn at which they stayed was "run by a heretic," Father Laffi nevertheless tells us that he "looked after us very well."
While at Mass in Roncesvalles, Father Laffi noted their custom of consecrating the bread and cutting it into little pieces just before the elevation and, instead of exchanging the "kiss of peace," passing around "a large metal plate" to kiss (the pax-board bearing a religious image, which was widely used in the later Middle Ages and which Father Laffi was obviously not familiar with).
There were other miracles to recount before reaching Santiago, including the famous tale of the unjustly hanged pilgrim who was brought back to life by St. James in Santo Domingo de la Calzada, and an account of a visit to the Crucifix of Burgos, one of three said to have been made by Nicodemus.
Upon eventually reaching the shrine of Santiago, the priest pilgrims fell on their knees and, through tears of joy, together sang a Te Deum.
Salvador Ryan is professor of ecclesiastical history at St. Patrick's College, Maynooth, Ireland.
INFORMATION
For the full account, see Domenico Laffi's A Journey to the West: The Diary of a Seventeenth-Century Pilgrim From Bologna to Santiago de Compostela. Trans. James Hall. Leiden: Primavera Press, 1997.