Iraq After ISIS: How to Get Christians to Stay
ANALYSIS: For Archbishop Bashar Warda of Erbil, the goal now is 'not just surviving; it's thriving' in their ancestral home.
ERBIL, Iraq — Nearly a year since Mosul was liberated from the Islamic State and the terrorist organization effectively defeated, new challenges confront the relatively few Christians remaining in the ancient Christian towns of northern Iraq who feel let down by the United States and continually ignored by the West.
"ISIS was a trial we had to face," said Chaldean Archbishop Bashar Warda in Erbil, the capital of Iraqi Kurdistan. "Now we have another one: how to really help Christians to stay."
For the archbishop, the goal now is "not just surviving; it's thriving." And to do this, he believes, not only are jobs needed, but also "sustainable projects," ones that give Christians a chance to showcase their talents and qualifications, "a chance to witness."
In the once densely Christian populated Nineveh Plains to the north and east of Mosul, the challenges are similar, though each situation is different and largely contingent on which civil authorities are in charge. More than 90,000 Christians lived in the region before ISIS; that number has decreased to less than just under 40,000.
In Qaraqosh, once a prosperous, predominantly Christian town a few miles east of Mosul, security is no longer just about protection from Islamic terrorists, but rather about guarantees of survival in the face of a depleted population. (So far, just over 25,000 Christians have returned — less than half of the original Christian population — and only over a quarter of the properties damaged by ISIS have been restored.)
"Demographic change is a very sore point for us," said Syriac Catholic Father Amar Yako, the town's parish priest. He therefore wants to see Qaraqosh's Christians carving out a future that is both sustainable and economically viable to encourage them to stay.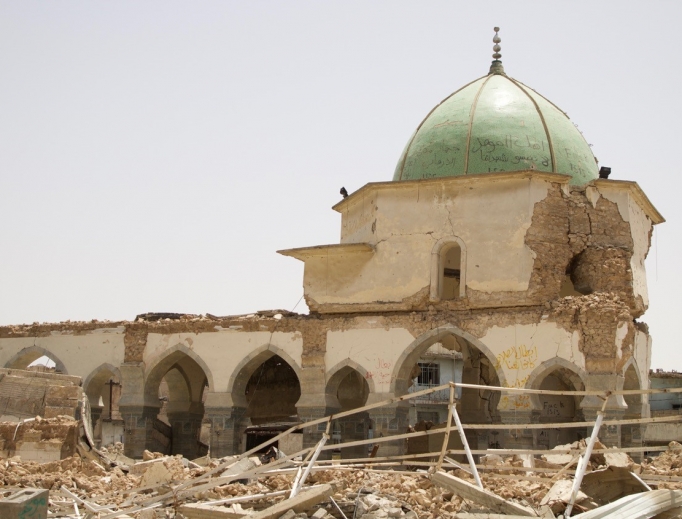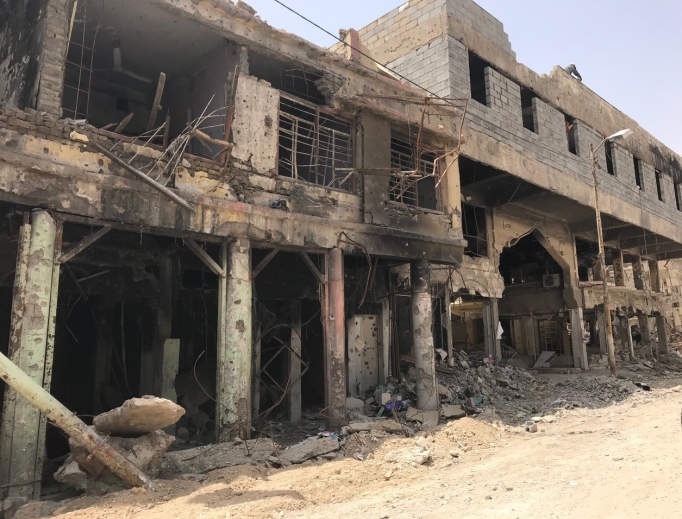 Distrust Remains
Often, the challenge is coexisting peacefully with their Muslim neighbors.
Many of Qaraqosh's Christians remember how militant Muslims hounded them out, took their goods and let ISIS "steal everything," Father Yako said. Consequently, there is distrust, and many Christians wonder what's the point of returning. But their priest remains confident that 90% will eventually return. "If we lose Qaraqosh," Father Yako warned, "then we lose Christianity in Iraq."
Farther to the north, the once predominantly Christian town of Bartella has been overrun by the Shabak, followers of Shabakism — a syncretistic religion made up of elements of Islam (primarily Shia Islam), Christianity and Yezidism. Persecuted by al-Qaida in the 2000s, many fled from Mosul to Bartella and are supported financially and otherwise by the Iraqi and Iranian governments. This has allowed them to buy up once-Christian properties.
Although nearly 6,000 Christians have returned after the defeat of ISIS, more than two-thirds of Bartella's Christians have yet to come back, with 162 families still living in camps in Erbil.
"We're completely vulnerable," said Father Benham Benoka, a Syriac Catholic parish priest. "What's going to happen in the future? Who can guarantee us a permanent presence here on the Nineveh Plains? Who can guarantee peace and security?"
He lamented how his church is protected by just two Christian militia guards and was skeptical that Islamism has truly gone, as the Shabak are similarly repressive, though generally peaceful. Just as the Muslim militants tried to forcibly convert and harass Christians, so, in a similar way, do the Shabak. They carry out Muslim propaganda, Father Benoka said, steadily building new mosques and blaring out the Salah (Muslim prayer) all day. "They show themselves to be the only force in the city," he said. "There are no Iraqi soldiers here," and the mayor is "never Christian, only Shabak."
Christians Return to Telleskuf
In Telleskuf, a town farther to the north, the situation is better, but not without its own particular challenges: Nearly two-thirds of the town's Christian population of around 7,000 people has returned, and more than two-thirds of Christian properties have been restored. The town was less affected by ISIS, which only occupied the city for around a week.
The problems there are with the Kurds, who enforce travel restrictions around the town due to political tensions with nearby Iraq (Kurdistan voted for independence from Iraq in September 2017, but Baghdad has refused to grant it).
Although Mosul is only 20 miles away, roads are blocked, and it takes two hours to reach the city by an alternate route. The Kurds call Telleskuf disputed territory, but this perplexes the Christians who say the town has never been Kurdish.
Security is less of an issue there, but after returning to the town, many Christians are thinking of emigrating, according to the town's parish priest, Father Salar Kajo, a canon lawyer from the Pontifical Oriental Institute in Rome and a specialist in sharia (Islamic law). "There's no work here," he said. "Houses are being repaired, but jobs are important, too; people have homes but no income to pay the bills."
He said he was very grateful for the help of the Hungarian government, which has given $2 million to help reconstruction, largely directed to restoring St. George's Church, which was damaged by ISIS and Kurdish forces. But he said humanitarian aid from nongovernmental organizations has helped to create "lazy people" and what they need more of is aid that goes toward microfinance — small loans to start businesses — and investment.
"The key is small-scale microfinancing — not vast injections of capital from huge NGOs," said Father Benedict Kiely, founder of Nasarean.org, a charity that focuses on helping small startups for persecuted Christians. "Quite literally, 'small is beautiful' — and working with the local communities to see what is viable," he said. "There is a tremendous opportunity for business leaders in the West, not only to help by investing, but to be mentors."
A significant number of Christians in the region, especially in Qaraqosh, have the security of having government jobs, although these have come with strings attached, including the temporary withdrawal of salaries unless they returned to their homes.
Reconstruction Efforts
The churches in Iraq have been trying to coordinate the reconstruction efforts and bring hope to Nineveh's faithful. Much of this is being carried out through the Nineveh Reconstruction Committee, an interconfessional organization set up last year with Catholic NGOs to encourage Christians to return to the region. "It's very impressive how quickly the reconstruction is taking place," said Aimery de Vérac, the committee's financial adviser. Having turned into ghost towns after their liberation in late 2016, "the villages are now quite alive," he added.
The churches are also especially pleased by Pope Francis' elevation of Chaldean Patriarch Louis Raphael Sako of Baghdad to cardinal, with the faithful generally seeing it as a sign of hope for the future.
But Christian leaders and other faithful often expressed disappointment in U.S. President Donald Trump, in particular for not following through on his promise to prioritize help for persecuted Christians.
An October 2017 pledge by Vice President Mike Pence that "America will provide support directly to persecuted communities through USAID" apparently has not been realized. "Unfortunately, it looks like all the aid will go through the same system, without listening to the needs and not prioritizing Christians — not at all," said Archbishop Warda.
"Trump promised to give priority to Middle East Christians, but he's not doing it — he hasn't kept his word," said Father Kajo. "It's just all talk."
The priest also highlighted corruption and waste on the part of the United Nations, which has given very little help to Iraqi Christians. Father Benoka pointed out that churches have also received "zero aid" from the Iraqi government.
The political situation also isn't helping.
Political Turmoil
The general elections in the country in May, resulting in a coalition led by firebrand, anti-U.S. Shiite cleric Moqtada al-Sadr, is causing instability and uncertainty across the region. Surprisingly, many Christians yearn for the days of Saddam Hussein, who protected the churches, generally maintained stability and was known to respond quickly and ruthlessly to any Muslim who attacked the faithful, particularly clergy and religious. "A bishop or priest gets killed, and there are no arrests at all," said Yohanna Yousif, a farmer in Qaraqosh, referring to such martyrdoms as Archbishop Paulos Faraj Rahho and Father Ragheed Ganni 10 years ago. 
Also of concern is that some ISIS members continue to be present but are now hidden. Simon Assofy, a dentist from Mosul now working in Erbil for SOS Chrétién, a French Catholic charity for persecuted Christians, said he was aware of some Muslims in Mosul taking advantage of their new freedoms only to then receive threatening messages.
"Whenever they speak badly of ISIS," he said, "they receive messages on their phones: 'Don't think we've gone; we're still here, so be careful.'" But the government has instructed many police in the city to try to "catch those people," he said.
Still, despite these anecdotal incidents, any resurgence of ISIS appears highly unlikely.
"All Muslims are against the idea of ISIS now because they suffered so much from them," said Yousif, expressing hope that relations between Christians and Muslims will improve.
"People have changed completely in Mosul and see Christians as the 'flowers of the city,'" he said, adding that he recently took his grandson to see a doctor there and the staff refused to take any money because they were Christians.
The situation has also been an opportunity to witness. After ISIS blew up a famous monument, Yousif and others went to help. "A Muslim told me: 'We killed your people. Why are you helping us?'" Yousif recalled. "I replied: 'Because that's Christianity.'"
Current Challenges
Maan Ibrahim, a Muslim in Mosul working on a construction site of a new Syriac Catholic church in the city — something Muslims only recently have been allowed to do — told reporters "everything to do with ISIS is bad" and that life under them was "very hard." He said he and other Muslims consider Christians as their "brothers" and hoped that "all Christians would return" to the city.
Hope, therefore, remains, but so do the challenges, which can be summed up as the need for guarantees of the  right to equal citizenship under the rule of law, security and the ability to work and raise a family in peace.
"All those desires are either denied, in danger or nonexistent," said Father Kiely.
On his fifth trip to the region since 2015, Father Kiely said the situation is obviously better than just after the genocide, but he nevertheless felt a "palpable sense of despair, even from those who had been more positive than in the past," due to few jobs and security concerns. Many young Christians, hearing from friends now happily living abroad, are strongly tempted to leave.
"No one will stay without a job," Father Kiely said. As well as helping small businesses, it is important to "work on education and advocacy for the rights of the persecuted, especially by encouraging the Church in the United States to not forget the worldwide persecution," he said.
For this reason, he is leading a project to open a "Shrine for the Persecuted" June 12 at St. Michael's Church in New York City.
"They feel forgotten by their fellow Christians," said Father Kiely. "We must show them that they are not."
 
Edward Pentin is the Register's Rome correspondent. He filed this report from Iraq.