Indian Nun's Killer Participates in Her Beatification Mass
Clarist Sister Rani Maria Vattalil, whose family subsequently forgave the Hindu man who brutally murdered her, was beatified Nov. 4 in Indore, India.
INDORE, India — More than 15,000 people, including hundreds of nuns and priests from far corners of India, witnessed the beatification of Franciscan Clarist Sister Rani Maria Vattalil at a Nov. 4 ceremony led by Cardinal Angelo Amato, prefect of the Congregation for the Causes of Saints.
Sister Rani — who was brutally murdered aboard a bus in 1995 — was beatified with four cardinals of India and 50 bishops from across the country converging at Indore in the Hindu heartland of central India, which has only a nominal Christian presence, including Sister Rani's former Clarist convent in the town of Udainagar.
Also present was the Hindu man who murdered her: Samandar Singh, who shed tears at the ceremony when he was embraced by the martyred nun's older brother.
The ceremony began with a solemn procession of the bishops, being led into the temporary altar at the grounds of St. Paul's School in Indore on the morning of Nov. 4.
"Two beatitudes are realized in her: 'Blessed are those who hunger and thirst for justice, for they shall be satisfied. Blessed are those who are persecuted for the sake of justice, for the kingdom of heaven is theirs,'" Cardinal Amato said in his homily, referencing Matthew 5:6 and 5:10.
"Sister Rani hungered and thirsted for justice. For this reason, she was killed Feb. 25, 1995, while she traveled on a bus to Indore. Her assassin inflicted on her body 54 blows of his knife. It was a true massacre. While she was being killed, Sister repeated the name of Jesus," recalled Cardinal Amato.
The martyrdom of Sister Rani, the Vatican prefect for the Causes of Saints reiterated, "is a blessing not just for the mission of Udainagar, but for the entire Catholic Church in India. Her sacrifice has become a beacon of light for the multitude of missionaries who find in her inspiration and protection for their difficult work for the good. As always, martyrs have rendered the earth fertile for the generation of new Christians."
"Twenty-two years have gone. It is time to give thanks now. Lots of changes have taken place around Udainagar due to the prayers of Sister Rani Maria — more blessings to the whole world," said Bishop Chacko Thottumarickal of Indore at the beginning of the service.
Memorable Moments
One of the most memorable moments in the three-hour beatification was the presentation of a relic of the nun — her rib, carrying a stab mark — borne in procession by Sister Anne Joseph, superior general of the Franciscan Clarist Congregation to which Sister Rani belonged. Accompanying Sister Joseph was Sister Rani's younger sister Sister Selmy, who earned renown in India after she accepted Rani's assassin as her brother during a visit in jail in 2002.
Equally notable was the presence of Samandar Singh himself, who, 22 years earlier as a hired Hindu youth, brutally stabbed Sister Rani in front of 50-odd bus passengers along a remote jungle track in the bus the 41-year-old nun was traveling in on her way to catch a train home to Pulluvazhy, her native community located near Kochi in southern Kerala state. Sister Rani was a member of the Syro-Malabar Catholic Church, which, according to tradition, was founded by St. Thomas the Apostle in the first century.
Tears rolled down the cheeks of Singh when Stephen Vattalil, elder brother of Sister Rani, embraced the man who stabbed his sister at the beginning of the public meeting to celebrate the beatification.
"I wanted to be here. So I came," Singh told the Register during the beatification. Singh walked more than 6 miles from his village of Semlia to catch a bus to reach Indore for the beatification ceremony.
"What happened is very bad. I regret it. But now I am happy because the whole world is rejoicing over [the beatification]," said Singh, a school dropout who had carried out the murder at the age of 22 at the behest of moneylenders angered by the nun's social work among village women. Sister Rani had set up self-help groups for women and others, liberating them from the moneylenders' clutches.
Initially sentenced to death for the murder, Singh's sentence was commuted to life in prison by a higher court.
The Path to Forgiveness
"Didi [Sister Rani's elder sister] gave me a new life with her forgiveness," Singh explained about the consequences of Sister Selmy's acceptance of him as her "brother" while he was serving his prison sentence. "I am a changed man."
Father Swami Sadanand, a member of the Carmelite of Mary Immaculate order who died in March 2016, had paved the way for her prison encounter with Singh, who at the time had been contemplating how, upon release from prison, he could take revenge on those who made him commit the murder. 
The priest visited Singh several times in prison since 2002 and took Sister Selmy to meet him at the prison, where she tied a rakhi (sacred thread) on his hand signifying that she accepted Singh as her brother.
Eventually, the priest advocated for Singh's release from prison. Court officials agreed in 2006, after mandatory declarations were signed by Selmy, her parents and Church officials.
When Selmy was preparing to return home to southern Kerala state in January 2007 to visit her ailing 82-year-old father, Paul Vattalil, Singh accompanied the nun and apologized to her parents. Since then, Singh has been in regular contact with Sister Selmy, who was posted at the same convent at Udainagar where her sister is buried.
Singh, who leads a solitary life as a farmer, as his wife left him with their son after he was convicted of the murder, says the incident has "changed my attitude to life."
"I am a new man, and I help others. Many have realized that the suspicion about the Christians is misplaced."
As the service ended, Singh asked this correspondent to introduce him to the assembled bishops in order to receive their blessings. Several of them blessed him, including Cardinal Telesphore Toppo, former president of the Catholic Bishops' Conference of India.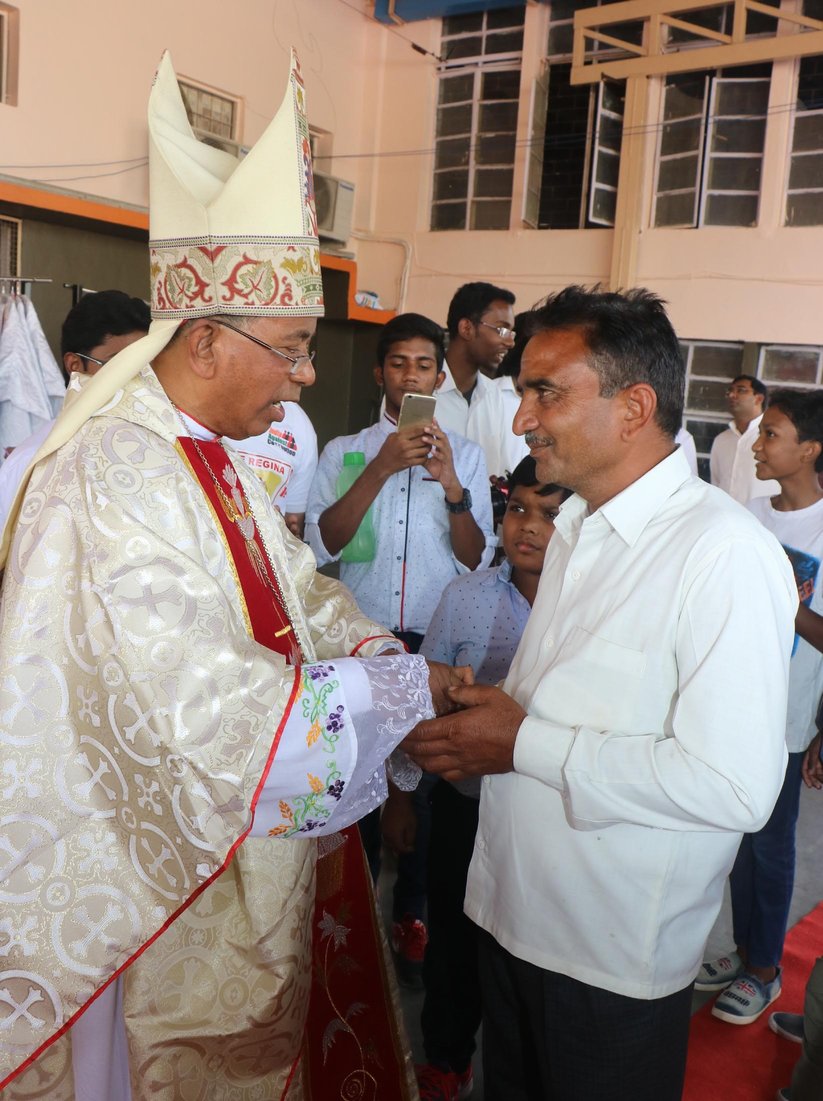 "More than 1,000 people have come from my diocese," Bishop Anthony Chirayath of the Diocese of Sagar, more than 250 miles from Indore, told the Register.
Giving Thanks
On Nov. 5, Archbishop Giambattista Diquattro, the apostolic nuncio to India, celebrated a Mass of thanksgiving at the tomb of Sister Rani at Udainagar with half a dozen bishops in the presence of 3,000 faithful.
In addition to nuns, priests and a couple hundred relatives, enthusiastic parishioners of Sister Rani came, traveling more than 1,500 miles for the occasion. Also in attendance were Hindu beneficiaries of Sister Rani's social work.
Chamar Singh Nihwal, an illiterate Hindu farmer who lives in Hirapur village near Udainagar, told the Register about Sister Rani's efforts on their behalf.
"Why don't you send your children to school?" Nihwal recounted the words of the Clarist sister 25 years ago that inspired him to send his four children to school. "One of my sons is a policeman due to Sister Rani only," he added.
"Sister Rani changed our lives. Today I have come here to remember her," Nihwal said. "She helped the poor stand on their feet. We are thankful to her."
Register correspondent Anto Akkara is based in Bangalore, India.