Fleeing Vietnam for My Beloved Catholic Faith
Independence Day: Peter Nguyen thanks and encourages U.S. citizens to take a stand for religious liberty.
In 1975, floating out on a U.S. transport boat, I told my children as we looked at Vietnam for the last time, "Look, now, my children, at the city of Saigon for the last time. We are going far away for a very long time. We may never have a chance to come back again."
Today, 40 years later, we have not been back.
I am a Vietnamese Catholic, the second oldest of 11 children. My father's family came from the Mekong Delta in South Vietnam, where our family's deep Catholic roots go back several generations. The Catholic faith was brought to Vietnam in the 16th century by Portuguese, Spanish and then French Jesuit missionaries.
Despite intense persecutions at times, Catholicism grew in Vietnam. In 1988, Pope St. John Paul II canonized 117 martyrs whose blood watered the seeds of the faith in Vietnam. 
In the last two centuries, the Church in Vietnam has suffered greatly — first under the royal dynasties, such as the Nguyen Dynasty, and now under the communist regime. As I write, religious activities are subjected to censorship and suppression. Prayer groups in homes and public expressions of faith are monitored and all but forbidden. A government-run patriotic "Catholic" Church has been established.
Despite this history, my family, like many Vietnamese families, held on to our faith. After receiving a Catholic education under the guidance of holy priests and sisters, including several years in a minor seminary, I met and married a wonderful Catholic girl from the choir at our home parish of Cau-Kho in Saigon. Mary and I celebrated our 50th wedding anniversary this year.
In the early years of our marriage, we lived with the growing concern of losing our religious liberty, as atheistic communist forces pushed south from the north of Vietnam. When South Vietnam began falling to communist forces in April 1975, my wife and I made the difficult decision to leave our beloved homeland in search of a place where we could live our Catholic faith in freedom and hand it on to our children. Through the help of friends, we were evacuated under President Gerald Ford's Operation Frequent Wind, since we were considered "at-risk" Vietnamese, due to our family's civic and religious history.
During our chaotic final day in Vietnam, thousands pushed their way onto vessels, in a bid to flee the advance of North Vietnamese troops. Meanwhile, looting and gunshots rang through the air.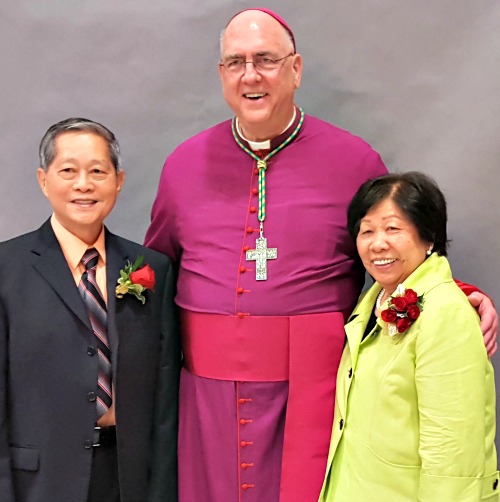 After a difficult journey, we arrived in Guam and were welcomed at a U.S. Air Force base. The day before leaving for the U.S. mainland, we were privileged to attend our first Mass since leaving Vietnam on this American military base. It was an outdoor Mass celebrating the Solemnity of the Ascension. Before receiving the Eucharist, my wife and I cried, thanking God for preserving us, our children and our most cherished freedom — our religious liberty. Through Catholic Charities and the kindness of Drs. Richard and Ruth Taylor, two doctors with deep Catholic faith, we settled in the wonderful community of Wichita, Kan., where we lived and worked for 38 years before retiring to Kansas City.
In the United States, we found the religious liberty we lost in our native homeland. We savor the freedom to attend daily Mass, live out the liturgical year and educate our children in the Catholic faith. Thank you, God! Thank you, U.S. Catholics! Thank you America! Let us always stand together and preserve this most precious gift of religious freedom.
Peter Nguyen writes from Wichita, Kansas.