Faith at the Crossroads
Young Pro-Lifers Complete 21st Annual Cross-Country Walk
WASHINGTON — After 12 weeks of both silent protesting and vocal testimonies, dozens of young Americans gathered outside the U.S. Capitol to rally in defense of life, after trekking from West to East Coast for that very cause. 
These young Americans, ranging in age from 18 to 26, followed a well-trodden path. They were sponsored by Crossroads, a pro-life organization that has been hosting similar walks for 21 years. The number of participants over the years reaches well over 1,000.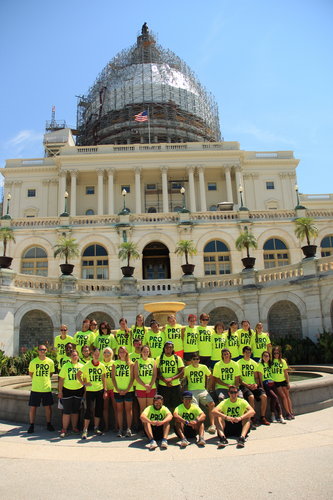 This year, Crossroads reached an all-time new record regarding the number of participants for one collective trek — 43 walkers — since it began in 1995. Split into groups, three simultaneous walks began May 23 from Seattle, San Francisco and Los Angeles.
And on Aug. 15, all three Crossroads groups gathered in Washington to conclude their summer on the road. The walkers welcomed speeches from Crossroads' president, James Nolan, and its founder, Steve Sanborn, both highlighting the vision, history and achievements of the organization. In the words of Sanborn, speaking to the Register during the rally, Crossroads exists to combat a grave evil and keep in check a government that has overstepped its authority on the issue of life. 
"The government has no right or power to make any sort of declaration over human life or God's creation — no power over its end. When you usurp that from God and expect people to simply live passively with that, we have an obligation to teach them that the opposite is true."
Keynote speaker Jeanne Mancini, president of the March for Life, told the walkers, "Lots happened because of your 'Yes' this summer," encouraging walkers to pray for perseverance to continue to support life, especially in light of videos exposing Planned Parenthood.
Paraphrasing St. Catherine of Siena, Mancini continued, "Be who you are, and you will set the world on fire." She concluded by thanking the walkers for their invaluable work and witness: "This summer it was about being who you were, and, in a very unique, tangible and visible way, you were a symbol. We need you."
Over the course of the summer, volunteers walk through 36 states, thousands of towns and cities, covering more than 10,000 miles, speaking to countless Americans along the way and witnessing for life.
"While the latest polls continue to show that the majority of Americans are pro-life, we have long known that this is a pro-life country because, unlike polls that take a small sample, we have had the advantage of directly meeting countless thousands of Americans at the grassroots level," noted Nolan, highlighting a press release. "As a country, I believe we are more and more choosing life and rejecting abortion."
Walkers themselves were moved by what they witnessed on American byroads and city streets.
"I would say that one interesting thing was that people expect you to meet a lot of resistance, and we did meet it, whether getting the finger, people shouting things at us from their cars," said central walk leader Andrew Heim, a recent graduate from Ave Maria University.
"More so, however, I was consistently inspired by the kind and loving people. They are a lot of good people in this country, and we often lose sight of that ... people who are really good and trying to uphold the dignity and sanctity of life," Heim told the Register.
Walking during the week, Crossroads volunteers stop during the weekends in cities to silently and prayerfully protest outside of abortion facilities as well as speak at local parishes.
Whether on the move or not, walkers — whose mission is clearly identifiable by the bright "Pro-Life" T-shirts they sport — are constantly approached by inquisitive or hurting individuals.
In Denver, Ohio, one married couple approached Crossroads walkers and related that they were having a hard time conceiving. They asked the walkers to tell any woman they encountered who didn't want her baby that there was a young loving couple out there who did.
Liz Moran, a recent college graduate of the University of Mississippi who walked this summer, had countless experiences in which women suffering from past abortions expressed certain healing through encountering Crossroads.
One woman stopped to talk with Crossroads in Nebraska. After a long conversation, the woman admitted to an abortion 20 years ago and asked for prayers for healing and peace.
For Moran, these experiences were not only grace-filled moments for those women, but also for Crossroads volunteers themselves.
"Countless experiences like that along the road were hard, but they also prepared us for similar conversations when we go back to real life. ... I have always said that I am pro-life, but just to have concrete experiences like that, which back up how harmful and scaring abortion is, will help a lot."
Cecilia O'Reilly writes
from Washington.
Will Callaghan of Crossroads photos