EWTN Documentary Highlights Returning Iraqi Christians' Struggles — and Courage
Elisabetta Valgiusti discusses her new production, which premieres Dec. 31 on the global Catholic television network.
What is life really like for ordinary Iraqi Christians — one of the oldest Christian civilizations in the world — returning to their liberated villages now that the Islamic State group (ISIS) has been defeated in the country?
In a new documentary for EWTN to be aired over the Christmas season, film producer Elisabetta Valgiusti sought to find out, visiting principally the once-predominantly-Christian town of Qaraqosh, close to Mosul.
A regular visitor to Iraq's Christians since 2005, Rome resident Valgiusti sat down Dec. 19 with Register Rome correspondent Edward Pentin, who visited the region in March, to discuss how the Christians' return and reconstruction is faring, what challenges they are facing and the kind of help they need.
Valgiusti reports that the refugee camps in Erbil, the capital of Kurdistan, have largely been emptied as many Christians return to their villages, but tensions remain high after Iraqi Kurds voted for independence from the government in Baghdad in a referendum in September. She also contrasts their life now with the "beautiful community" she remembers before the ISIS invasion.
You know well the situation facing Christians living in the Nineveh Plain. How have you come to be so close to them?
For many years I've followed the Nineveh Christians, going back to 2005. I've been there nine or 10 times, and I've made five different films. On my first visit, it was such a surprise — they were such a beautiful community, so lovely and placid. They'd built their lives in these villages — in Qaraqosh, Bartella and Karemlash. They'd built this Christian society in which everyone had jobs, houses, their own hospitals, schools. They'd been under siege before; they'd had problems over land.
This territorial dispute, which has always been underestimated, was a big problem for them. I remember in 2005 recording people talking about the disputed land. Their Muslim neighbors were always trying to get their land, strange laws were imposed, so they had already lost territory. It's always been such a good agricultural area, very well maintained and developed, and the food was great in Nineveh. They're what one would call middle-class Christians there, looking after their homes, their way of life. It is a Western way of life.
How did you see it change over the years?
Over these years I've been visiting them, you could see them trying to hold on to their position.
In 2008, 2 million Iraqis faced a humanitarian crisis and tried to flee the country due to violence and terrorist attacks. They found shelter in Jordan, Syria and Lebanon and applied for visas to third countries. At the time, 1.7 million Iraqis were internally displaced in their country. Then, when ISIS took Mosul [in June 2014], Iraq's Christians escaped, many to Jordan and Lebanon, but were then told to go back, that it was safe — but that was a big mistake. When they went back, they didn't organize themselves. Then, after two months, ISIS arrived [in the towns outside Mosul], and they had to leave in two hours with nothing, without having organized anything. Then they spent three wasted years in Kurdistan as refugees. They weren't used to that; they weren't able to work.
Now they go back, but what a change to their lives. The people who collaborated with ISIS are still there — they have obstacles, no proper security. "The problems aren't resolved, but we just came back," they say. "We're here and will try to get it together."
Were you worried about security while you were there?
This was the first time I was a bit worried. This time I was in Qaraqosh — and especially there we had problems: Every village has tight security, so the locals have problems to go from one village to another. I said to someone that I wanted to go there, and they were worried, and so I got worried, too. It's a miracle I arrived in Qaraqosh because, from Kurdistan to Qaraqosh, it's usually a 40- or 50-minute drive, but it took two-to-three hours. There were 12 checkpoints. The people are also scared because they've found new people in the villages.
Aside from the danger, what did you find most interesting?
The most interesting thing is that 30% [of residents] have now returned, so they say, and it's very touching to assist them in the rebirth of a place. It's really moving; it makes you want to stay there. To see them going back home was a joy for me, like life re-establishing its way. It's also a sign of hope, notwithstanding so many snares and dangers.
What has happened to those you first met in 2005?
A lot of them went to Jordan and are still waiting to get a visa. Some of them have gone to Western countries. Nobody has given numbers — how many of them are really in the area? I know of one family that is still in Kurdistan; the others are in Jordan waiting for visas; one man and his wife are back in Qaraqosh.
Security is the problem. If you've fled to Kurdistan, there are problems going back and forth from Nineveh to Kurdistan, so it's not easy to move around, because of those checkpoints.
Do you cover in your documentary the recent referendum in Kurdistan, in which they voted to secede from Iraq?
No, it's about going back to the houses, but I'm personally confident things won't deteriorate. The Iraqis and Kurds need peace. I hope and wish it calms down, but dialogue isn't happening yet. It's a kind of "cold war" now.
Are the Christians still in camps for internally displaced people in Erbil?
There are very few people there now. Who knows where they are, but I was very surprised to find many of the containers empty. Perhaps there were others with more people. Maybe they were at work. Most of those I met in Qaraqosh were from Ashti2 camp [in Erbil], but also many lived in rented apartments in Erbil.
Did you get to Mosul?
No, because one's terrified of the checkpoints and the security situation. In Mosul you don't find any Christians. There will be a few, some will return, but there weren't many Christians when I went.
When I was in Karemlash in March, just a few miles from Qaraqosh, the damage was so extensive, every house burned out, it seemed. Is it still like that?
They are opening shops and businesses now.
In the film, I interview people in Qaraqosh — you see them going into wasted, destroyed houses. There's a special board for Baghdeda Christians — the Christian name of Qaraqosh — which is helping the rebuilding. They've rebuilt 20% of the houses. Of course, those are the less damaged ones. They need to restore the churches, which have been badly damaged, but that's not a priority. They've been clearing up, doing whatever they could on their own, but now they need to keep going.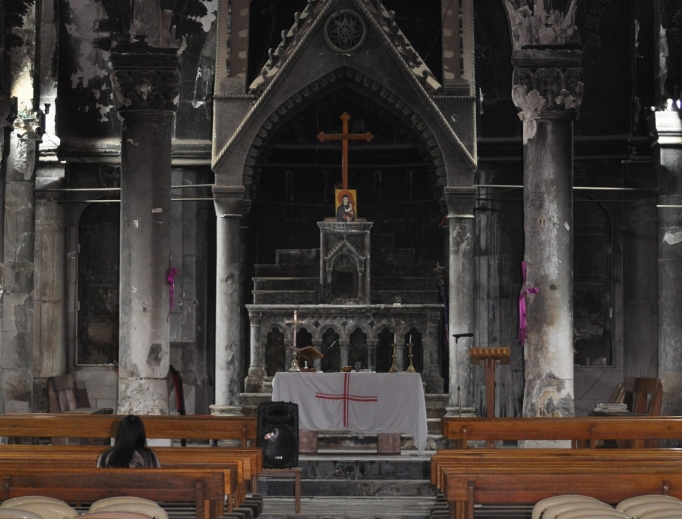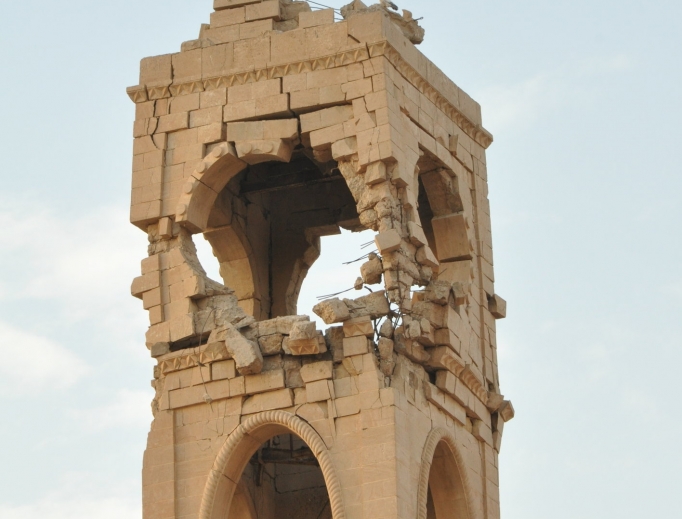 Who else is helping them?
There's also the board for reconstruction of Nineveh, with representatives of the different churches. They've been doing a lot of international fundraising — Aid to the Church in Need, the Knights of Columbus, SOS Chrétiens d'Orient, the Salt Foundation, the dioceses and the patriarchates. Up until now, they have helped a lot. They've focused on the less damaged so they can help more people get them repaired; also, some houses are not damaged, but it's very hard.
What do you hope the film will achieve?
To help them, because the way they are, their attitude is something to behold: They work hard — always; they're hard workers trying to make it on their own, but, ultimately, they also need not to be left alone. They are proud to be back, but they are far fewer than they were. They are isolated; they have to restart their agriculture, schools and hospitals.
Such a contrast to how the area was before.
Yes, it was really lovely, a very special place, and it still is. But when you see them now, you can see how much suffering they've been through. You can see it etched on their faces. They were probably always quiet and peaceful; after all, they've been suffering for centuries. Now, they are trying to overcome all the practical and moral harm they've received, and all the losses, especially their loss of dignity — living in tents and camps with no possessions, the splitting of families, the uncertain future.
Faith is a great source of strength for them?
Yes, and the churches are crowded again. The priests have been very courageous, as they were the first ones to go back. They were alone for some months, and, of course, they are really special. The Dominican sisters are also great — they opened a free school; they're very courageous.
What do they need most?
They need, especially, funding to rebuild, to restart, but also the attention of the Western world, as they're isolated. They cannot be left there. Also the Kurds and Iraqis need to work out their problems. Of course, [non-governmental] organizations have been helping, but if they cannot stay in Kurdistan, where they have their delegations and offices, how can they continue?
Do the people share any anecdotes in the films?
We show how much they fear they have to go back, but then, once there, they're joyful, at least in Qaraqosh. They were happy to start back, to commit themselves, despite the isolation. One woman said she would go to take her children back home; another said she had high-blood pressure before, but when she returned, it went down. Their character comes through, which is about faith. I don't think any of us would have been able to go back under such circumstances. It's hard to go back when your place has been torched.
What has been your main motivation to make these films?
My work throughout these years — five different documentaries and two international appeals (Free Nineveh and the Nineveh Christian Students at Mosul University) — has been my way to share their story and their experiences, because I love them. I find their faith and their way of being Christians unique. I know them as highly spiritual people. I have experienced how good and generous they are.
I think we should help them to make Christian Nineveh a place of pilgrimage to share their faith, and we should help them to restore and to promote their great cultural heritage that is churches, monasteries, liturgy, Aramaic language, hymns, etc. 
I believe now, after ISIS and three years exiled in Kurdistan, they will also become stronger and hope their commitment to go back home will be successful. They will remain in Nineveh to live peacefully as they always have — and keep witnessing to their faith, as they have done for 2,000 years.
***
WATCH
BACK TO NINEVEH, a one-hour documentary by Elisabetta Valgiusti, produced by Save the Monasteries for EWTN, will premiere Dec. 31 and will be rebroadcast Jan. 4 and Jan. 6. For local times, check: EWTN.com/multimedia/schedules.asp
More info is available at SavetheMonasteries.org; and for video clips and news, see "SavetheMonasteries" on YouTube and Facebook.