Cooking Sister's Culinary Skills Featured on Food Network
Chicago nun, who serves meals with a side of love in her community, appears on Thanksgiving-themed episode of Chopped tonight.
Franciscan Sister Alicia Torres is used to cooking under pressure at Chicago's Mission of Our Lady of the Angels, where she regularly oversees meals for hundreds of people.
But she faced a new kind of pressure as a contestant on a special Thanksgiving episode of Food Network's Chopped, which airs Nov. 9 at 8pm Eastern.
On the show, Sister Alicia, 30, a Franciscan Sister of the Eucharist of Chicago, competes against three other chefs who, like herself, work in soup kitchens. In the first round, the chefs make appetizers using typical Thanksgiving leftovers. Next is the entree round, followed up by a final round, where they must create a dessert using an ice cream cake and a starchy candy. The chefs compete for a $10,000 donation to their charities.
Since the episode was previously taped, she was unable to share the outcome of the episode prior to its airing.
Our Lady of the Angels, where Sister Alicia serves, is located in Chicago's West Humboldt Park neighborhood, which is home to crime, violence, drug trafficking and poverty. It is also the site of a tragic school fire on Dec. 1, 1958, that claimed the lives of 92 children and three religious sisters.
In 1990, the Archdiocese of Chicago closed the parish and the school. Cardinal Francis George wanted to maintain a Catholic presence there, so, in 2005, he invited Franciscan Friar of the Renewal Father Bob Lombardo to create a mission there. Later, a new religious community formed around the mission.
The mission assists about 700 families a month with food, clothing and household goods through its food pantry. Food and staples come from the Chicago Food Depository, parishes and area businesses, like Whole Foods and O'Hare Airport. There's also a monthly mobile food pantry that assists about 250-300 families the first Saturday of each month.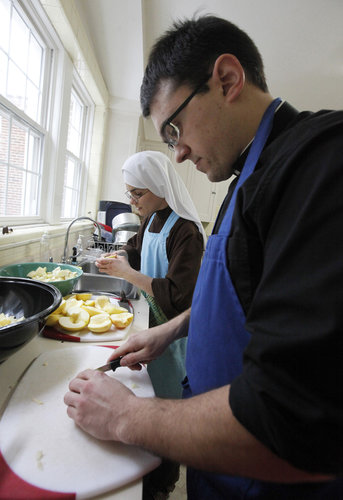 Sister Alicia's cooking skills come in handy during regular meals for the neighborhood. For example, every Tuesday, there is a program for seniors.
"We have about 30 to 50 senior citizens from the neighborhood who come together for a Bible study, exercise, and then we serve them a healthy meal. That's a really great opportunity, not only to get them food that's healthy, but also to build community," she said. "So everything that we do we try to connect our faith — you know, our love for Jesus and our faith in the Lord and how he provides for us, because everything here is through divine Providence, through God's graciousness to us through those people he inspires, but also, in addition to that, building that community."
Erika Wright loves Sister Alicia's meatballs, according to a Chicago TV interview. As Wright told WGN, "That's why so many more people come again, and again. They all talk a lot about how good the food is here."
The mission also offers regular dinners for the community, where Sister Alicia is always ready to feed the hungry masses.
"So if we have faith in God, then God is the one who connects all of us. And so, around the table is a great place to come together. We find that food is a fantastic means of evangelization — not only the basic need of feeding hungry people, but also the need of feeding hungry souls," the cooking sister said. "People love to eat. They love to come together. So that has been a lot of fun."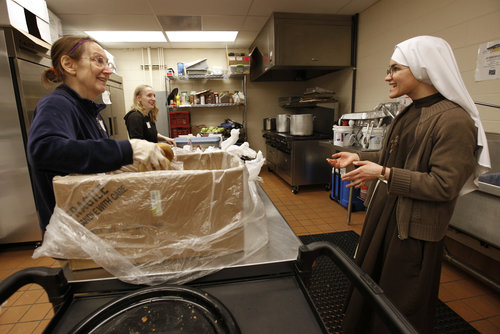 How did Sister Alicia become the lead chef for the community when she started out doing pro-life work?
"I think it's the process of elimination," she said, laughing. "You know when you enter religious life you come to serve, right? And you come to share your gifts and talents that you probably haven't before. I always loved cooking before I was a sister. I was always known in college for the big dinners and cheesecakes."
Upon entering religious life, she was the one in the community with the most cooking experience. The fact that she can cook well, despite not being an organized person, surprises her.
"For whatever reason, when I am in the kitchen and when it comes to food, it's like, bam, like I can actually do it," she said. "I think that there's certainly a gift from God when it comes to me and food, because I have no professional training in cooking. Nothing. But, for whatever reason, I have the ability, I think, through the Lord, to help get out a breakfast for 500 people."
For larger events, the mission requests specific types of food from donors so they know that the staples will be available. Where Sister Alicia's creativity comes in is during the smaller events, like the quarterly community lunches and events to "support the archdiocese," she said, like gatherings of archdiocesan priests or consecrated religious men and women.
Here they use what they have on hand or what groups bring in to create meals.
On one occasion, they were given Basa, a type of catfish that has a strong "fishy" taste.
"I was like, 'Well, I've got this Basa, and we're going to have these people coming over. Let's do Mexican, and we're going to make fish tacos,'" she recalled, laughing. "People thought, 'You're not really going to do this.' I'm like, 'Yes, I am.'"
She chopped up sweet potatoes to mix with the fish and added some spicy seasoning.
"It was amazing. And people are like, 'Are you serious? This is so good. This is not the Basa.' So it just takes a little bit of creativity and to see what we have and to be good stewards of what God has provided."
Sister Alicia wasn't familiar with Chopped until an email came saying the show was looking for women religious participants.
"I went to Father Bob, and I said, 'You know, I think I have a fairly good chance of getting on this TV show.'" He gave his permission, and she applied. The network called her within 24 hours of receiving her application.
The whole experience has been "incredible," she said.
"I'm very grateful to the Food Network and to Chopped for making it a priority to highlight a very real need in our country: about the issue of hunger in America," she said. "It was a real joy to participate and represent our neighborhood."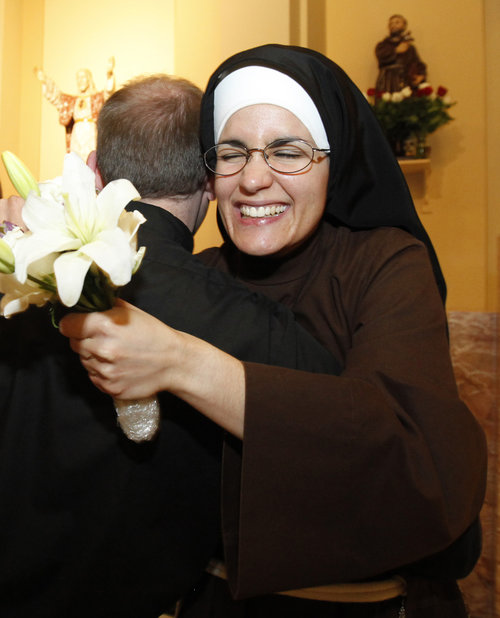 The sisters at Our Lady of the Angels are showing how to spread the Gospel through their God-given interests. In addition to Sister Alicia's appearance on Chopped, Sister Stephanie Baliga was featured recently in The Wall Street Journal and Runner's World magazine for trying to qualify for the Olympic Trials during the recent Bank of America Chicago Marathon.
"I'm thrilled that they are able to use the gifts that God gave them," Father Lombardo said. "The religious life should be geared toward us using our gifts at the service of God and the Church."
It's a beautiful thing to use our gifts for God, he said.
"And to see young people who are joyful and who are able to use their gifts, I think, would also spark in others the sense of God's call — to say, 'You know what? I can do this. I don't have to deny the gifts that God gave me. I can bring those gifts, and they can be used, used in a way that is in harmony to the religious life and our obligations to the Church.'"
And there's one more benefit, he said.
"It also shows that we're human beings as religious. We're not Plaster of Paris statues," he said. "We're real, live people."
 Joyce Duriga is the editor of Catholic New World,
the newspaper of the Archdiocese of Chicago.