Catholic Iraqis' Christmas Joy Tempered by Third Year in Exile
Sarah, her husband and their two children are among the approximately 10,000 Christian Iraqis lingering in Lebanon.
BEIRUT, Lebanon — Sarah remembers when Christmas was a time of joy and celebration. After Mass at the Church of the Immaculate Conception, where her son served as an altar boy, all the families and neighbors gathered to wish each other a merry Christmas.
Festivities continued for days. "We would dance and sing," Sarah wistfully recalls. "We were like a big family," she adds, of the Syriac Catholic parish. Not only on Christmas, but every Sunday the church — which seated 2,200 people — was always full.
That was in Qaraqosh, Iraq, before the Islamic State group (ISIS) invaded and uprooted all of the town's 50,000 Christians in the summer of 2014. In a January 2015 interview with the Register, Syriac-Catholic Bishop Barnaba Yousif Habash of the Eparchy of Our Lady of Deliverance, based in Newark, New Jersey, described his birthplace, Qaraqosh, as "the biggest island of Christianity in the Islamic ocean."
Sarah and her family — who asked that the Register identify them only by first names — were among some 100,000 Christians from the Nineveh Plain who fled that summer to the Kurdistan region in northern Iraq, with just the clothes they were wearing.
A few months later, Sarah, her husband, Salah, and their two children came to Lebanon with the hope of immigrating to a Western country. Still waiting, in exile, they spent their third consecutive Christmas in Lebanon. There are approximately 10,000 Christian Iraqis lingering in Lebanon, including Chaldean Catholics and Syriac Orthodox.
"It didn't feel like Christmas. The joy is gone," Sarah told the Register after the blessed feast. "Our only wish for Christmas was to leave."
Nawaras, now 22, was a college student majoring in mathematics when ISIS attacked Qaraqosh. "He was always a hard worker, achieving high grades," Salah proudly says of his son.
Like so many refugees, Nawaras' education came to a standstill. "His future was destroyed," Sarah says. Her younger son, Yousseff, 14, attends a school for refugees run by the Syriac Catholic Church.
Nawaras now works full time in a nut-roasting plant, helping to provide for his family. His wages barely cover the $600 rent for their rundown apartment in the Sed El Bauchrieh section of Beirut, where many Iraqi refugees have settled.
Fierce Competition for Work
At 49, Salah is considered old for the workforce, and the competition for jobs in Lebanon is fierce. Already, unemployment is high. With so many young people who are willing to work for less among the more than 1.5 million Syrian refugees in Lebanon, the job prospects are not good.
In Qaraqosh, Salah operated a thriving restaurant and the family lived comfortably in a sprawling four-bedroom home and had two cars.
"We lived so well. We felt like our house was a castle," Sarah recalls with a faraway look in her eyes.
Now, her family lives in squalor. A musty stench hangs in the air. Mold creeps up to the ceiling in the one bedroom where the family sleeps on the floor on thin foam mats, stacked in a corner when not in use.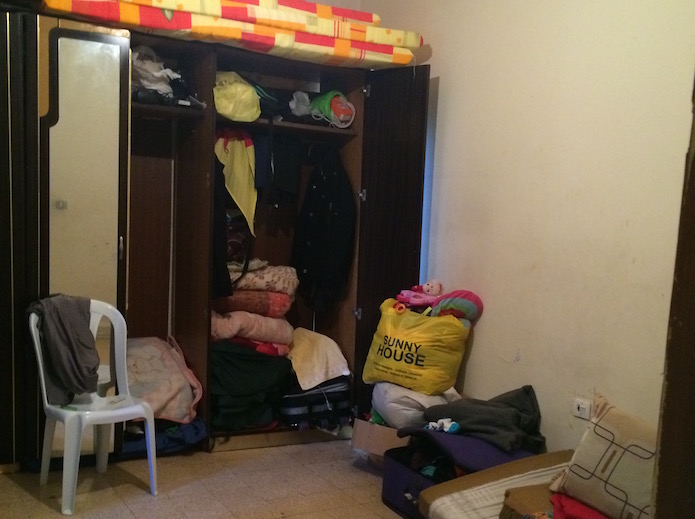 "My son is always sick and coughing because of the smell," Sarah says of Yousseff.
She points out the floor cracks from where cockroaches sometimes emerge. Bathing in the tiny bathroom — on a bare floor, with no bathtub or shower stall — is possible only by means of a narrow hose attached to a free-standing faucet. Sarah sold her ring in order to buy a portable washing machine.
In the kitchen, there is a double burner connected to a gas tank for cooking. The refrigerator has been broken for four days, and what little could be stored in the freezer had begun to spoil.
But without the financial means, upgrading to a better apartment is not a possibility.
Joy of Heaven Charity
This year, for the first time since being exiled, the family had a Christmas tree, thanks to Joy of Heaven, a Lebanese charity serving the country's poor and needy, founded in 2002 by Maronite Father Majdi al-Allawi, who was born a Shiite Muslim and converted to Christianity when he was a teenager.
Ironically, about 10 years ago, Father Majdi visited the Church of the Immaculate Conception, the family's Qaraqosh parish, to talk about coexistence and his mission in Lebanon. Sarah never could have imagined then that she would be a refugee in Lebanon and on the receiving end of Joy of Heaven's assistance, nor that she would be a volunteer for the charity.
"Ever since I was young, I always liked to help people," she says with a smile about her work with the organization. "When I look at other people and their miserable conditions, I realize that my life is better than I thought. In helping others, I forget everything."
Still, the nagging anguish overrides any distraction.
"We want to leave here and live a normal life. We want our sons to have a future," Sarah explains. "We only have faith, nothing else. We've got to believe that God has a better plan for us."
So far, the family has had two interviews with the U.N. Refugee Agency (UNHCR), a prerequisite for getting resettled. The last one took place in May 2015. Since then, they've heard nothing from the agency. "They forgot about us," Sarah matter-of-factly says.
There is an urgency for the family to be resettled quickly. Last year, Nawaras was hit by a car while crossing the street. When he went to file a police report, he was told he had to leave the country because he doesn't have residency papers. He was able to obtain an extension only until March 2017; and then he will get deported to Iraq.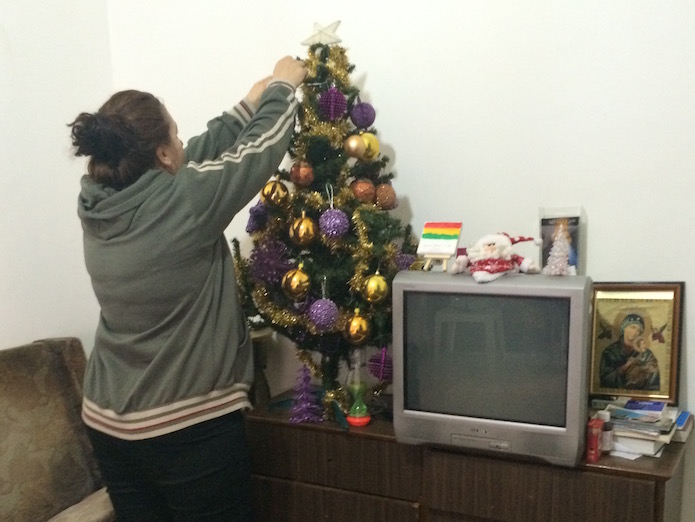 'If We Go Back, We'll Be Killed'
"How can we be expected to go back? To what? If we go back, we'll be killed. There is no security," Salah says. Just before Christmas, Sarah learned that her 48-year-old cousin was killed by ISIS in Baghdad for selling alcohol.
Salah shows before-and-after photos of their home stored in his phone. The "after" photos were sent by a family friend who visited Qaraqosh to inspect the damage after its recent liberation from ISIS.
The exterior of the house is pock-marked from bomb fragments and bullets, its windows are blown out, and a warning is painted across the foundation: "There are still (undetonated) bombs on the ground." The once-luxurious interior is gutted, with blackened, torched walls.
"Because we are Christian, we forgive everyone," Salah says of ISIS. "We feel we are closer to Jesus because of ISIS. We suffered so much, and we know that he is still with us."
In his Christmas message from Beirut, Syriac Catholic Patriarch Ignace Joseph III Younan said, "During this joyful season, our hearts and minds should be, particularly, directed to our beloved brothers and sisters of Syria and Iraq, who will be deprived of the Christmas joy, having endured the horrible consequences of war, violence and all kinds of persecutions. They did suffer all this hardship because of their Christian faith, willing to persevere in faithfulness to Jesus the Savior."
"We particularly think of those Christians who have been uprooted from their lands and driven out unjustly from their homes by barbarian terrorists, in Mosul and the Plain of Nineveh, Iraq," the patriarch said. "How would they welcome Christmas, but in tears and the anxiety for their future!"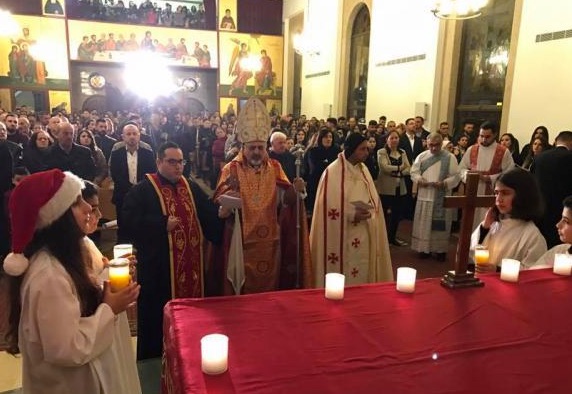 'No One Can Imagine the Pain We Go Through'
Kamal, 76, and his wife Souad, 70, also in exile in Lebanon, live with their daughter Suha and her husband, Waseem, and their three grandchildren, ages 9 through 14. They, too, are Syriac Catholics who were uprooted by ISIS from Qaraqosh.
It's not the first time the family has been on the move. When they moved to Qaraqosh, they thought they were safe from the persecution they had experienced in Mosul.
Jihadists were already established in Mosul long before the Islamic State descended upon Qaraqosh in 2014, Souad explains. Corpses on roadsides and hanging in public places were a common sight in Mosul, she points out.
In 2008, armed terrorists entered her 33-year-old son Ziad's auto parts business in Mosul. "They asked him, 'Are you Christian or Muslim?'" his mother remembers, adding that, immediately, her son was shot in the head from behind when he responded that he was Christian.
"My son was so brave to die for his faith," Souad told the Register. "I miss him. I feel so sad; I cry all the time for him," she says, her eyes filling with tears.
"No one can imagine the pain we go through," she adds. "We used to live life with a big smile. At least now we still have a big faith in God."
Suha, Souad's daughter, at that time owned a hair salon in Mosul. Via a written notice and text message, she received threats to close her business, even though a lot of her customers were Muslim.
"After my brother was murdered, I didn't feel safe anymore," Suha said. She closed the salon and opened a new one when the family moved to Qaraqosh.
"In Qaraqosh, there were no more threats. We felt safe. We never believed we would be attacked and that an entire town would be driven out in one night, like ISIS did to us," she explained.
Patriarch Younan
Regarding his visit in late November to the recently liberated Christian villages in the Nineveh Plain, Patriarch Younan, in his Christmas message, said, "there is still a lot to do" to inspire confidence "to our eradicated and exiled community" to return to their ancestral land.
Patriarch Younan, a native of the Syrian province of Hassake, served for 14 years as bishop of the Our Lady of Deliverance Syriac Catholic Diocese of the U.S. and Canada, based in Bayonne, New Jersey. He was elected patriarch in January 2009. In January 2016, Pope Francis erected an apostolic exarchate for Syriac Catholics in Canada, which has experienced waves of emigrants from Syria and Iraq.
"We have to keep hoping that the local government and international leaders will expel the terrorists and restore peace and security," the patriarch said in his Christmas message, emphasizing that this is a basic condition for the return "of our uprooted people."
Patriarch Younan expressed his appreciation for the "praiseworthy efforts of many Catholic politicians in the West who would disagree with the official policy of their government in dealing with the plight of Christians in the Middle East."
"We need the honest and courageous solidarity of elected people," he said, citing U.S. Rep. Chris Smith, R-New Jersey, "to speak up on behalf of Christians and other minorities who have been oppressed, abused and uprooted by jihadists who kill innocents in the name of their religion, either in Iraq, Syria, Egypt and Nigeria."
He pointed to the Republican congressman's initiatives "advocating the needed assistance to Christians eradicated from their homeland to the point of genocide, so critical and even necessary for the survival of the remnant Christian people and other minorities in Northern Iraq and in war-torn countries of the Middle East."
When the patriarch visited Qaraqosh as part of his visit to the liberated areas of the Ninevah Plain, he celebrated the Divine Mass on an improvised small altar set in the incinerated sanctuary of the vandalized Church of the Immaculate Conception, its altar and crucifix half-broken. He said he had the intention after its restoration five years ago, and still has the intention, to ask the Pope to designate the church as a minor basilica.
No Word from the U.N.
After escaping to Erbil in northern Iraq that August night in 2016, Suha's extended family came to Lebanon that same month, with the aim of immigrating to a country in the West.
The family has not heard anything from UNHCR since October 2015. "I feel like no one cares about us," Suha says. "Waiting, waiting, waiting. We are so tired."
At least, in Lebanon, she adds, she feels that her family won't be targeted for being Christian. A lovely statue of Our Lady overlooking the street, visible directly in front of the living room window of their second-floor apartment, is an assuring presence.
"The spirit of Christmas is still in our hearts," Suha says, "but we miss the joyful celebrations we used to have."
Their apartment living situation, in a more upscale street in the Sed El Bauchrieh section of Beirut, is more tolerable than what most other refugees endure. "We were wealthy, but the money is running out," Suha says. Waseem, her husband, worked in the auto parts business like her late brother and owned 18 such shops. But he has not been able to find work in Lebanon.
Their biggest concern is their three children, Suha says, as she wrings her hands with worry. "We want them to have a good future."
"I have faith that God protects us," she adds. "I believe God saved us, and he won't forsake us."
"But no way would we go back to Iraq," Suha maintains. "We don't feel safe with the people. No one stopped them [ISIS] from coming through. Even the government didn't stop them. Even they couldn't protect us."
"Maybe someday in the future it will be better [in Iraq]," Suha says. "But not now."
Register correspondent Doreen Abi Raad writes from Beirut, Lebanon.
Photos by Doreen AbiRaad