Catholic Haiti Sees New Dawn of Hope
Battered by natural and economic disasters, Haiti's people strive to build up their beautiful country with the help of the Catholic Church.
CAMP-PERRIN, Haiti — The ruins of St. Anne's Church in the town of Camp-Perrin contain within them what many Haitians believe is a sign from God of his love for Haiti.
Despite the fury of Hurricane Matthew, which tore off half the church as it passed over the island last fall, the crucifix remained in place, positioned right above the altar. On both sides of the image of the Crucified Lord, the statues of Our Lady and St. Anne, Camp-Perrin's patroness, remained on their pedestals, unmoved by the 150 mph winds that wreaked havoc everywhere.
St. Anne's stands amid the lush Caribbean beauty of Camp-Perrin, with its majestic waterfalls and towering green mountains, illuminated by the bright sun.
The pastor of St. Anne's, Father Wespler Golsky Plouveose of the Missionary Oblates of Mary Immaculate, told the Register that it had been "awful" to see the violent devastation of their church, which is "the reference point for the community."
But the priest sees the Resurrection in the future of this deeply Catholic, and resilient, country, once dubbed "The Pearl of the Antilles," where the people are "very confident" in their Catholic faith.
Father Plouveose explained that when Haitians saw how the statues and crucifix (which was not bolted down to anything) withstood the hurricane, instead of being cast down, they saw it as a sign that God was close to them amid their suffering. Now, they are raising funds to rebuild their houses and the house of God.
"They will find every opportunity to rebuild," he said.
Haiti was hit hard in October 2016 by Hurricane Matthew, which killed more than 1,000 people, flattened crops and dwellings, and drowned livestock. The economically challenged Caribbean nation — which, according to Global Finance, is the 17th-poorest country in the world and the poorest country in the Western Hemisphere — was still recovering from the devastation of the 2010 earthquake, which killed tens of thousands, destroyed countless homes, and still had more than 55,000 people displaced, when the Category-5 hurricane struck.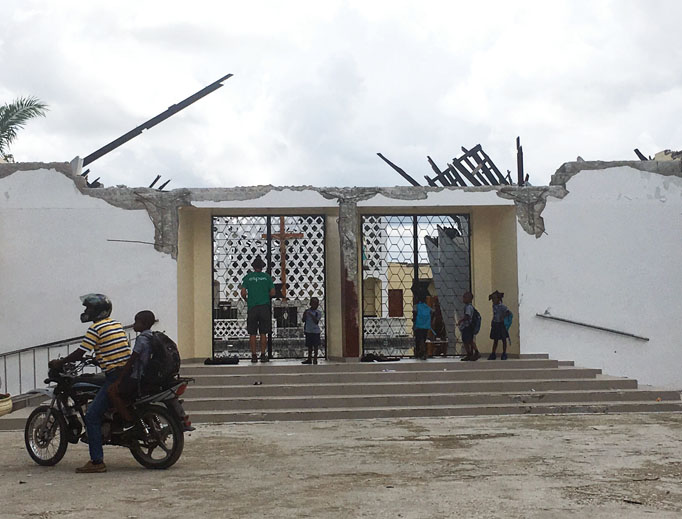 But despite these misfortunes and their material poverty, the people of Haiti are working with the Catholic Church and its ministries to achieve the bright future that their ancestors envisioned for their descendants, when they won their freedom from slavery and independence from France in 1804 at tremendous cost.
In the aftermath of the natural disasters, Catholic Relief Services has been working with Caritas Haiti to not just provide access to food, shelter and clean water, but to promote economic development and strengthen Haiti's social bonds.
Beth Carroll, CRS' emergency coordinator in Haiti, told the Register that in the urban areas of the capital, Port-au-Prince, the group has worked with the local Church to establish community savings-and-loan groups, particularly among the youth, to enable local investment.
In the countryside, Carroll explained that CRS is working with Caritas to help people regain the ground lost with Hurricane Matthew. Farmers lost their harvest, seeds, tools and livestock, such as goats or cows killed in the storm. CRS devised a plan to get 20,000 farmers the tools and plants they needed for the season, purchased from 275 local Haitian vendors with CRS vouchers, thus providing a boost to the local economy.
"We really think it's worth it to keep that cycle of money in the community," Carroll said.
Rebuilding homes on the island-nation of Haiti requires design and materials that can withstand hurricanes and earthquakes. Carroll said CRS has been meeting with communities to form groups of five to six households, who will work on one of their houses at a time under a technician certified by CRS in proper house construction methods.
Carroll said the Haitians like the approach, which imitates the Haitian cooperative technique for helping each other farm their fields and channels their resilient, "extremely hardworking" culture.
"It reminds people they can rely on each other and not an external NGO [non-governmental organization] or the government," she said.   
The Church's most critical work in Haiti may be education, which is key for developing Haiti's middle class and future political leaders with a strong sense of social responsibility to all Haitians.
Currently, less than 10% of Haitians have completed their secondary education, but the Church and its ministries are working to lift up the very poorest with an education that will lead either to trade school or university.
Durand Yves-Mécène, the principal of the secondary school at the campus of Pwoje Espwa in Les Cayes, told the Register that he sees the work they are doing as vital for the national future of Haiti. Espwa began as an orphanage founded by Missionary Oblate Father Marc Boisvert, but has expanded into a network of schools that have given poor families access to education.
"We'd like to have more students," the principal said. However, the school is currently at capacity. Expansion was put on hold to restore buildings damaged by Hurricane Matthew.
Educating a child at Espwa costs approximately $100 for the academic year. But at Espwa, few students can pay full tuition in a country where many people earn just a dollar a day. So much of the cost is subsidized through the school's partnership with the ministry of Cross Catholic Outreach.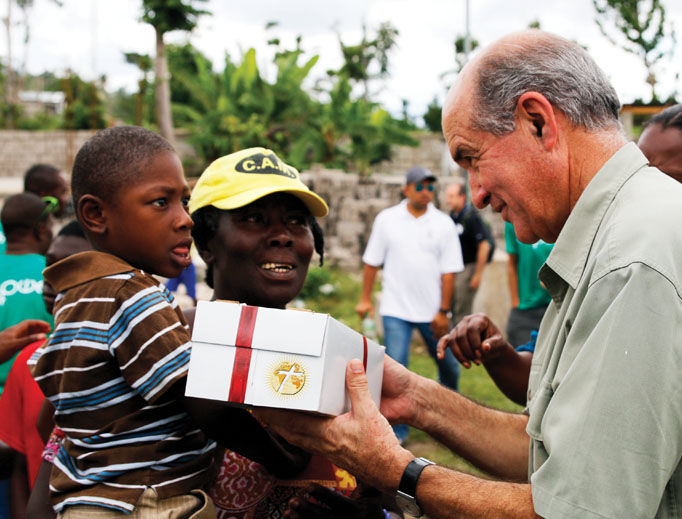 Cross Catholic has provided a support role to Espwa with its scholarship program and also raises funds for scholarships to help students attend medical school at the University of Notre Dame in Port-au-Prince, where the cost per student attending is $8,250 a year.
"Education is very, very important," Jislaine Blanc, a mother of seven who lives in Les Cayes and sells bread to feed her family, told the Register. Without the schools, she said, many boys and girls would be on the streets and have no prospects. Two of her children have completed their education, and while her son is looking for a job, she is proud to have a daughter serving as a medical technician.
Robert Penette, Cross Catholic Outreach's Haiti program coordinator, told the Register that, typically, poor parents will see their children eat before they do, because the Haitian people place such a priority on their children — the country's future. He said they will make any sacrifice to educate them and even forgo meals so they can save the money for their children's school uniforms.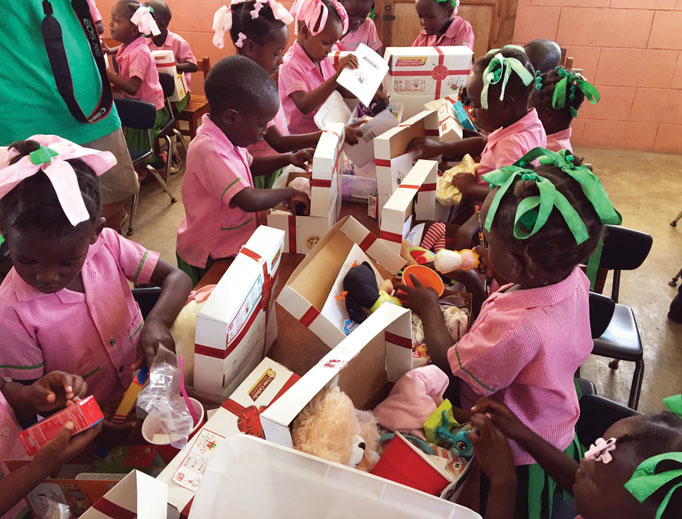 Cross Catholic works with Espwa to hold its "Box of Joy" days, where 2,400 Espwa and local community students receive a boxed gift of school supplies, toiletries, a toy and a story about the life of Jesus. But the event also drives home the virtue of solidarity Espwa is forming in Haiti's future leaders: "As you have received from God, so must you share with others."
Penette told the Register that Haitians have a generous, relationship-oriented spirit that makes time for others. Many in the diaspora, such as himself, have returned because they see hope blooming for their country.   
"Even though we have troubles in Haiti, we have smiles on our faces — this joy — because it is natural to us," he remarked.
The Church continues to help Haiti build up in other ways, as well, such as in health care. The Catholic Medical Mission Board is establishing a new hospital with trained medical personnel in Côtes-de-Fer on the southern coast in partnership with Haiti's Ministry of Health and the Cincinnati-based Mercy Health system. 
France Pierre Etienne, the mayor of Les Cayes, told the Register that it is important for the Church and the civil authorities to work closely together in partnership to realize Haiti's future.
Etienne has confidence that, with sustained funding for infrastructure investment, Les Cayes and other cities in Haiti can take advantage of their untapped potential for trade and tourism to lift up their people economically. He aims to seek the advice of other mayors in the U.S., but he places their success entirely in God's hands.
"God is not only in Haiti, on this island, but God is in each person on Haiti," Etienne said. "And he can help us to recover."
Register staff writer Peter Jesserer Smith recently returned
from a trip with other Catholic journalists,
including EWTN News Nightly, to Haiti led by Cross Catholic Outreach.
The EWTN News special on Haiti aired April 4.
Fast Facts
Haiti is the only country in the world where a successful slave revolt (1791 to 1804) led to the creation of an independent state.
Haiti is the first Latin American republic and the second republic in the Americas (after the U.S.).
Haiti has a population of 10 million people, 80% of whom are Catholic.
 Haitian Vodou is a syncretist blend of Catholicism and African ritual, considered part of the cultural and historical heritage of the island. However, Vodou priests were used to terrify Haitians, fearful of diabolical curses, under the regime of President Francois "Papa Doc" Duvalier (1957-1971).
Haiti's founder, Toussaint Louverature, was a devout Roman Catholic who established the Catholic faith as the country's official religion in its first constitution. Catholicism remained enshrined in Haiti's constitution until 1987.
 Haiti is the poorest country in the Western Hemisphere. Approximately 59% of Haitians live in poverty, making less than $2.42 per day, and 24% live in extreme poverty, making less than $1.23 per day. 
 Haiti's economy includes agriculture, textile exports and some higher-end manufacturing. The Haitian diaspora sends back remittances equaling 20% of Haiti's gross domestic product.
 The Caribbean Tourism Organization is working with Haiti's government to restore the island's image as a tourist destination and increase the number of annual visitors.