Catholic Charities Battles to Serve Children and Adoptive Parents
Reframing the issue as a battle for 'adoption choice' is one strategy for making the case for Catholic Charities' continued right to serve children and place them with families.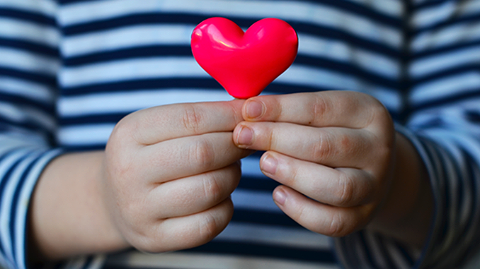 LANSING, Mich. — An adopted child saved from a horrific home life and two adoptive parents who gave five siblings with special needs a permanent home have asked a U.S. district court to prevent the American Civil Liberties Union from closing the doors of the Catholic Charities affiliate that gave them their new families.
Across the country, local offices of Catholic Charities are similarly fighting in the courts, legislatures and public arena to preserve their adoption services against new legal pressures to close their doors because they abide by Catholic doctrine, which teaches marriage is the permanent, loving union of a man and a woman open to raising children.
The ACLU sued St. Vincent Catholic Charities and Michigan state agencies in September 2017 because the Catholic agency would not place children for adoption with same-sex couples, but only with a married husband and wife. The ACLU challenged the state's practice of contracting with private religious-based agencies to place children and a 2015 law that allows agencies to act in accordance with their religious beliefs. The ACLU contended the law allows religious agencies, such as St. Vincent, to exclude same-sex couples from adopting, alleging it "reduces placement options for the most vulnerable children."
Becket, a religious liberty public interest firm representing St. Vincent Catholic Charities in Lansing, has called the ACLU lawsuit a politically motivated maneuver that would harm children by eliminating providers and adding no new prospective parents to the state adoption system. The firm has pointed out that Kristy and Dana Dumont, the same-sex couple represented by the ACLU, had other adoption agencies located even closer to where they live and were positioned to help them adopt any child in the state's care.
Four foster families helped through St. Vincent Catholic Charities appeared in U.S. district court March 7, petitioning the court to become parties to the case, Dumont v. Lyon, and provide testimony that closing St. Vincent would adversely affect thousands of children in the foster-care system, particularly those have special needs or belong to a racial minority.
Among those served by St. Vincent were Shamber Flore, a young African-American woman adopted with her two siblings in 2005 into a loving home, and Melissa and Chad Buck, two parents who are not Catholic but fostered and adopted five children with their own special challenges complicated by trauma.
"Nationwide we're facing a shortage of families willing to provide homes to foster kids," Stephanie Barclay, legal counsel with Becket, told the Register. She said the state of Michigan has been relying on private agencies, such as St. Vincent, to recruit more foster families.
According to data compiled by the research firm Child Trends, more than 600 foster children in Michigan "age out" of the foster-care system annually, without ever becoming adopted into a family. 
"This is a politically motivated lawsuit that is focused on scoring cheap political points at the expense of children," Barclay said.
Fighting for Adoption Choice
As the case in Michigan continues to unfold, a same-sex couple in February lodged a lawsuit in federal court for the District of Columbia against Catholic Charities of Fort Worth, Texas, because the Catholic agency would not allow them to adopt refugee children. 
The U.S. Conference of Catholic Bishops (USCCB) is also named as a defendant in the case.
The USCCB is concerned that efforts to drive Catholic Charities out of adoption services will harm children, especially since the opioid crisis is now overwhelming state foster-care systems.
The 2017 final report from the "President's Commission on Combating Drug Addiction and the Opioid Crisis" confirmed this phenomenon, stating, "Child welfare agencies have seen an increase in their caseloads and are burdened with limited resources, e.g., funds to support drug treatment or parenting classes and community-based support for these children."
"The key for the Church is we want the freedom to serve, to keep kids first," Archbishop Joseph Kurtz, chairman of the USCCB's Committee for Religious Liberty, told the Register. He said the Church wants to provide such services to society, but in a way that fits its religious and moral beliefs.
In Kansas, the Kansas Catholic Conference is making its case to the public and to lawmakers that preserving Catholic Charities' freedom to place children in homes with a married mother and father is an issue of protecting "adoption choice."
Michael Schuttloffel, the executive director of the conference, told the Register that same-sex couples have the right to adopt in all 50 states. Efforts to close down Catholic Charities' adoption services in other states inflict a "terrible tragedy" on foster-care children, prospective parents and birth mothers looking to place their children in faith-filled homes with a married mother and father.
"Catholic Charities is in the trenches for kids that want a 'forever home,'" he said.
The conference is calling upon Catholics and people of goodwill to support state legislation that would provide legal protections for faith-based adoption services.
Schuttloffel said once Catholic Charities shuts down adoption services, they can't just "flip a switch" and bring back all the staff, expertise and infrastructure they lost.
He said the "Protect Adoption Choice" campaign, launched in February by the Kansas Catholic Conference, is a pre-emptive strategy to help the public understand that the state needs more provider options, not fewer.
Intensifying Attacks
Emilie Kao, the director of the Richard and Helen DeVos Center for Religion & Civil Society at the Heritage Foundation, told the Register that they have seen an "intensifying" wave of legal challenges to Catholic adoption agencies since the mid-2000s.
In 2006, Catholic Charities in Boston and San Francisco shut down their adoption services because they would be forced under the law to violate their religious principles and place children with adoption-minded same-sex couples.
Catholic Charities in Washington, D.C., also closed its foster care and adoption services for the same reason after the District of Columbia passed a law redefining marriage to include the legal union of two people of the same sex.
In 2011, Catholic Charities in Illinois also shut down its adoption services after the state announced it would only provide financial support to adoption services that would also serve same-sex couples.
Having an adoption agency close its doors has direct consequences for children, who have already been traumatized, Kao added. When Catholic Charities of Illinois was forced to close its doors over placing children with same-sex couples, "more than 2,000 kids were displaced."
"These lawsuits [against faith-based providers] don't add any prospective parents to the system," she said.
Kao added that the Kansas Catholic Conference's "Protect Adoption Choice" campaign was spot-on. The issue is no longer whether same-sex couples can adopt, but whether faith-based agencies that place children with a married mother and father will be allowed as an option.
"The goal should be the maximum number of families for the maximum placement of those children," she said. "And the way you do that is by having the maximum number of agencies able to serve."
Federal Legislation
State protections for faith-based adoption providers are important, but they may not be enough.
Michigan passed a law in 2015, with the backing of the Michigan Catholic Conference, that was designed to protect adoption and foster agencies that receive state funds from being forced to violate their beliefs or close shop. But the ACLU's federal case is designed to challenge that law and eliminate those safeguards.
Becket counsel Stephanie Barclay explained that if the ACLU loses its case against St. Vincent Catholic Charities in Michigan, the victory for religious liberty should add to a layer of legal protection in the federal courts.
The USCCB is also trying to make sure that faith-based adoption agencies, such as Catholic Charities, have an extra layer of protection at the federal level.
The Child Welfare Provider Inclusion Act sponsored by Rep. Mike Kelly, R-Pa., which the USCCB supports, is federal legislation designed to protect faith-based agencies' ability to operate according to their own beliefs. The bill also threatens states with the loss of 15% of Social Security funding for child-welfare programs for discriminating against adoption providers.
"This bill would give us a landscape that promotes our freedom to serve others in a way that we don't have to leave our convictions at the door," Archbishop Kurtz said.
Archbishop Kurtz said the U.S. bishops' main concern is that children need to be properly cared for, and since so many have lost their families due to drugs, "they need as many options as possible."
"The Church offers a wonderful option. No one is ever forced to use us, but people do turn to us," he said. "We should be allowed to serve in a time-honored way without having to forsake our convictions."
Peter Jesserer Smith is a Register staff writer.
This story was updated March 19.
Adoptive Parents
1. The number of adoptive parents is on the decline in the U.S. Between 2002 to 2013, rates for men and women 18-44 who had ever adopted dropped by half. By 2013, approximately 300,000 women in that range (.61%), and 700,000 men in that range (1.3%), had ever adopted. The rates for men are higher due to the adoption of stepchildren in marriage.
2. More than 415,000 children were in foster care in 2014, with nearly 108,000 waiting for adoption. A foster-care child waiting for adoption is on average 7.7 years old, while the average age of foster-care children adopted was 6.2 years old.
3. A child in foster care spends nearly three years (32.3 months) waiting for adoption. More than half (55%) of these children had been placed with three or more different foster families until they were adopted.
Source: The Ethics and Religious Liberty Commission of the Southern Baptist Convention: "5 Facts About Adoption in America."