Books to Accompany You for the Remainder of Lent
Good Reads: Three Paths, One Destination; What's on Some Catholic Bookshelves This Penitential Season
One of the many riches of the Catholic Church is her trove of aids to the spiritual life, including prayers and papal wisdom, exhortations and exegesis. Books that draw on these aids can likewise help us grow closer to God. During this Lenten season, there is a wealth of books available to those who choose to make a Lenten practice of spiritual reading. No matter what one's style of spirituality may be, there is a guide to help him or her along on his or her journey to Easter.
'Called to Be Holy'
Sacred Reading for Lent 2016 (Ave Maria Press, 2015)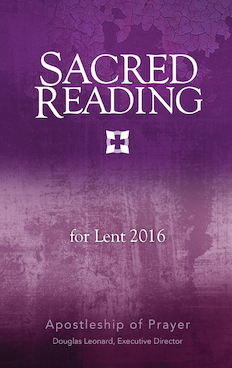 Integrating elements of Ignatian spirituality, Douglas Leonard's Sacred Reading for Lent 2016 is a user-friendly guide to the practice of lectio divina (prayerful reading of Scripture). It leads the reader daily through a six-step process: awareness of God's presence, reading of the Gospel, mindful reflection, conversation with God, active listening and a call to action.
"To do sacred reading from the heart is perhaps the most fruitful way to seek and find God," says Leonard, who is the executive director of the Apostleship of Prayer, the Pope's prayer group. "What better way to get to know Jesus, the Word of God, than by praying with the daily Gospels?"
Sacred Reading outlines a method rooted in age-old contemplative practice and which develops the daily prayer habit that's essential to growth in sanctity.
"We are all called to be holy, and holiness is possible for every one of us, not just recognized saints," affirms Leonard.
Indeed, it is too easy to think of the saints' virtues as unachievable and their privileges, such as intimate conversation with Jesus, inaccessible. But, as Leonard points out in the introduction to his book, even "ordinary believers" have through the ages learned to listen to Jesus through sacred reading and have, moreover, recorded the words that Jesus spoke to them.
Leonard, who calls this openness to Jesus' voice "a most wonderful time in the Sacred Reading prayer experience," relates a compelling story about its power.
"After my mother died," he says, "I found among her papers prayers she wrote longhand in which Jesus was speaking to her. I was deeply moved when I read what Jesus said to her about me: that she should not worry about Doug because he would be God's servant. I was 24 at the time, in college and going through some struggles with my faith and with some relationships. My mother never told me what she heard from the Lord. She just knew in her heart that I would be okay because of what the Lord had told her. I have heard the same consolation regarding my own adult children, who seem to have strayed from God. What they don't know is that God has not strayed from them."
Hope From the Pope
 Lent and Easter Wisdom From Pope Francis (Liguori Publications, 2016)
"My perspective on Lent has everything to do with drawing nearer to Our Lord Jesus and embracing his mercy," says John Cleary, author of Lent and Easter Wisdom From Pope Francis.
"The themes of sin and harsh judgment have dominated Lent for so long," he continues. "A sinner who finds fault, failing and sin in his examination of conscience can be moved to feelings of shame and self-hatred. A person in this state may run from God, instead of seeking out his endless mercy."
Lent and Easter Wisdom is a guide intended to draw the sinner back to God by helping him to cultivate a Catholic response to the evil of sin, true sorrow for having offended God rather than a wounded love of self. Through reflection on Pope Francis' words, Scripture reading, prayer, journaling and specific "Lenten actions," one is encouraged to focus on the boundless love of God and place complete trust in his mercy.
Cleary calls the Holy Father "a beautiful example of full dependence on Jesus Christ." This example shines in the pages of Lent and Easter Wisdom, which includes a "Chronology of the Life of Pope Francis," in addition to powerful quotes that reveal the Holy Father's spirituality.
Cleary himself is a witness to God's mercy, having experienced struggles in his own faith life during the writing of Lent and Easter Wisdom.
"Even though I'd been forgiven by Our Lord through the sacrament of reconciliation, I continued to dwell on those very sins I'd confessed weeks prior. I prayed that God would grant me the grace to have mercy on myself, the mercy he had so lovingly given me in the confessional.
"As I began to craft the book's preface, I felt the grace of God; I felt me forgive myself, and my burden was lifted. The words of this book — words of mercy proclaimed again and again by Pope Francis — followed and flowed with the greatest ease.
"My hope is that each reader of Lent and Easter Wisdom know God's mercy as I have come to experience it — his mercy in forgiving me, his mercy in moving my heart to forgive myself."
Family Prayer Aid
 Bringing Lent Home With Pope Francis: Prayers, Reflections and Activities for Families (Ave Maria Press, 2015)
Donna-Marie Cooper O'Boyle's Bringing Lent Home With Pope Francis is the latest in a series of Lenten books written by the popular author and EWTN host. Like its predecessors, which each drew inspiration from an extraordinary Catholic, Bringing Lent Home focuses on the wisdom of one very special figure, our own Holy Father.
"Each day's entry offers a quote from Pope Francis to ponder, as well as a story about Pope Francis," explains O'Boyle, who says that she "felt edified, inspired and closer to Pope Francis in writing about his life."
"The meaning of the Pope's quote is woven throughout the theme of each day. In going through the book, the family learns about Pope Francis, while growing together in holiness."
Besides inviting the reader to walk through Lent with the Holy Father, the book offers practical ideas for practicing the three pillars of Lent — prayer, almsgiving and penance — in ways that can be carried out either by whole families or by individual members of a family. There are also ideas for exercising the works of mercy in neighborhoods and communities, making the book especially well-suited for use during this Year of Mercy.
A particularly helpful feature for parents of young children is the daily "Parent Reflection," which gives parents a thought to contemplate in silence before the onset of oft-hectic family prayer time.
"Families have told me that this book has brought them together in a surprising way, drawing them closer to one another and to the Lord," says O'Boyle.
"I feel it's so important to equip today's families with the Catholic tools needed to navigate the days of Lent and beyond, especially because we live in a culture which bombards families with all kinds of messages that do not point them towards heaven."
Celeste Behe writes from Bethlehem, Pennsylvania.
Lent 2016: Media-Savvy Readers
Daughter of St. Paul Sister Helena Burns: The Humility and Suffering of God by Francois Varillon; anything on the Shroud of Turin
Bishop Christopher Coyne of Burlington, Vt.: The Church of Mercy by Pope Francis; Come Be My Light: The Private Writings of the Saint of Calcutta, by Mother Teresa and Father Brian Kolodiejchuk
Erin McCole Cupp: Ash Wednesday by T.S. Eliot; The Moviegoer, by Walker Percy
Jennifer Fulwiler: He Leadeth Me by Walter J. Ciszek S.J.; The Shadow of His Wings by Gereon Goldmann
Patrick Madrid: The Soul of the Apostolate by Dom Jean-Baptiste Chautard
Joe McClane: The Bible, especially the life of St. Peter
Lisa Mladinich
:
The Rosary for the Holy Souls in Purgatory
by Susan Tassone
Gary Zimak: Rediscover Jesus by Matthew Kelly; My Imitation of Christ by Thomas Á Kempis; My Daily Bread by Anthony J. Paone, S.J.