Slain LA 'Bishop Dave' Remembered as a Humble Man of Action Who Wanted People to Encounter Christ's Healing Love
Hailed as an advocate for immigrants and an apostle of deep prayer, the late Los Angeles auxiliary bishop defied easy categories and touched the hearts of people from many different walks of life.
LOS ANGELES — The murder of Auxiliary Bishop David O'Connell was met with tears from Archbishop José Gomez of Los Angeles, as he praised the Irish-born prelate as "a good priest and a good bishop and a man of peace," during a Feb. 20 press conference organized by the Los Angeles Sheriff's Department.
Archbishop Gomez struggled to check his emotions, as he met with reporters to address the latest developments in a murder investigation that began three days earlier, after the body of Bishop O'Connell, age 69, was found in his Hacienda Heights residence and the police established that he had received at least one fatal gunshot wound to his upper body.
As local Catholics also grieved the loss of a beloved pastor and vigorous social-justice advocate, they recalled that "Bishop Dave," as he is fondly remembered, was not afraid of tears.
In the last homily he delivered before his death, the bishop recalled the tears of gratitude and joy he wept during a pilgrimage to the Marian shrine in Lourdes, France, where he felt Mary's love "so present there." He also wept in sorrow, while beseeching the Lord for forgiveness and mercy at a healing service for the Church in the wake of the 2018 abuse scandals.
Anthony Lilles, professor of spiritual theology at St. Patrick's Seminary in Menlo Park, California, recalled that during that healing service for the Southern California Renewal Communities [SCRC] in Los Angeles, Bishop O'Connell "prayed for the healing of everyone affected by clerical sexual abuse," and he "begged Jesus to forgive him and his brother bishops for not being good shepherds." As the bishop prayed, "he sobbed, and his sobs," echoing throughout the large congregation, "were very healing for all of us."
Indeed, Lilles described the moment as "the first time I heard an adequate response from the heart to the horror of what was happening in the Church." Once "the truth was said, there was a healing power in it."
Bishop O'Connell's deep well of compassion and strong prayer life helped him forge a spiritual bond with ordinary people in need, his friends and collaborators told the Register. And it is this precious legacy that provides solace as they struggle to make sense of his shocking death, as a fuller picture emerges of the Churchman that both social progressives and social conservatives in the city embraced as a trusted ally.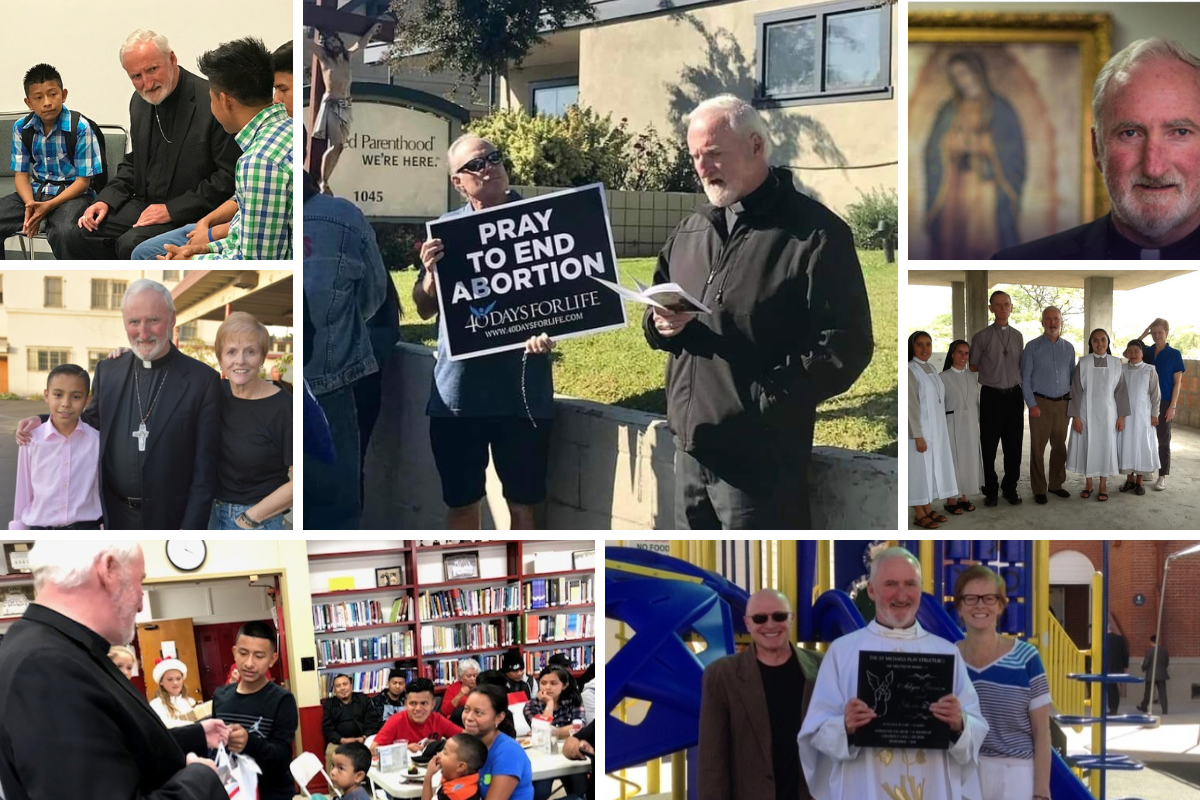 'Compassionate Heart'
Msgr. Jarlath "Jay" Cunnane, the Irish-born pastor at St. Cornelius Church in Long Beach, and Bishop O'Connell's closest friend, told the Register that as he grappled with the news of the bishop's death, he found a sense of peace in reflecting on the "compassion and mercy" that had inspired 45 years of priestly service to immigrants, gang members, young people and others in need.
When Msgr. Cunnane first heard the news about his friend, "I was on the freeway, driving to a confirmation retreat in the hills outside of San Diego, and received a call from the pastor of St. John Vianney Church, who told me that he was dead."
"I was speechless, stunned. The pastor's perception was that it was natural causes," the monsignor said. "I couldn't believe that because he seemed in such good health."
Msgr. Cunnane went ahead with the confirmation retreat program, but "broke down" during the Mass. "Then, on my way back, [Bishop O'Connell's] brother called me from Ireland. 'We are getting reports of gunshots,' he told me. I thought that was 'fake news.'"
But the next day, "the sheriff confirmed that he was shot."
And then the bishop's friends and family suffered "another shock," when they learned that the alleged perpetrator, Carlos Medina, 61, was the husband of the bishop's housekeeper, "someone we knew." Medina confessed to the murder Wednesday, although his motive is still unclear.
Msgr. Cunnane and Bishop O'Connell were close friends since they first met at the now-closed All Hallows College in Ireland, which provided priestly formation for young men destined to minister to the Irish diaspora in the United States, and both were sponsored by the Archdiocese of Los Angeles.
David O'Connell was born in a farming community based in Glanmire, County Cork, and earned a bachelor's degree in philosophy and English literature from University College, Dublin, in 1975 and a Bachelor of Divinity degree from Maynooth College in 1977, before completing his studies at All Hallows.
He was ordained in 1979, and early in his priestly ministry, he looked for opportunities to serve those struggling for a better life.
In 1980, during his first parish assignment at St. Raymond's Church in Downey, California, he organized a caravan of parishioners who brought clothing and other necessities from Los Angeles to an orphanage in Tijuana, Mexico, recalled Father John Woolway, who was a transitional deacon based at the parish during that period.
A fluent Spanish speaker, Father O'Connell often joked about the heavy Irish accent that sometimes made him hard to understand.
But his linguistic abilities, personal authenticity and political savvy made him a trusted interlocutor for immigrants and gang members, as well as local activists fighting crime and urban blight or pressing for a unionized workplace.
Community Work
Ilegra Evans, a retired business manager of Ascension Catholic Church in South Los Angeles, where he served as a pastor in the early 2000s, described him as "the type of priest who was in the community, not just over the community."
"He walked with us. He prayed with us," she told the Register. "He was right there, hand in hand. He was a loving, tender person."
Evans recalled that he worked closely with the L.A. County Sheriff's Department and police in diffusing and deescalating crises.
He was known as a "peacemaker" and has been remembered in the media especially for his work to rebuild trust between inner-city residents and law enforcement following the 1992 riots in Los Angeles sparked by the beating of Rodney King by police officers.
Kathleen Domingo, executive director of the California Catholic Conference, who previously led the Office of Life, Justice and Peace for the L.A. Archdiocese, told the Register that the bishop was an effective coalition builder and developed close ties with community organizers at the local level, whether the issue at hand involved "immigration, racial justice, restorative justice, housing," or other issues.
"He began his relationship with Hilda Solis, Janice Hahn and other members of the L.A. County Board of Supervisors," said Domingo, "when he worked with gang members after the Rodney King riots."
At the same time, he took an active role in both shoring up struggling Catholic schools and in helping needy children move out of poverty by gaining a Catholic education.
Immigration Ministry
Linda Dakin-Grimm, a Catholic attorney, switched from corporate law to immigration law due to the influence of Bishop O'Connell. She and her husband first met "Father Dave" in 2010, when their pastor told them to talk to him "if we wanted to do good things."
In 2013, after they worked together for several years, he asked her for some legal advice on behalf of his Southern California Immigration Task Force. She "started doing some pro bono work for unaccompanied minor kids coming to the border," and then gave up her business law practice to focus full time on this work.
Meanwhile, the bishop looked for practical ways to give the unaccompanied minors a better life.
He "would either pay his own money" for tuition or arrange something with the area Catholic schools to ensure that the children she helped could go to better schools. "He was always just behind the scenes, paying for things himself and providing support where he could," she said.
His very thick Irish accent resulted in "quite entertaining Spanish," which was "really hard to understand. But it didn't seem to matter to people," because they saw his love for them, she said. In the wake of his death, she has received calls from immigrant families who knew him through a retreat he led for them and were stunned by the news.
The bishop's ministry to unaccompanied minors marked a more sweeping concern for the needs of children and young people from all walks of life.
"His heart broke when he heard about a child who was abandoned or neglected," said Domingo, who recalled frequent conversations with him about the needs of young Americans who felt "unmoored" in a fast-moving culture that left them to their own devices, feeling unloved and alone.
The San Gabriel Valley Tribune noted Bishop O'Connell's special outreach to young adults during the pandemic, when he "would share video messages to stay connected and encourage young Catholics, stuck in their homes, to remain faithful."
"Bishop Dave saw the loneliness, the hurt, the effect of brokenness from our culture on young people, and he had a heart to bring healing to these places," Michael Ramirez, a young adult who volunteered with Bishop O'Connell, told the Tribune. "He pursued youth and young adults in the Church with a father's heart, a shepherd's heart."
During meetings with the faithful, young and old alike, the bishop was warm, funny and engaging.
"He gave you all of his attention and love," said Domingo. He had "a twinkle in his eye and knew he was funny."
And yet his friends and collaborators also recall the many occasions when that twinkle swiftly evaporated, and tears broke through, as he spoke about a person in need, called out the scourge of clergy sexual abuse, or expressed gratitude to the Lord for his healing love.
Bishop O'Connell was a "feeling person," Dominic Berardino, president of the Southern California Renewal Communities, told the Register.
He chuckled as he recalled a joke the bishop told on himself, comparing his own limited interest in reading books with the more substantial intellectual record of Bishop Robert Barron, an author and founder of the Word on Fire apostolate, who was also appointed an auxiliary bishop for Los Angeles in 2015, before Pope Francis named him last year to lead the Diocese of Winona-Rochester, Minnesota.
"He said that Bishop Barron had written 15 books, while he hadn't read 15 books," laughed Berardino, who dismissed the remark as more of a joke than an assertion of fact.
Spiritual Healing
But then Berardino got serious as he considered another dimension of the bishop's remarkable ministry: the rich life of prayer that fueled his spiritual outreach to suffering people in the pews and on the streets.
Berardino, Lilles and other sources contacted by the Register traced this aspect of Bishop O'Connell's priestly life to his personal experience with spiritual healing and deliverance.
As they tell it, he had suffered occasional bouts of depression during his priesthood and felt "burnout" as he maintained an intense pace in his pastoral life.
His mother had suffered from "lifelong depression," after her own mother committed suicide and she found her lifeless body, said Berardino, and the resulting depression "carried over to him."
But shortly before he became a bishop, his depression was "lifted," after a fellow priest gave him Neal Lozano's book, Unbound: A Practical Guide to Deliverance, and then prayed over him.
That experience was "life-changing," recalled Berardino. "It gave his priesthood a new dimension."
Lozano, founder of Unbound ministry, which guides Catholics in prayer to become free from the sin that prevents them from receiving Jesus, worked with Bishop O'Connell on several retreats.
"He felt Unbound ministry would help priests connect with the people and so help them enter into greater freedom," said Lozano.
Bishop O'Connell also maintained a deep devotion to the Blessed Mother and prayed all the mysteries of the Rosary daily.
"He spoke to the Blessed Mother as if she was in the same room," said Julianne Stanz, the Irish-born director of discipleship and parish life for the Diocese of Green Bay, Wisconsin, and a U.S. Conference of Catholic Bishops' consultant, who got to know Bishop O'Connell after his episcopal appointment.
"In Ireland, we had this expression, 'Our Lady wrap us in your mantle of comfort,'" she said. "During times of darkness, he felt this reality, and he tapped into it regularly."




Defying Characterization
Kathryn Jean Lopez, editor-at-large at National Review, co-led a pilgrimage to Fatima and Lourdes that Bishop O'Connell mentioned in his last homily and was inspired by his direct, "uncomplicated" efforts to invite people into a relationship with the Lord and the Blessed Mother.
"What he would say was that every child needs to know that he can talk to Jesus in his heart," said Lopez. "He can talk to Mary as his mother, whatever his circumstances are."
Following the shocking news of his murder, Lopez shared the sorrow of his many friends in the Church. While some emphasized the slain bishop's social-progressive bona fides, Lopez suggested that Bishop O'Connell "didn't fall into a category easily."
"He was comfortable working with community organizers and gang members, but he also was comfortable with Opus Dei priests, and he was comfortable at a pro-life rally."
Shawn Carney, president and CEO of 40 Days for Life, echoed this last point, as he remembered Bishop O'Connell as "a regular participant at 40 Days for Life vigils in Los Angeles."
"[U]nderneath his gentle and disarming nature," said Carney, "was a solid backbone that defended the sanctity of human life and knew the grave evil that abortion is."
Lopez noted comments the bishop initially made in 2002 that appeared to express support for women's ordination. A recent Los Angeles Times article marking his death cited these remarks, but Lopez questioned their significance.
The bishop "wasn't strident on those things," she observed. "What he was strident about was Jesus and Mary."
"That's not political," she said, "that's Christian," adding that something about him "defied characterization."
Lopez also singled out Bishop O'Connell's "deep sensitivity for suffering," and this striking attribute will surely be mourned by local Catholics, who will spill their own tears as they mourn an immigrant from Ireland who became a spiritual father to so many in his adopted home.