Soccer Defender Becomes Professional Defender of the Faith
Ex-semipro player Steve Duran is now head of St. Joseph Communications and the director of business development for a new Catholic business management agency.
As the Eastern and Western Conference finals are continuing to take place in the MLS Cup playoffs this week, one former soccer player is watching with interest but detachment. Steven Duran was a highly recruited defender out of high school, but instead of accepting a full-ride scholarship to a Division I school, he decided to attend Franciscan University of Steubenville in Ohio.
While his soccer skills were not tested as much against Franciscan's opponents as they would be at other schools, Duran's mind and heart were expanded through on-campus endeavors and through studying overseas, going on pilgrimages and missionary trips from 2007 to 2011.
After college, Duran played semipro soccer in Virginia, but a year and a half into play, a severe knee injury ended his Major League Soccer hopes. He shifted his focus to Lighthouse Catholic Media, where he was in charge of producing and marketing CD talks for their parish kiosk program. When Lighthouse was restructured in 2015, he became the platform director for St. Joseph Communications and the director of business development for the newly formed 5 Stones, a Catholic business management agency whose name was taken from the Book of Samuel.
Duran spoke with the Register as the MLS Cup playoffs were taking place with the Seattle Sounders, Houston Dynamo, Columbus Crew and Toronto FC.
What do think of the MLS Conference finals?
There are four interesting teams: Seattle is the defending MLS Cup champion and the juggernaut of the league. They won the opening game of their conference final against Houston and look like they very well could repeat. They have fantastic home attendance, which, if other MLS cities follow their lead in, the whole league could get closer to an NFL, NBA, NHL or MLB type of status.
Houston has had a lot of success in the past, and after a few seasons in which they didn't make the playoffs, now they're back near the top of the league. It's painful for me to talk about Houston, though, because it seems like they always beat DC United, an organization I was a part of. They even beat us three separate times in 2013.
Columbus is fighting for its life in the playoffs and in the sense of the team staying where it has been since the beginning of MLS' existence. It looks likely the team will move, but maybe with the successful season they're having, they'll be able to stick around.
Toronto has raised the bar through a lot of diligent work behind the scenes. They've gotten better and better over the past few years, so if that progression continues, they'll come away with an MLS Cup, since they made the finals last year.
How close did you get to playing on a MLS team?
Growing up, I watched players like Eddie Gaven, who is only about three years older than I am, but started out in MLS so young [16] that it seemed like he was much older than I was and his career was even longer than it was. Anyhow, I wanted to play professionally one day like Eddie was doing.
I grew up playing for a really high-profile soccer club in Virginia called Reston FC, as well as being able to play for the prestigious D.C. United U-18 academy program, which produced some really talented MLS stars such as Bill Hamid, Perry Kitchen, Ethan White and Andy Najar. During my senior year at Seton High School, I was highly recruited and got scholarship offers from NCAA Division I schools like William & Mary, Georgetown and George Mason. It was tempting to play for them, because that would have been a great steppingstone for a pro career. However, I believe that the Lord had other plans for my college education.
Through a painful discernment process, I eventually came to grips with that fact that I needed to pursue a Catholic education rather than a professional soccer career. As a result, I decided to attend Franciscan University of Steubenville in the fall of 2007. It wasn't a large school with a great soccer program, but I knew that I'd be able to maintain a Catholic identity more easily there. Despite that knowledge, it was a huge sacrifice for me to make back then because my identity was tied in with playing soccer.
Did you play soccer at Franciscan?
Yes, I was a four-year starter for the varsity soccer team at Franciscan and was named All-Conference, but it was still a humbling experience. The school had just been accepted into the NCAA Division III on a probationary basis, which was a far cry from other college teams I could have played for, and even from what I had been doing in high school. I had played on D.C. United's Under-17 team and faced other pro team's Under-17 counterparts in Europe. Real Madrid was one of them, so there was some great competition.
There were lots of things outside of soccer, though, that were great in college. I got to study in Gaming, Austria, and go on the best pilgrimage of my life to Lourdes, France, and go on mission trips to places like Quito, Ecuador.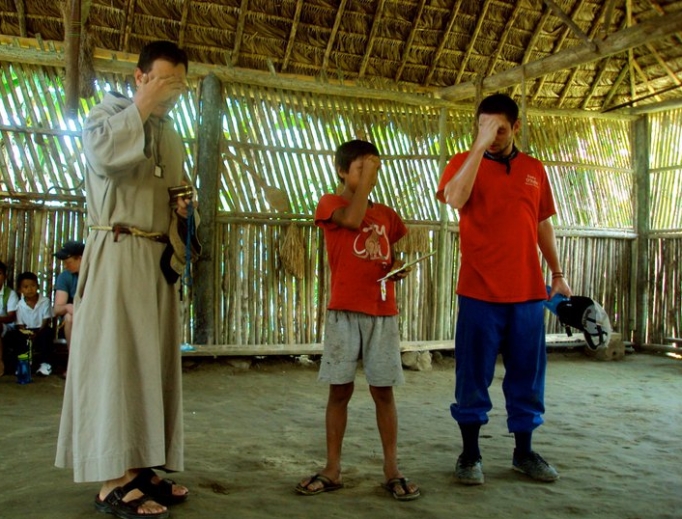 However, my hopes of playing pro soccer weren't as bright as they had been. Right out of college, in 2010, I played semipro soccer for the Northern Virginia Royals, who were part of U.S. Soccer's Premier Development League. They're under the level of MLS, but teams that win their division can compete in the Lamar Hunt U.S. Cup, which is a contest among amateur, semipro and pro teams. My stint with them went well — until I blew out my knee one night in 2012 playing indoors soccer, which ended all of my MLS hopes.
You didn't end up playing with DC United's Taylor Kemp or Jared Jeffrey, but how did you get from blowing out your knee to working at 5 Stones?
I had been working at an office job — a "real job" — for about three weeks when my friend and household brother from Franciscan (and now brother-in-law) told me about Lighthouse Catholic Media. He had been working as the director of young-adult marketing, but ended up pursuing a new endeavor so the apostolate needed someone to fill his position. I flew from Virginia to Illinois to meet Mark Middendorf, the founder of Lighthouse.
The interview went well, and Mark offered me the position. I was reluctant to accept it since I had just started at another job, but I thought there was a lot of potential professionally — not to mention the solidly Catholic aspect. It was the second time in my adult life where I could have gone a secular route but decided to go the Catholic one, and it has turned out very well.
How did Lighthouse become associated with the Augustine Institute, and where does 5 Stones come in?
When I was working there, Lighthouse Catholic Media had a little over 50% market coverage for Catholic parishes in the United States, meaning their CD and book kiosks had been placed in over half of the parishes in the country. In 2012, Lighthouse acquired St. Joseph Communications from Lighthouse board member Terry Barber, who decided to concentrate on his radio program, The Terry and Jesse Show, through Relevant Radio.
In 2015, Lighthouse Catholic Media formed a "strategic alliance" with the Augustine Institute to join the AI's mission of "Go and make disciples of all nations." As a result of this alliance, the decision was made that about 35 employees of Lighthouse Catholic Media would form a nonprofit Catholic agency called "5 Stones" that serves Catholic businesses in the five areas of marketing, warehousing, software development, graphic design and customer service. 5 Stones works closely with the Augustine Institute in these five areas, and we continue to support other groups, as well. Our clients include Ignatius Press, Word on Fire Catholic Ministries, Real Life Catholic, Kolbe Academy Homeschool, ODB Films, 4PM Media, Fellowship of Catholic University Students and the St. Paul Center for Biblical Theology.
We help apostolates attain their goals by allowing them to focus on content, while we focus on the more technical aspects of business. They get to write or speak or create other various kinds of content, while we figure out how to sell, support or promote what they're offering. People who are called to Catholic evangelization don't usually like to think about critical business data points, such as page views, click rates, balance sheets, warehouses and customer service. We save them the headaches and heartburn associated with those things.
In addition to being the director of development for 5 Stones, you're also the platform director for St. Joseph Communications, so with two big jobs, does that take the work of two people?
It's definitely a large amount of work, but it's definitely attainable by using a laser focus, from an organizational standpoint. In 2015, 5 Stones acquired St. Joseph Communications from Lighthouse Catholic Media, at the time of the "strategic alliance," and ever since then, it's been an absolute privilege to be part of such a wonderful apostolate that has been around since the 1980s. At 5 Stones, we've taken to heart the teachings of Patrick Lencioni and his book The Advantage.
One of the big ideas in Lencioni's book is committing as an organization to a single mission statement that is then used to drive business decisions about how the company ought to act internally and how it is best suited to serve its customers. By rallying an entire team around a single corporate vision, the company begins to drive toward what Lencioni frequently refers to as "organizational health."
In short, one could sum up this driving principle of organizational health by saying that anything done by a given group should be a natural outgrowth of their core purpose. At 5 Stones, we work with other Catholic businesses to help them identify their core purpose, and sometimes that means identifying which parts of their business need to be outsourced to 5 Stones so they can work on the things that they are best suited for. In this sense, we're "solutions architects" for Catholic apostolates, in that there are many ways we can serve any given company.
We've taken these principles and applied them to St. Joseph Communications, which has been transformed into an online retailer that reaches far beyond recorded presentations. Now we're an all-around Catholic store that offers everything from books and DVDs to pillowcases, sacred artwork and more. Although we're obviously a lot smaller than Amazon, I like to call us the "Catholic Amazon," in that there's a large number of brands and publishers that we offer the customers that we serve.
Since you've read so many books and listened to so many CDs because of your job, it's probably not fair to ask this, but do you have favorites?
As Lighthouse's marketing team lead, I was the producer of the CD talks that went into the kiosks, so, yes, I've heard tons of them. There are so many great ones to choose from, but the one that really touched me was by John O'Leary, called Rising Above: From Tragedy to Triumph. I highly recommend that your readers check it out for themselves! When I heard the first 10 minutes of it in my car, I started crying — ugly crying. I had to pull over, and when I finally made it to the office, I was a mess. Someone asked if I was okay. John's talk was just so moving that I had to get it and make it available through Lighthouse Catholic Media.
As for books, Father Michael Gaitley's 33 Days to Morning Glory is fantastic. Every time I read it, there is, without fail, something at the end of the preparation that the Holy Spirit shows me I should be doing differently. It's not always pleasant, but it is sanctifying.
Are you still involved in soccer?
I play a little here and there, but nothing like I used to. However, I'm a member of the board of directors for DeKalb County United, a semipro team in northern Illinois. We're in the same boat as the Northern Virginia Royals, in that the big thing is winning our division so we can compete in the Lamar Hunt U.S. Open Cup.
Looking back at how I chose Franciscan over Division I schools, I see what a big deal it was for me back then. Athletic ability is one of the few things our culture looks upon with 100% approval. If you're really good at sports, there's immediate respect, and people will pay attention to you, so soccer had become part of my identity. Giving that up was difficult, but I don't regret it at all.
No soccer career could have replaced what I've experienced in Catholic academic and spiritual formation, evangelization and business — and those things have made possible what I've experienced in my personal life. I wouldn't have met my lovely wife and had the two great kids we have today.
Register correspondent Trent Beattie writes from Seattle.
His book, Fit for Heaven (Dynamic Catholic, 2015), contains numerous Catholic sports
                                                                              interviews, most of which have appeared in the Register.