Shroud of Turin Unveiled for Youth in Documentary
Film, available on DVD, delves into mysterious holy cloth.
It's fascinated scientists, but in a world where religious practice is disappearing, especially among the young — nearly four in 10 (39%) young adults (ages 18-29) claim no religious identity, according to a 2016 study by the Public Religion Research Institute — one high-school senior took up a serious inquiry into evidence of the Crucified Christ when he interrogated the four leading specialists on the Shroud of Turin, a linen cloth bearing the image of a man believed to be Jesus Christ.
With Holy Week, a skeptical world is ripe to hear these messages again, especially youth. That's why The Holy Winding Sheet: Exploring the Shroud of Turin comes with a fresh twist: It's made specifically for young people. The Holy Winding Sheet (HolyWindingSheet.com) — titled after the name the shroud was known by before it arrived in Turin, Italy, in 1578 — was released in 2015 and has been aired by EWTN, which will do so again this Holy Week.
Executive producer Chuck Neff got the idea for this film while his production company was in Israel filming a documentary. Visiting the Shroud Exhibition at the Pontifical Institute Notre Dame of Jerusalem Center, Neff learned from Legionary Father Eamon Kelly that many people either didn't know about the shroud as the burial cloth of Jesus, or weren't properly educated about it. Others dismissed it because of carbon dating done in 1988 that placed the shroud in medieval times but was later proven questionable and inaccurate because it worked with a faulty sample. A later test placed the date as a "parenthesis" encompassing the times of Jesus.
Back home, Neff began running into many people, from students to senior citizens, who had never heard of the Shroud of Turin either. So he decided to educate people.
With many good documentaries of the shroud already available, Neff didn't want to "go back and reinvent them," he said. He found his unique approach while visiting St. Louis Priory High School in Creve Coeur, Missouri, where student Parker Dow was planning his senior thesis.
Dow, now a junior at Marquette University studying mechanical engineering, said at the time he wasn't sure of his thesis subject. Then a teacher in the theater department told Dow that Chuck Neff wanted to interview some students for a film project.
"I talked to him and was offered an invitation to be a part of the shroud project," Dow recalled. "I was excited to be part of that opportunity because it was different than what I expected to do."
The student had seen a display on the Shroud of Turin at the cathedral in Turin during a family vacation several years earlier, and here was his chance to learn about the shroud by interviewing the experts.
Dow explains in the beginning of the film, "Virtually every piece of evidence points to one conclusion: The man in the shroud is Jesus Christ, who died and rose from the dead. Whether or not the shroud did in fact wrap the dead body of Jesus Christ, this is what we do know," he added, listing several measurable details, including the scourge marks, blood type and height of the man. For him, the first major question to answer was: "What happened to the body?" "Parker did the research, the narration and the interviews through the eyes of a young high-school senior," Neff explained. "This is really a young man talking to other young men and women about what he discovered about this linen cloth."
Talking to the Pros
"For me, it's about evangelizing a new generation of Catholics," Neff added. In order to do that, "I wanted it to be simple. I didn't want to get into all the scientific details, the minutiae. It's 'Shroud 101.'"
Neff is no stranger to the right approach. A broadcast journalist and winner of 15 local Emmy awards, he has worked with NBC News in Chicago and currently is a daily host for Relevant Radio.
"Over the course of six months, my research brought me face-to-face with four leading experts to hear what they believe about the shroud," Dow informs his audience at the start of the film.
Neff and his production company filmed Dow meeting and interviewing those shroud scholars on location — Barrie Schwortz and Mark Antonacci in Colorado, Russ Breault in Georgia and Art Lind in Missouri.
"Here's what I know for sure," Breault, founder of ShroudEncounter.com, says in the film. "The message of the shroud is identical to the message of Scripture. There is no difference between the Scripture and the shroud. They're one and the same."
The official documenting photographer for the 1978 Shroud of Turin Research Project, Schwortz has appeared in more than 20 documentaries on the shroud. Involved with the shroud for more than 42 years, he founded the Shroud of Turin Education and Research Association, Inc. (STERA), has taught about the shroud at the Pontifical Athenaeum Regina Apostolorum in Rome, and created Shroud.com, the premiere website on the subject.
When more recent documentaries fell short in their approach, Schwortz said he "pretty much resigned myself not to do it anymore." But then came Neff's call.
"Chuck explained to me this was a young high-school guy, a project he decided to do on his own, to talk to people who directly studied the shroud," Schwortz said. Schwortz saw that this approach would "encourage young people and give young people motivation to be interested in the shroud."
Of Dow's visit and interview, he said, "He was very well prepared. This was not a setup. Those were his questions. I was happy to see Chuck producing something that was geared not so much to a general audience, but to a young audience — and a young person doing this. It was unique to the other documentaries I was in."
Dow next spoke with Mark Antonacci, president of Resurrection of the Shroud Foundation in Eureka, Missouri, and founder of TesttheShroud.org and author of Test the Shroud.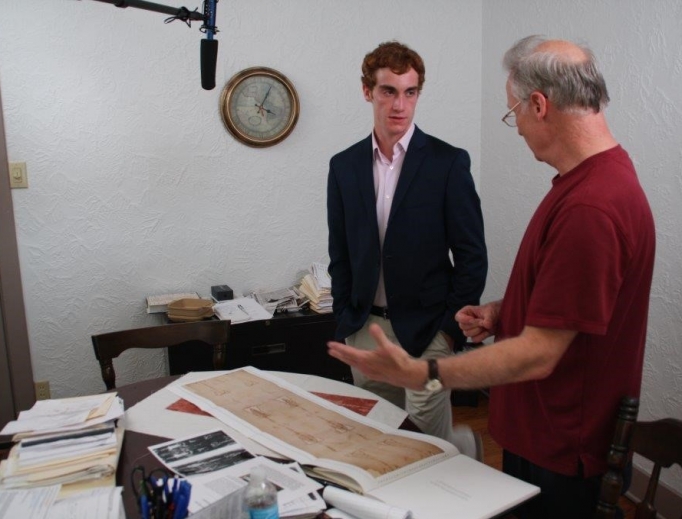 "I look back at myself when I was a senior in high school, and I wouldn't have had the ability and poise he did," Antonacci said, reflecting on his positive experience with the film's approach and the interview with Dow. He says more people should be exposed to this subject and scientific evidence: "We should disperse this evidence to all the world, no matter their age or location."
Dow did his homework, as evidenced in this query he posed to Breault: "Do you think faith becomes more essential to understanding the shroud? ... Can science and faith ever meet?"
Science Meets Faith
Answered Breault, "[T]hey do, and they did on the shroud," with the specialist adding that he believes "the shroud is the proverbial two-edged sword, with one edge being science and the other edge being leap of faith. Looking at the science and the history is the head knowledge, but I think it's important to go beyond that and look at it with the eyes of faith."
"It was really fascinating to hear all of these experts explain the shroud," Dow told the Register. "They really had spent a majority of their lives researching and looking into it." Looking back on it now, with his studies in science and math, he sees that "this religious piece, this icon, has so much science behind it. A lot of things in the Catholic Church are passed on in Tradition and Scripture. This is a great physical representation of what we learn in the Bible and hear in the Church."
Dow explained that what fascinated him then and continues to fascinate him now is that while the basic photo doesn't reveal too much, "the photo negative is what was the most striking. Looking at it in that perspective, [the Crucified Christ on the shroud] was the most interesting thing in my mind to see, just how detailed and accurate it was to what we see in the Bible."
Dow explained that what also captured his attention was how the incredible findings, on such things  as the blood analysis and how the the pollen on the cloth can only be found in one place, all tied together to point to Jesus being the man on the shroud: "How many coincidences are there going to be?"
Jesuit Father Christopher Collins, assistant to the president for mission and identity at Saint Louis University, is quite familiar with the film.
As he told the Register, "I found the film to be a very thoughtful way of engaging especially a younger audience to consider the great mystery around the shroud, engaging the intellect and thereby strengthening faith simultaneously."
After its release, Archbishop Robert Carlson of the Archdiocese of St. Louis saw this film as "a unique and truly extraordinary tool to evangelize our Catholic youth and become a staple in religious-education programs for years to come."
The 48-minute film on DVD is ready for many venues — from classrooms to homes and parishes. "We're trying to get young men and women to understand what the cloth is and what it might be," Neff emphasized.
In the film, interviewee Breault tells Dow — and all viewers, "Everything that happened to Jesus is represented on that linen shroud. That certainly allows you to have full freedom to venture into areas of faith using the shroud."
At the end of the film, Dow reveals what he calls his "ultimate question" and what his conclusions are, based on his extensive conversations. "In the end, this is not about what I think," he concludes, then challenges: "The real question is: 'What do you think?'"
Joseph Pronechen is a Register staff writer.
ON TV
The Holy Winding Sheet will be shown on EWTN TV March 26 at 9am, March 27 at 3am and March 31 at 8am. It is also available from EWTN Religious Catalogue as Item: HDHWS, $10; EWTNRC.com or (800) 854-6316. At HolyWindingSheet.com, there's also a 16-page color booklet for teachers to use in classroom discussions.