OneLife LA's Karen Gaffney Has Down Syndrome, a Doctorate and Loves to Swim
Pro-Life speaker for OneLife LA knows those with disabilities are 'Made for Greater.'
Karen Gaffney was 6 years old when she learned she had Down syndrome.
Some kids had been calling her names, and she didn't understand why. Her parents decided to talk it over with her when she was in her favorite place — her grandparents' home.
"My mom told me sometimes people with Down syndrome take longer to learn things," Gaffney, now 40, recalled in a recent interview.
What her parents didn't tell her was that Down syndrome would hold her back from achieving great things in her life. Instead, they encouraged her to pursue her talents — and to push herself beyond her comfort zone.
So now Gaffney is an adult with Down syndrome — but she is much more than that.
She is a renowned long-distance swimmer who has crossed the English Channel, Lake Tahoe and other bodies of water.
She is the president of a nonprofit organization that champions full inclusion for people with intellectual disabilities in families, schools, the workplace and the community.
She is a part-time employee at Oregon Health and Sciences University.
She is a sought-after public speaker.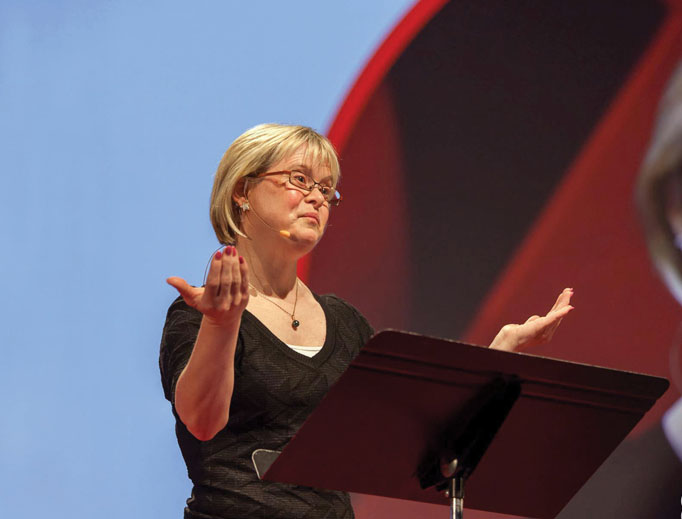 And on Jan. 20, she will be the keynote speaker at the fourth-annual OneLife LA, one of the nation's largest pro-life events, in downtown Los Angeles. A combination of pro-life procession and community event, complete with speakers, musical performers and booths where visitors can learn about pro-life and related ministries and services, OneLife LA has drawn remarkable crowds — an estimated 15,000 its first year and 20,000 its second. That's all the more impressive when one considers that 17% of the nation's abortions happen in California.
Karen Gaffney recently spoke with Register correspondent Elisabeth Deffner about advocating for people with intellectual disabilities, fighting the pro-life fight and being made for something greater.
Why did you want to accept the invitation to be the keynote speaker at OneLife LA?
I am not really sure why OneLife LA chose me to be a speaker, but I wanted to be involved because I think the mission of OneLife LA is so critical right now. You see, I have Down syndrome, and most of the general public thinks that's a bad thing. Even the medical community, who should know better, sometimes says it's a bad thing — except those who take the time to learn more about Down syndrome and the great progress we have made over the last 50 years.
What are you planning to talk about in your keynote speech?
Well, the theme this year is "Made for Greater," and I like that. I am working on my talk now and I will try to help the audience understand that Down syndrome is "made for greater." Those of us with Down syndrome are different, yes, but I think we are made for greater … not less. Yes, it is hard to live with Down syndrome, but isn't it hard to live with any kind of disability? Does that mean we should prevent people who may have a disability from coming into this world? That's what many in the health care industry want. They want to screen us out before we are born, because they don't think we are "made for greater." I don't think they have the right to do that.
When you think about how you are "made for greater," is swimming one of the things you think about?
My dad taught me how to swim when I was 9 months old.  I could swim before I could walk. I love swimming because I can get in a pool anytime, anywhere, and swim just as fast and probably a lot longer than just about anyone else in the pool with me. I love open-water swimming, too, because not many people can do that, but I can! I have been able to heal from many hip surgeries by getting in the water, but even more than that, I love the feeling of accomplishment when I finish a workout in the water.
I usually swim about 2 miles a day.  If I am training for an open-water swim, I will do more than 2 miles a day. It takes me about an hour to swim two miles in a pool. After I swim, I usually ride a stationary bike for about 30 minutes. The regular exercise helps me in a lot of ways. I work about 20 hours a week at Oregon Health & Science University, doing clerical work, and I always get my workouts in before work. The workouts help me stay focused at work.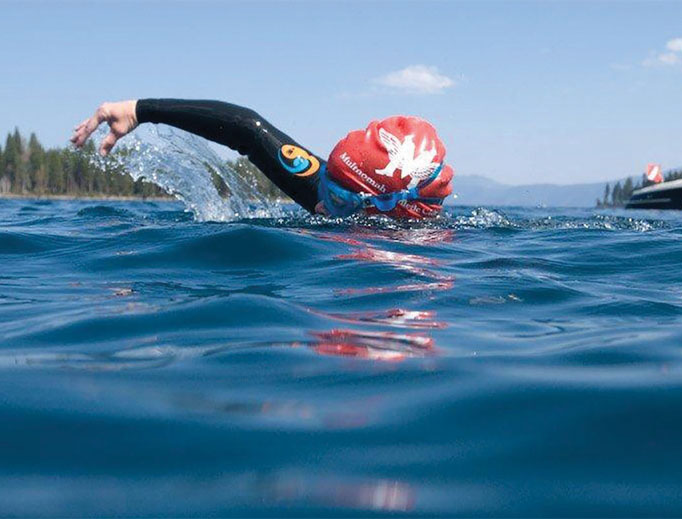 It seems like Down syndrome is in the news in a bigger way than, maybe, ever before: from the CBS story on Iceland "eradicating" Down syndrome to the ever-growing focus on prenatal testing to young people with Down syndrome becoming successful fashion models. Do you think this growing attention to Down syndrome is a positive thing?
Well, I certainly don't like the story on Iceland, and I think CBS was wrong not to have others with Down syndrome or their families be part of that story. 
I do think it is great when we have good, positive stories about Down syndrome in the news, because it helps people see what Down syndrome really is today. Every day, people with Down syndrome are showing that we do belong in this world and that Down syndrome is not something that should be eliminated, like Iceland wants to do. 
This summer, I read a story about a 17-year-old boy with Down syndrome who is a good open-water swimmer like me. He was on the beach some place on the coast of Italy with his dad. They looked out into the sea and saw two young girls being pulled out by the tide. Lifeguards were too far away. They both dove in, and each one swam for one of the girls; they reached them and were able to bring them to safety, just as the lifeguards got there. The boy with Down syndrome had taken lifesaving classes and knew just what to do with the little girl he had in his care. Now, I wonder what the mother of that little girl thinks when she hears from someone in the medical community who says Down syndrome is "not compatible with life." That swimmer who saved the little girl is not an exception — he is the potential! He is showing the potential of everyone born with Down syndrome.
I think the more people learn about the everyday lives of people with Down syndrome, the more they see that we really do belong in this world. The more they see us in the classroom with their kids, on the playground, on the soccer team or in the pool on the swim team, I think (I hope) they start to question this idea that Down syndrome should be eliminated, screened out.
Do you think people with Down Syndrome are targeted for abortion?
Yes, I do. I do think that Down syndrome is the focus on prenatal screening. I give a talk every quarter to a certain class at Pacific University in Forest Grove, near where I live. The classes are all about helping students who want to go into health care learn more about people with disabilities. I always tell them that the prenatal-testing industry targets Down syndrome because it is the easiest test for them. If you can count to 27, you can evaluate the test! I get mad about that, because the testing people just care about the test — they don't care to provide up-to-date, balanced information about what Down syndrome really is. When people understand what Down syndrome really is, they will choose life. I always say that Down syndrome is a life worth living! And it is a life worth saving!
How does your faith impact your life? For instance, when you were training to swim the English Channel or Lake Tahoe — and then when you were actually doing it — how did your faith support you?
Someone once asked me something like this before, and I remembered something that I learned in a high-school religion class at St. Mary's Academy. It was my junior year at St. Mary's, and all the classes were getting very hard for me. I was working really hard to keep up with everyone, and I wasn't sure that I was going to make it through to graduation. Then in a religion class, I remember the teacher talking about how we live our lives, and she said that all lives are a gift from God, and what we do with our lives is our gift back to God. At that time, I remember thinking that I should keep trying at St. Mary's as my gift back to God. It was really hard, but I kept going, and I was able to graduate with a regular high-school diploma. I remember thinking, "Maybe that would be my first gift back to God." I hope he liked it!
Whenever I am training really hard, or doing a long open-water swim, I think about that being my gift to God.  It helps me especially on long swims.
As I have learned more about what sometimes happens when parents learn that their baby will be born with Down syndrome, I remember what we were taught: about all lives are a gift from God. To me, that means that all lives matter, even if you will be born with an extra chromosome. I believe that we are meant to be here — all of us — regardless of the chromosomes we have. And we can all give back to God in the way that we live our lives.  
What else do you want people to know about you or about the message you will share at OneLife LA?
I will be happy if people come away from the event wanting to learn more about Down syndrome and wanting to talk more about Down syndrome. I will be happy if they go home and reach out to the family in their neighborhood or in their church who has a child with Down syndrome and try to get to know them better. I will be happy if they come away from the event and reach out to that person they see in the workplace who may have Down syndrome or some other disability. I want people to show by their actions that all lives really do matter. 
Elisabeth Deffner writes from Orange, California.
INFORMATION
OneLife LA takes place Jan. 20, beginning with a walk starting at noon at La Placita Olvera on Olvera St. and ending at the main event location at Los Angeles State Historic Park. More information: OneLifeLA.org. See related TV schedule of here.