Meet a Vatican Tailor, Hand-Crafter of Ecclesiastical Garments
Going from Italian couture to Vatican vestments has been a spiritual journey.
Measure, pin, cut and sew. Once a high-fashion tailor, Ety Cicioni is now customizing cardinal cassocks and Swiss Guard uniforms in a quaint office in the barracks of the papal soldiers, across from the entrance of St. Anne's Door.
It has been 22 years since Cicioni began hand-crafting ecclesiastical garments.
"I greatly enjoy the tailor environment, and because of this, I dedicate so many hours to it," Cicioni said. "It's never burdensome. I love this work and the way it is carried out."
In Giulianova, a small town in central Italy, Cicioni started his profession with a needle and thread when he was 17 years old; he was an apprentice at a textile company for women's fashion. He worked there for nine years. Day by day and button by button, his skills developed.
In 1997, a family friend asked if he would be willing to work in the Vatican's tailor workshop. Eventually, Cicioni found himself customizing clerical garments for many Vatican positions and co-launched his own company, "I Sarti del Borgo."
With the help of his assistant, Carmelo Candido, and dedicated hand-stitching and embroidery seamstresses from his hometown, the Vatican uniforms, cassocks and men suits are painstakingly hand-tailored.
Producing Vatican garments is a different pursuit than high fashion.
"The difference is enormous, because the world of high fashion continuously changes, and so the novelties are fast moving," Cicioni explained. "In the Swiss Guard world, as well as cassocks, such as that of a cardinal, we have been doing these for centuries; thus these things remain the same, changing only in terms of quality."
Cicioni said he is fortunate enough to go back to the "laboratory" where he used to work to update himself on the trends, textures, fabrics and evolution of fashion.
"You always need to be up to date," Cicioni explained.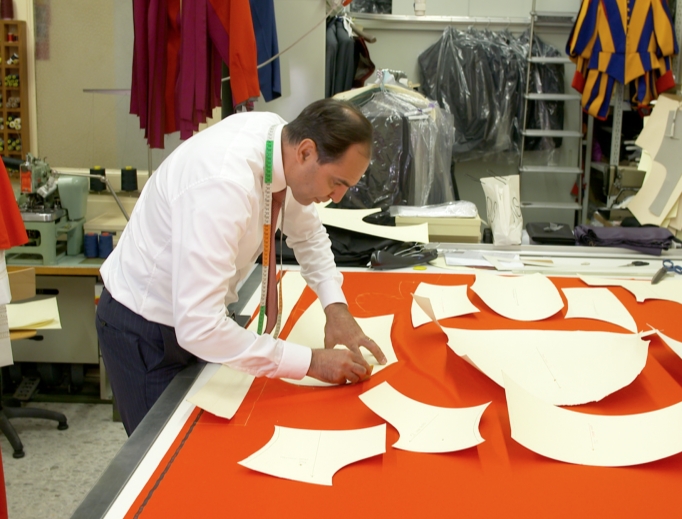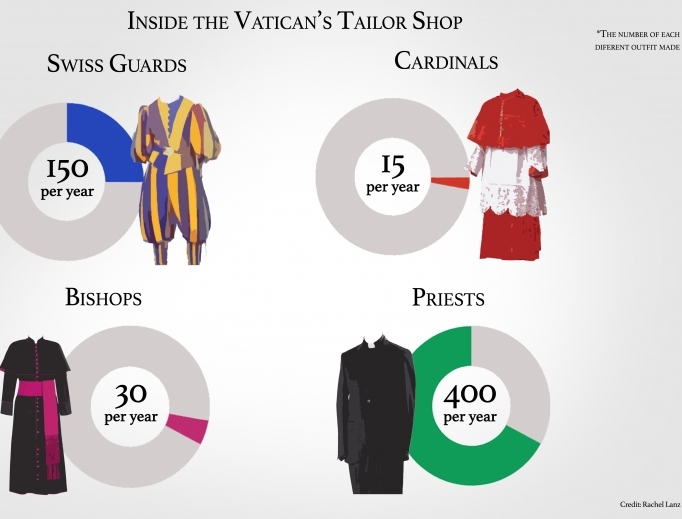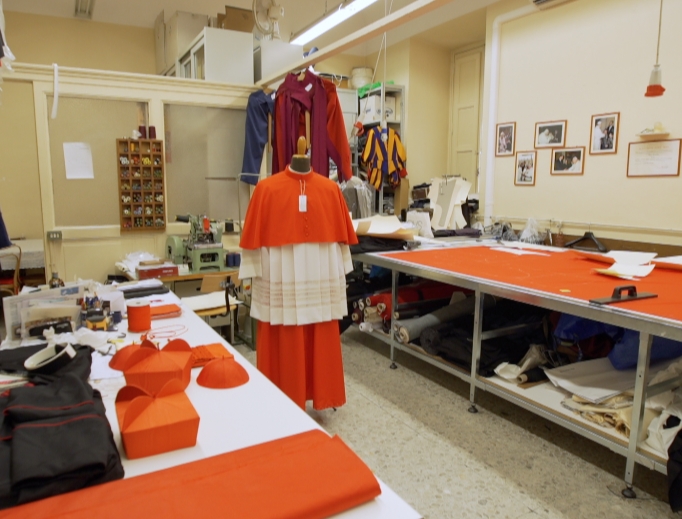 Since his time at the Vatican, Cicioni has made about 50 cardinal cassocks; each can take up to four days to make and costs around $1,000, using Italian scarlet silk.
Cardinals wear a red cassock representing the blood shed to defend the faith, and the 33 buttons that run down the center represent the age at which Jesus Christ was crucified.
Bishops' cassocks are purple, and ordinary priests' clerics are black — but the basic cut is the same.
Accessories that accompany a cardinal's cassock include the mozzetta that cloaks the shoulders, distinguishing a cardinal or pope; the white, lace rochet worn over the cassock; and the squared biretta cap, worn for specific clerical occasions, has three peaks symbolizing the Holy Trinity.
Years of creating and altering the Church's historical vestments not only expanded Cicioni's professional career, but also his spiritual growth.
"Whatever is made, whether it be for the guards or the vestments for a cardinal, a bishop or simple priests, we need to understand that they symbolize the Church. When dressed in a cassock, people recognize that the priest represents the Church."
Now, instead of seeing his work on runways or in magazines, Cicioni witnesses his creations in a different way.
"When I go around and see people stopping a priest because he's dressed in a cassock, I say that we've tailored something that draws them to the Church. For me truly, this is the important meaning. Another thing that I note is the love that goes into making these things."
Over the years, Cicioni has been fortunate to meet the popes he has served.
Pope John Paul II gave him and his wife their wedding blessing, Pope Benedict XVI baptized one of his children, and he has met Pope Francis twice.
"The marriage blessing of Pope John Paul II in 2000 during a papal audience was very emotional. When I was in front of him, I could not say anything, even if shortly before I wanted to say many things about life," Cicioni remembers. "Instead, at the baptism of my son, Emmanuel, by Pope Benedict XVI, I was calmer, and it was a real joy, especially for the wonderful place where it took place, the Sistine Chapel."
Rachel Lanz is a Register staff writer based in Rome. 
She blogs at
NCRegister.com.