Persecuted Christian Youth Share Harrowing Stories
In conjunction with synod, young people relate tales of persevering faith.
"My personal experiences with persecution as a Christian started right from childhood. I am from the northern part of Nigeria, which is dominated by the non-Christian religion. We went to church every evening as children to learn catechism and the Bible. When coming back from church, there was one time when my elder brother's Bible was smashed and burned right in front of us, and we were told never to use such a 'dirty' book again," recalled Patience Patrick, 22.
"When I was an adult, one night myself and my family were in the house and the camp of the Boko Haram was right in front of our house. By the time we were able to leave, it was only by the grace of God — and everyone who was left behind that night was killed."
This was one of many stories from young persecuted Christians at an Oct. 9 event hosted by the Hungary Embassy to the Holy See.
During the event, the "Cross in Fire" exhibit from the Hungarian National Museum was on display, sharing stories through salvaged artifacts from individuals who suffered from extremely serious atrocities.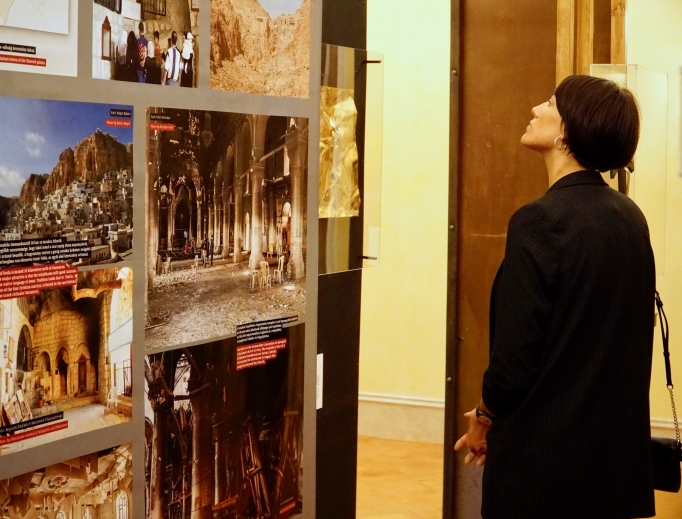 Since 2013, about 5,000 students from persecuted locales have gone through the "Scholarship Program for Christian Young People" to study at Hungarian universities; while studying, they are free to live their faith.
These students are not only trying to live their faith, but survive while doing it.
"There is a lot of temptation. I have two of my friends who have converted [to Islamism] because they would offer you a lot of good opportunities; you go to good universities or you get a good job or they adopt you into a very rich family," Patrick told the Register.
How do they resist?
"Sincerely, the hope is very small, but I still believe in the power of God," Olagoke Boluwatife, a nursing scholarship student from Nigeria, told the Register.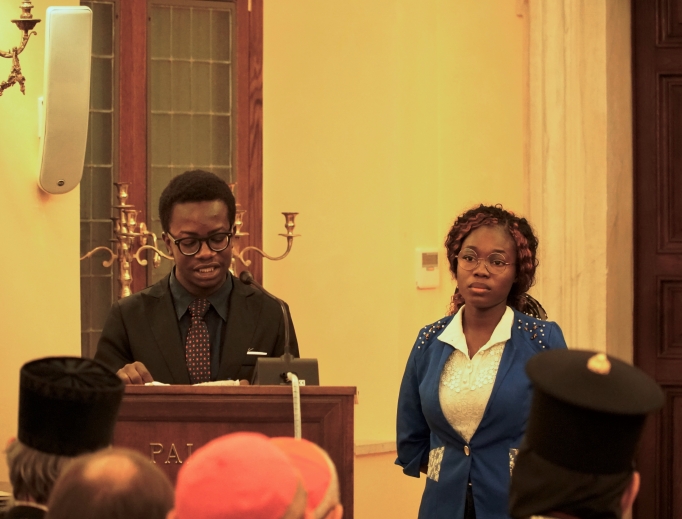 Encountering Christ and embracing the faith community has saved them.
"No matter the situation, we should be thankful that we're alive; and because that we're alive, we should be able to keep our faith," Boluwatife added.
Randi Jamal Sulaiman from Nineveh Plain, Iraq, worked as a social worker in a local school to help communities be resilient amid life's challenges.
"Before Nineveh Plain was liberated from ISIS in 2017, we would be in Mass and hear bombing and shelling," Sulaiman recalled. "Unfortunately, we used to normalize the abnormal events."
He was a novelty to some children in the school because they hadn't interacted with a Christian before, and he thought this was his opportunity to show the children what being a Christian means.
"I was telling them that you deserve to have a good life, and I was talking to them as a person, a human being," Sulaiman said.
The Scholarship Program for Christian Young People gives young people skills to prepare them to go back to their countries and serve their communities.
Meroze Daud, 22, hopes to return to Pakistan after studying business administration in order to open her own education academy and serve her community.
"We have our faith to make our hearts strong; we Christians unite together in that way," Daud said.    
Although the synod fathers participating in the youth synod from the Middle East were disappointed in the synodal instrumentum laboris (working document) for not emphasizing the situation of persecuted Christians, they see this program as a model for other countries to imitate.
"If they [young Christians] leave their home, they will lose their identity and tradition, language and heritage," Cardinal Louis Raphael Sako I, head of the Chaldean Catholic Church and the archbishop of Baghdad, told the Register in a one-on-one interview.
He is concerned that fears of terrorism, discrimination or secularism are preventing persecuted countries from educating young Christians in a crisis-free environment. 
"Christians should have other Christians in the Middle East to stay [and support them] and continue their existence, because if there are no more Christians, then Christianity will have no more roots, and this is the danger and a big loss," Cardinal Sako reiterated. "War has no future; peace will come."
Rachel Lanz is a Register staff writer based in Rome.