Honoring Soldier and Chaplain: Snapshot of World War I
'Beyond the Front Lines' is a multimedia look at 'The Great War,' 100 years later.
NEW HAVEN, Conn. — "Over there, over there, say a prayer. … The Yanks are coming, and we won't come back till it's over. Over there." Patriotic folks were singing that famous George M. Cohan tune as President Woodrow Wilson declared war on Germany April 6, 1917, marking America's entry into World War I.
To commemorate this 100th-anniversary year, the Knights of Columbus Museum in New Haven, Connecticut (KofCMuseum.org), has opened a new show titled, "World War I: Beyond the Front Lines," capturing what soldiers of the American Expeditionary Forces (AEF) faced in warfare and living conditions and how the Knights of Columbus answered the call both on and behind front lines, from providing much-needed recreation centers to bringing the sacraments to soldiers and sailors.
The first AEF troops from the United States arrived in France June 26. From joining the fray until Armistice Day Nov. 11, 1918, more than 116,000 American men died in the war, including 1,600 members of the Knights — two of whom were the very first and very last American officers to die in the war.
The first was Lt. Dr. William Fitzsimons, who was killed in a German air raid on a hospital in France on Sept. 4. The last was also the last chaplain to die in World War I — First Lt. Chaplain William Davitt, killed when one of the last shells fired landed near him. It happened slightly over an hour before the official 11am cease-fire.
The museum exhibit offers visitors an absorbing glimpse of those times: from artifacts including uniforms and shell art to a facsimile trench and recreation center.
Over There
The first gallery sets the scene, with details of America's entry into what was termed at that time to be the "war to end all wars" after more than 17 million military and civilians died, not counting millions of other casualties. One section plays a film of actual footage of soldiers in action in trenches, slogging through mud, and delivering supplies by both truck and horse-drawn wagon. There's even footage captured from a U-boat.
One case displays a 13th-century altar stone from Cathedral Notre-Dame-de Rheims, which was bombed during the war.
This gallery also introduces visitors to the American "doughboy" and his basic full uniform, from hat to breeches below the knees and tightly wrapped puttees, plus an initial look at various service caps from the U.S. and a German picklehause spike helmet.
Visitors can even try on metal helmets and soldiers' uniform tunics and take the challenge of lifting a soldier's haversack. The 40-pound sack offers visitors a struggle to lift, even though the doughboy's stuffed haversack with personal effects, field gear and weapons could weigh as much as 100 pounds.
The plethora of artifacts also includes the trench periscope (visitors can try one in the trench warfare gallery) and trench binoculars, gas masks and more uniforms, including a Navy cap and overshirt and a leather flying helmet worn by daring airmen.  
Along the way, piles of sandbags lend atmosphere to the exhibits, especially as visitors approach the gallery that reconstructs a trench and simulates trench warfare.
Intriguing Memorabilia
Some of the most intriguing items are the shell art that soldiers fashioned during whatever free time they had. One standout is a crucifix, the cross of which is made from cartridge cases. The holy water font was also formed from bullet cartridges. Larger 75mm shell casings became the basic material for a pitcher and vases etched with designs and engraved with a cross.
Overall, spiritual items weren't forgotten by the soldiers. One display includes a rosary and tiny portable shrines, about an inch high, each with its own protective carrying case. There are two of Mary holding the Child Jesus and another of St. Joseph, also holding the Christ Child. We can imagine how much spiritual comfort these small pocket-size shrines carried for the fighting men, especially when confined in trenches on the border of No Man's Land.
Elsewhere, there's a "Guide to Lourdes" booklet for soldiers on leave in France.
The mess kits and canteens they used are represented, too. Then the recreated trench gives an idea of what soldiers endured for this type of warfare, complete with lights and sounds of gunfire and explosions.
Another gallery has a large selection of posters. One standout shows a chaplain vested, holding high a crucifix, looking to heaven, and surrounded by reverent soldiers and sailors kneeling around him. Another large one is focused on raising funds for servicemen and prompts readers to "See Him Through — Help Us to Help the Boys."
Other paper memorabilia includes a letter from President Wilson to the Knights about their stellar work for the soldiers. Another from Cardinal James Gibbons, dated July 4, 1917, reads in part: "Soon we shall have 160 Catholic chaplains in the U.S. Armies, where over a third of the soldiers are said to be Catholics … hence your noble gift of the million dollars to furnish decent places for these splendid young American Catholic soldiers to hear Mass and receive the sacraments and other consolations of our holy faith should forever stamp the Knights of Columbus as men of practical forethought, timely patriotism, and true Christian charity."
Everybody Welcome
Did you know the United Service Organizations (USO) was based on an idea that was put into practice by the Knights in World War I? The "K of C Hut" display explains.
Every serviceman needed rest and recreation from the terrible intensity of the war. Since well over one-third of them were Catholic, they needed Mass and access to the sacraments. The Knights of Columbus immediately recognized both, as they had already begun building a program stateside.
These recreation centers came to be known as "huts." And the motto was: "Everybody Welcome; Everything Free." A uniform was the only entry requirement, no matter a serviceman's race or religion.
Knights of Columbus workers known as secretaries ran the huts. They were men unqualified for military service because of age or physical limitation, but who wanted to serve. They wore Army-like uniforms featuring a shoulder badge displaying "KC" on a red background and buttons emblazoned with "KC." They were nicknamed "Casey."
One case in this facsimile hut displays the uniform of Frank W. Large (1881-1873) who was a stellar Casey both in the U.S. and then in France. Several of his mementos are also present.
Visitors get a good look at some of the many items the Caseys distributed freely to any serviceman who asked for them. There are postcards, handkerchiefs, matchboxes printed with "Knights of Columbus," miniature pocket books, razors with cases, and much more. Of course, the candy and gum have been long gone. The Caseys even used to go to the front lines to bring these comforts to the fighting men.
Besides Mass, the stages would serve for theatrical and music performances and ever-popular boxing matches.
The player piano was a fixture in all huts, so the men could gather around and sing their favorite tunes. Fittingly, Casey was a popular song.
The huts also provided — literally — tons of stationery printed with the Knights of Columbus logo so servicemen could write home. In this gallery, visitors can write a note on stationery newly printed to replicate 1917-18 originals and post it on the message wall.
Among artifacts to mull over is a large ledger from France opened to the pages servicemen would sign at the K of C hut, the date they visited and hometown. On Oct. 19, 1918, visitors were signing in from large and small towns, spanning from Portland, Oregon, to New York City.
Besides the galleries, the library contains mementos and artifacts, from original letters on the K of C stationary to huge blowups of original photos, including the K of C huts and the K of C doughnut bakery.
When Caseys moved into occupied Germany, Knights set up a gigantic bakery in Koblenz churning, out more than 40,300 doughnuts per day for soldiers. Another display features sports equipment, including an original bat and gloves, from thousands the Knights distributed.
Brave Chaplains
In the huts, the multipurpose stages were, most importantly, used for Mass and confession. On display, there is a table to serve as a portable altar. On it is a Mass kit, with chalice, small bell, cruet, small missal and stand, and case that belonged to Father Charles Conaty, a military chaplain stationed in Georgia, then serving overseas with the 28 Division in France. He received the Distinguished Service Cross.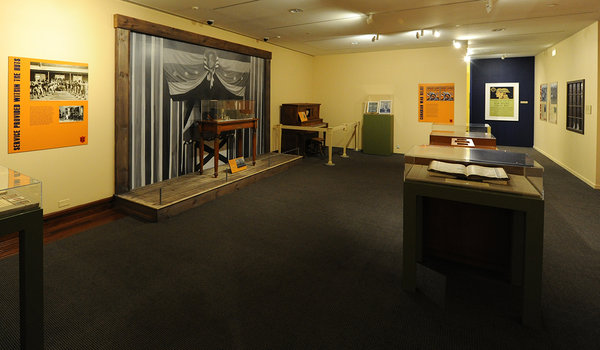 Just before entering the hut, visitors see a display on Father John DeValles, chaplain and first lieutenant who was one of the first five Knights of Columbus chaplains to reach France. Often venturing into No Man's Land to help rescue wounded soldiers, he received honors, including the Distinguished Service Cross and Portuguese Military Order of Christ. He never recovered fully from injuries and mustard-gas exposure and died in 1920.
His helmet and tunic, neck cross, dress cap and violin and bow are among the items visitors can reflect upon to think of him and his heroic efforts — and those of the numerous other chaplains offering God's comfort amid horror and injury.
Frank Larkin, a KC secretary, recalled a badly wounded soldier at a hospital in Neuilly, France. The young man called out to him: "Have you a minute to spare, Casey?" The young man wanted to write a letter and then said, "Casey, get a priest." He had a smile on his face as a chaplain gave him the last rites.
Joseph Pronechen is a Register staff writer.
INFORMATION
"World War I: Beyond the Front Lines" runs through Dec. 30, 2018.