'Great Adventure With Christ': Catholic Summer Camps for Kids and Teens Offer Spiritual Nourishment and Time in God's Creation
Looking for a way that your Catholic kids can learn more about the faith and get in touch with nature? If so, these options may be the best fit for your youth this summer.
Catholic summer camps are incorporating an outside-the-box approach.
There is a new trend of Catholic summer camps that are moving away from a traditional model of a Vacation Bible School (VBS) program.
Catholic summer camps for kids and teens are now placing elements such as outdoor wilderness activities and exploring nature at the forefront of their focus.
These camps can be seen providing a combination of outdoor fun and spiritual nourishment.
Some examples of Catholic summer camps that demonstrate this essential combination include: Annunciation Heights, Our Lady of Guadalupe, and Catholic Youth Summer Camp.
Annunciation Heights
Annunciation Heights is a youth and family camp and retreat center located in the Rocky Mountains of Colorado.
It focuses primarily on developing a love for the outdoors and providing a safe and "faith-based environment" to youth, young adults and families, according to its website.
The camp is held under the patronage of Mary, Undoer of Knots, and seeks to display "the beauty of God's creation and therefore disposes our visitors to encounter the Creator who longs to break through in their lives in a new and transformative way."
Programs include summer camps, family camps and educational activities during the school year.
"We provide a place and program for youth, young adults and families to withdraw from a hectic and busy culture and come to know and experience a true friendship with Jesus," the website states.
The camp schedule for the summer runs from the first session, which started June 4-9, through the last session, July 16-21.
The Register spoke to Luke Hlavin, director of operations at the Altum Institute, which sponsors Annunciation Heights' youth and family camps, about campers' experience.
"I think what sets our camp apart from them and also from all of the other camps around the country is really our mission to the family," Hlavin said.
"Annunciation Heights sees itself as serving the Catholic family via all of its programs."
The programs at this camp include summer youth and summer family camps and outdoor-education opportunities as part of the JPII Outdoor Lab.
The JPII Outdoor Lab offers programs in the spirit of Pope St. John Paul II that encompass both environmental science and outdoor education from a Catholic perspective.
There are also retreats and conferences on the weekends.
"And so we see all of that ultimately, whether it's direct or indirect, as serving the Catholic family."
He also described the prime location of the camp, sitting right at the foot of Longs Peak and being nestled in the mountains: "We have a location that is particularly immersed in beauty, which obviously redounds to the glory of God."
"You cannot be in this place and not glorify the Creator by looking at the beauty surrounding you," Hlavin said.
Hlavin also explained the different avenues that campers can experience — both the outdoors and opportunities for catechesis.
He discusses how these elements of catechesis and prayer are "organic" and not "forced." Examples include discussing high ropes and starting a conversation on trusting God.
And creation can start a conversation all by itself.
"And so when you are at the top of a summit and you have an experience of awe at the beauty of creation," Hlavin said, "that is such an easy opportunity to then connect that to the grandeur and the glory of the Creator and not just the creation itself."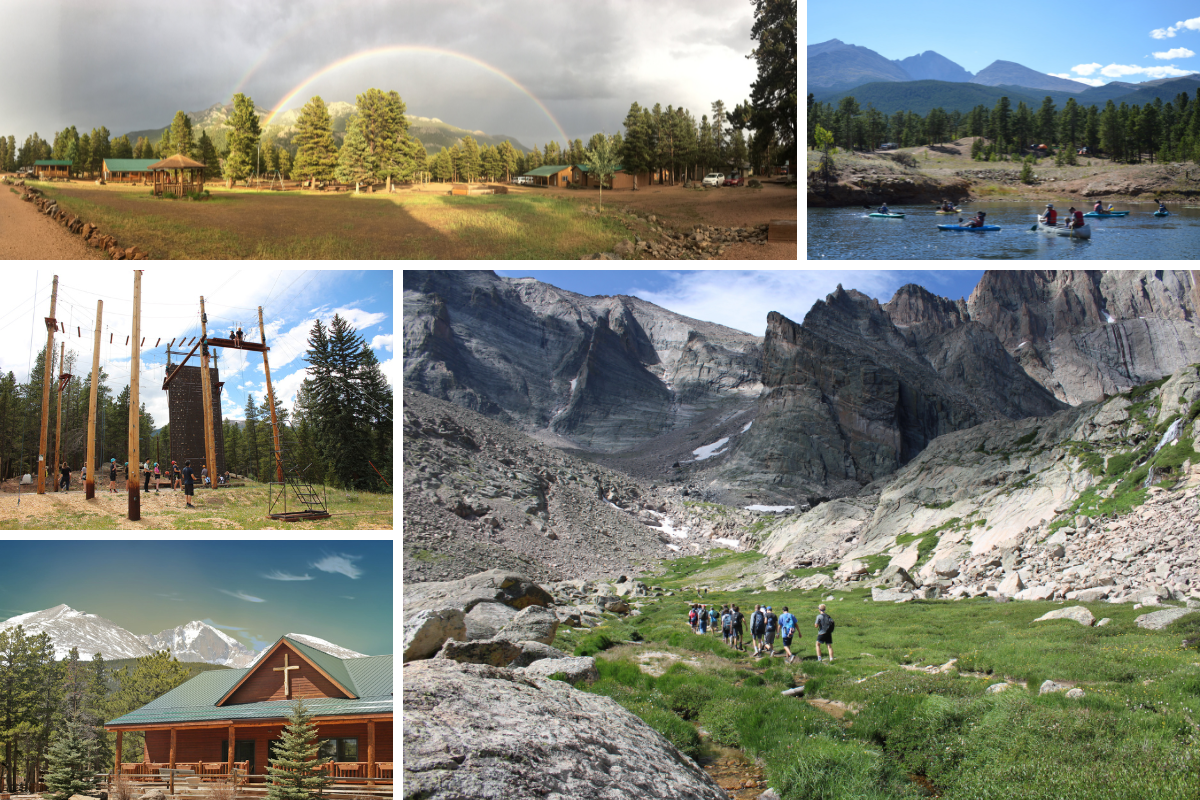 Hlavin also remarked that there is a balance with moments of intense spiritual programming alongside fun activities, with both seeking to "create an opportunity to form the whole person."
The camp also offers daily Mass, adoration and prayer experiences, as well as spiritual talks facilitated in small groups.
A "mountain meditation" starts each day. A staff member leads a meditation while campers soak in the mountain sun and listen to the calm stream of the river alongside them.
This is a time for campers to set out in the morning, Hlavin said, "a place of rootedness and encounter with God in the silence."
Parents interested in the Annunciation Heights camp can learn more by watching this video.
Our Lady of Guadalupe
Another camp that focuses on both outdoor engagement and spiritual enrichment is the Our Lady of Guadalupe Catholic summer camp, located in the Archdiocese of Oklahoma City.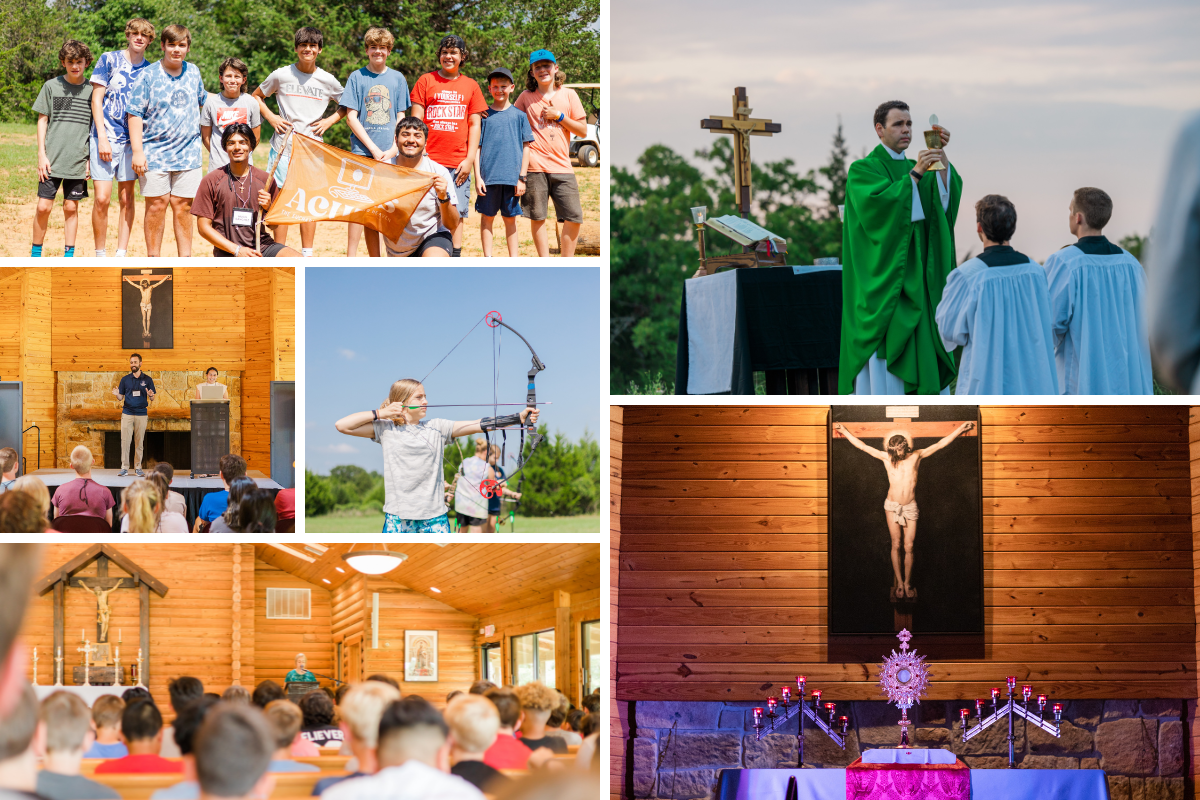 The mission is "to empower and form the saints of today and tomorrow to know, love, and serve God and bring his message to all people."
A three-part system for campers is to encounter Christ, to foster a culture of discipleship, and to engage in outdoor activities and nature.
As part of this camp, children have plenty of faith-filled resources, such as daily Mass, praying with Scripture and daily adoration.
Additionally, throughout the program, campers can learn and practice different ways to pray, as there is a strong practice on sacramental life and prayer.
The first session was June 11-16, and the last session concludes July 23-28. Spots are still available for the July sessions.
Jayce Palmer, director of youth, young adult and campus ministry for the Archdiocese of Oklahoma City, shared the benefits of the camp experience with the Register.
"At Camp Guadalupe, campers are given the opportunity to step away from the world, phones and technology, while being invited into the abundant life through encounter, discipleship and adventure," Palmer explained.
"We have a strong focus on sacramental life and prayer through our 'Camp Program' (where campers learn and practice different ways to pray). Campers have daily Mass, are taught to pray with Scripture, and have small groups throughout the day. Our program features fun skits, dance parties and talks that are an invitation to a joyful and adventure-filled life with Christ."
He discussed how campers spend the majority of their time in cabin groups that are named after a different saint. They spend time fostering community with other campers and have deep conversations throughout the week.
"Our focus on adventure is not just on activities but also on inviting youth to the great adventure with Christ," Palmer emphasized.
"Our camp is the perfect place to withdraw from the busyness of every day and encounter Christ."
Activities include low ropes, archery, hiking, fishing and more. During this time, campers discuss in small groups the word of God.
Camp Guadalupe puts a large emphasis on the community aspect with their campers among boys and girls, according to Palmer.
"We have beautiful campgrounds of 320 acres and make sure to use it through hikes and camping. Using our large campgrounds, we run a guys' program and a girls' program within the same week."
Caden Bennett, camp director of Our Lady of Guadalupe camp, told the Register the mission of the camp seeks to "invite you to the abundant life to encounter discipleship and adventure."
Bennett explained how the staff guide the children to encounter Christ anew or for the first time.
"Knowing that God loves them is a deep truth that a lot of them unfortunately don't know."
And being "unplugged" aids the retreat aspect.
"We're able to remove those distractions so that they can encounter Christ and he can encounter them," through fellowship and creation as a whole and "how God is speaking to us through nature."
With the sacraments, Mass and adoration, the camp showcases the "unity of the Church behind the Eucharist" and the healing available in the sacrament of confession.
He added that "evangelization does not start [only] with the Gospel," but that "it starts with culture" and personal growth: "You have to be able to cultivate and to till the soil before you plant the seed; otherwise, it won't grow."
Overall, campers will understand that "Christ wants to make us whole."
Learn more about this camp by watching this video.
Catholic Youth Summer Camp
Catholic Youth Summer Camp's main campus is located in Centerburg, Ohio, and serves as a "place of encounter" for campers to bring about a "revival" to the Catholic Church.
The aim is to expand to other locations, as the camp continues to draw campers from across the country and sees waitlists for most sessions.
The camp also has two other locations: Trego, Wisconsin, and Brighton, Michigan. Sessions run from June to the beginning of August.
The motto — "awaken, empower and equip" — seeks to prepare campers to engage in an "awakening and renewing faith."
The summer Catholic youth camp is open for children in grades 6-12 and lasts for a week.
"We seek to create an environment that allows each camper to experience faith as an adventure and to know that they are seen, known and loved," said Sheila McMahon, head of communications, about campers' experience during the week.
As part of their camp experience, campers participate in "high-adventure activities" that lead to "high-adventure faith."
Every day, campers can attend daily Mass and Prayer Lab, a time to learn lectio divina and how to pray with Scripture, and also take advantage of opportunities for further prayer, praise, worship and Eucharistic adoration.
Activities include low ropes, archery, hiking, fishing and more. During this time, they discuss in small groups the word of God; there's also night programming called "Club," where campers perform skits and games lead into a message on the week's catechetical theme.
The camp focuses on community, striving to become "an environment of encounter."
McMahon said that the camp exists solely "for the salvation of souls."
The camp's purpose is "to awaken them to a relationship with Jesus and to empower them to be missionaries themselves who make an impact on their families, their parishes, and the world around them," she said.
To learn more about this camp, watch this video.
As McMahon emphasized, "Each young person who is transformed by an encounter with Jesus is able to bring transformation to many more, and we believe that the youth are the key to reviving the Church and evangelizing our nation, culture and world."