College Students' Lifeline to Faith
Newman Centers provide an anchor on campus.
When it comes to keeping Catholics in the Church, one of the most important battlegrounds is the college campus, according to Matt Zerrusen, the co-founder of The Newman Connection, a nonprofit apostolate that connects incoming freshmen with their colleges' Newman Centers.
"We've got to get people in church," Zerrusen said.
The statistics behind the problem are sobering: An estimated 80% of Catholic college students will stop practicing their faith, according to Zerrusen, who said the figure holds true for Catholic schools just as much as for secular ones.
But with the crisis also comes an opportunity. Roughly 70% of Catholic students remain loosely connected to their faith and are responsive to outreach from Catholic campus-ministry centers, often known as Newman Centers — so named after Blessed John Henry Newman, a Catholic convert from Anglicanism who was a teacher and pastor at Protestant-dominated Oxford in the 19th century.
New Way to Reach Students
The Newman Connection, which Zerrusen co-founded with his father, Bill, in 2009, aims to support and enhance the work of the Newman Centers. One strategy is to start building a connection with students before they have even arrived on campus and are distracted by the dizzying array of academic and extracurricular choices before them.
The key is to collect names and email addresses of rising college freshmen while they are still in high school, according to Zerrusen. That information — which is also gathered from parishes — is then funneled to their particular Newman Centers, allowing them to reach out before students have even set foot on campus.
Zerrusen draws a contrast with the old way of recruiting, which too often simply involved "standing on a corner on a quad trying to attract students."
"Now, we can just do a more strategic outreach, where you can go to Newman Connection, you can get a list of students, and you can say, 'Okay, well, we know who this person is … we got an email address. Now we can reach out to them through email campaigns or through social media to try to get them to like our page,'" Zerrusen said.
The Newman Connection works both ways: Not only can centers tap into their student databases, but students can also visit the nonprofit's site to find out how to get involved. (Visit TheNewmanConnection.com, click on "Connect" at the top, and select "Find a Campus.")
The high-school recruiting program was originally developed by the Serra Club. The Newman Connection assumed responsibility for the program four years ago and has built it up, expanding from an annual collection of 4,000 names to as many as 12,000 each year. The University of Missouri alone receives 600 to 700 names of incoming Catholic freshmen, according to Zerrusen.
The program had a major effect on student involvement. For example, the St. Thomas More Center at the University of Missouri has seen student participation in its programs rise from 400 to 1,200 students participating in their ministries over a period of four years, according to Zerrusen. (The center also serves students at Stephen's College and Columbia College.)
Serving Many Needs
The Newman Centers fulfill a wide range of roles on non-Catholic campuses and aim to engage with everyone from solidly faithful Catholics to lapsed students and atheists.
At Texas A&M University, an estimated 17,000 out of 68,000 undergraduates and graduates are Catholic. Of those who are Catholic, a little over a third — about 6,000 — attend one of up to seven Sunday Masses, according to Mark Knox, the director of campus ministry at St. Mary's Catholic Center. (St. Mary's is not officially a Newman Center but is part of the network of campus organizations supported by The Newman Connection.)
Out of those 6,000, two-thirds participate in at least one of the more than 30 ministries at the center. Those students are already well-formed spiritually because they come out of strong, faithful families, according to Knox. "They're already formed when they get here," Knox said. "They're ready to go. They're ready to go deeper. They're ready to be in a Bible study. They're ready to go to adoration. They know how to pray."
One active senior, Katelin Jacobi, entered A&M after attending a Catholic high school. She said her experience at St. Mary's has been transformative in a way that her school years were not.
"I thought I had known a lot and was close in my faith, but coming to St. Mary's was a completely different experience," Jacobi said. "It has definitely helped form my faith and the person I am today."
Jacobi, a 21-year-old senior from Tyler, Texas, who is studying psychology, has been involved in multiple ministries at St. Mary's. When she started out at the school, she was in John 15, a ministry geared toward freshmen. She has also attended "Magnify" — events that combine praise and worship with Eucharistic adoration — and is a member of a team of students that leads confirmation retreats for local middle- and high-school students in Texas. This year, she is the adoration coordinator at the center.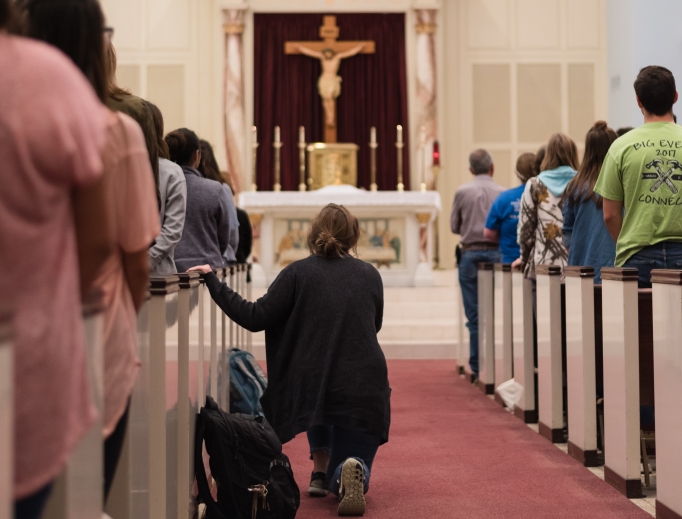 In fact, she has become so engaged with the work of the center that she decided to take on a part-time job as a receptionist. "I just appreciate everything the staff does," Jacobi said. "I wanted to work closer with them and help them in any way I could."
"It's definitely going to be the thing I miss most once I graduate," she added.
Community on a Big Campus
But some students who cross paths with their Newman Centers aren't even Catholic. At the University of Illinois at Urbana-Champaign, Jenna Fesemyer's first contact with the center was its dorm, Newman Hall, which aims to provide an alternative to dorms and other housing for nearly 600 students.
For Fesemyer, however, the main draw for Newman Hall wasn't its Catholicism, but its central location on the Big Ten campus — close to her classes.
"Little did I know that God had so much more planned for me," said Fesemyer, a 21-year-old senior from Ravenna, Ohio, who has been studying kinesiology.
"Next thing I knew, I started asking questions," Fesemyer said.
Fesemyer had some formation in faith: She had grown up in a nondenominational church, but she knew nothing about Catholicism. As she began to explore the Church, friends in Newman Hall started to invite her to Mass. Her turning point was attending a Koinonia retreat at St. John's Catholic Newman Center.
"That's kind of what pushed me over the edge — just the overwhelming sense of community in the Catholic Church," Fesemyer said. "I knew right away that's exactly what I was called to do: I was called to convert."
Fesemyer completed a Rite of Christian Initiation of Adults program and entered the Church in 2017. Now, she works as a resident adviser at Newman Hall, where she connects freshmen and returning students to activities in the hall and on campus. Overall, she says her involvement with the school's Newman Center has been "absolutely life-changing."  
Like A&M, the University of Illinois is a giant of higher education, boasting a total enrollment of around 45,000 students from college freshmen to the graduate level. Those numbers are reflected in the ministries at St. John's, where an estimated 1,100 students — out of an estimated 8,000 to 10,000 Catholics — attend one of the weekend Masses. An additional 150 to 200 students are present for daily Mass, according to Father Robert Lampitt, the head chaplain at the center.
But, for Father Lampitt, what matters most is the individual growth in students he sees. "You do get to see a lot of fruit borne," he said.
Bearing Fruit in Vocations
One measure of that fruit in which Father Lampitt takes pride is the number of vocations. Since 2000, about 50 or more men have answered the call to the priesthood or religious life, and an additional 15 women have pursued religious life. Last year alone, St. John's yielded five vocations — two women entered convents for religious orders, four men started seminary to become priests, and one joined the Benedictine order.
Smaller Newman Centers are also yielding vocations. At the Boston University Catholic Center, about 300 students go to Sunday Mass, with 25 to 30 attending daily. "Our big claim to fame — we have lots of vocations," said Father David Barnes, the chaplain.
Over the last decade, the center has produced one ordained priest and six additional candidates studying in seminary, along with three or four women religious, according to Father Barnes.
Unlike Texas A&M and the University of Illinois, the BU Catholic Center operates in a much more secular environment. But even that has its advantages. "If anything, it actually contributes to the vocations," Father Barnes said. "The more secular the culture is around us, the more intentional the kids are. They're not here because that's just the thing to do. They actually seek out the faith."
Stephen Beale writes from Providence, Rhode Island.