Flannery O'Connor and the Devil's Territory
COMMENTARY: Novelist of grace and grittiness said: 'I write the way I do because and only because I am a Catholic.'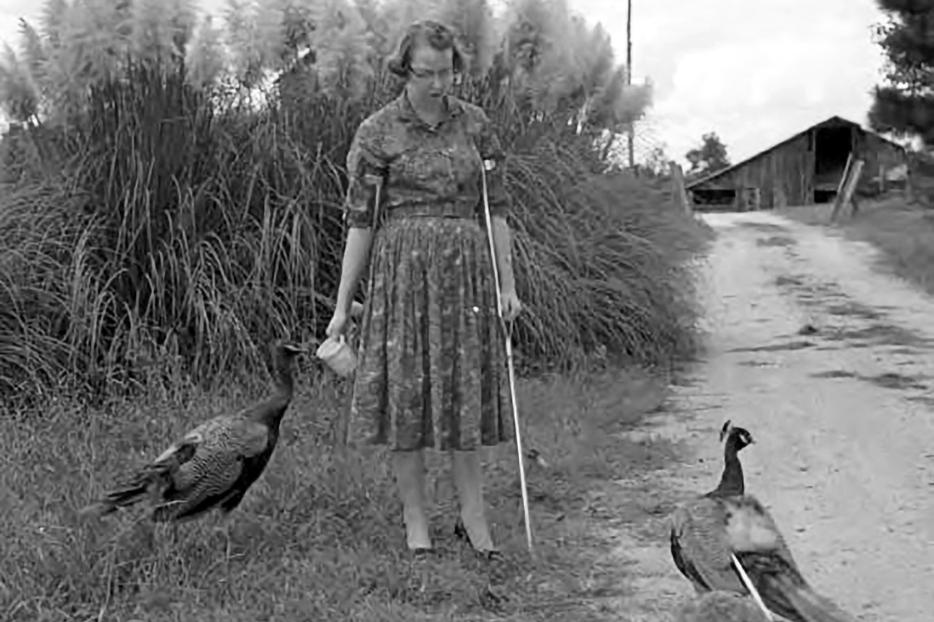 "Shocking, grotesque and violent" are adjectives readers sometimes use to describe Flannery O'Connor's stories. In her day, the horrified reactions from folks in her hometown of Milledgeville, Georgia, were fairly predictable. Even her own mother flinched from the grittiness of her works, and an aunt took to bed for a week after reading Wise Blood, O'Connor's first novel.
Mary Flannery O'Connor was born in Savannah on March 25, 1925. She died, at age 39, on Aug. 3, 1964, from complications related to lupus, a disease that began stalking her in her 20s. In 1972, when she was honored posthumously with the "National Book Award" for fiction, her publisher was preparing to accept the award when another writer asked him: "Do you really think Flannery O'Connor was a great writer? She's such a Roman Catholic." Ironically, this is an accusation she would never have denied, as she had said, "I write the way I do because and only because I am a Catholic."
Still, many readers have trouble detecting the Catholic underpinnings of her stories, since the plots feature drunkards, prostitutes, swindlers and cold-blooded killers. There are also horrifying moments, when people are shot to death, gored by bulls and run over by tractors. A man blinds himself, and a little boy hangs himself. Often, these upsetting and violent events happen at the very end of the story, which means there is no neat, sunny resolution.
The violence in her stories was certainly not gratuitous, but rather carefully planned, because O'Connor was writing for spiritually blind people who had rejected God, sin, the devil and the afterlife. She wanted to shake these people out of their complacency and awaken them to spiritual realities, such as God's merciful offering of grace. This grace doesn't occur gently, with a choir of angels singing, but sometimes in wrenching circumstances befitting our fallen world.
Her characters are unforgettable: a Bible salesman who runs off with a woman's wooden leg; a stranger who marries a dimwitted girl and abandons her at a truck stop; an entire family massacred at the roadside. Taken at face value, the stories are dark indeed, but a closer look reveals the characters are grappling with pride, greed, anger and a host of other sins. As she put it, she was writing about the real world, and she wanted to show the action of grace in "territory largely inhabited by the Devil."
In O'Connor's stories, grace is sometimes rejected by characters who cling stubbornly to the diabolical path they have chosen. Other characters, fortunately, are open to important messages that transform their lives forever. An example of grace being offered in a thoroughly shocking way occurs in A Good Man Is Hard to Find. In this story, a deceitful, proud grandmother has a radical conversion of heart that allows her to feel compassion for the escaped convict who kills her moments later. In Revelation, a farmer's wife, Mrs. Turpin, receives a crucial insight when a college girl in a doctor's waiting room hurls a book at her and calls her a "warthog from hell." Until that moment, Mrs. Turpin had considered herself a God-fearing, upstanding woman. It's only later in the story, when she begins examining the girl's accusation, that she realizes the deep wellspring of her sins, which include smugness, racism and cruelty.
When an elderly lady wrote to O'Connor, complaining that the stories didn't lift up her heart, O'Connor wrote back in her inimitable fashion and suggested the lady's heart was in the wrong place. The lady wanted bright, comforting plots, rather than a glimpse into O'Connor's fictional universe, which could be dark and frightening — but certainly in keeping with the real world, where terrible things happen every day.
In her day, the virus called nihilism had begun permeating the world. Today, the illness has worsened, as more people are rejecting God and the realities of heaven and hell. When asked about the shocking quality of her fiction, she replied, "For the hard of hearing you shout, and for the almost blind, you draw large and startling figures." The echoes from her wonderful stories have reverberated throughout the years and are still making shock waves today. As we remember Flannery O'Connor on the 59th anniversary of her death, let's pray for the repose of her soul and thank God for the great gift of her life and writing.