Czech Archbishop Exhorts Synod's Continental Assembly to Be the Salt and Light in Europe
Archbishop Jan Graubner of Prague urged the European continental assembly of the Synod on Synodality to 'seek the foolishness of the cross.'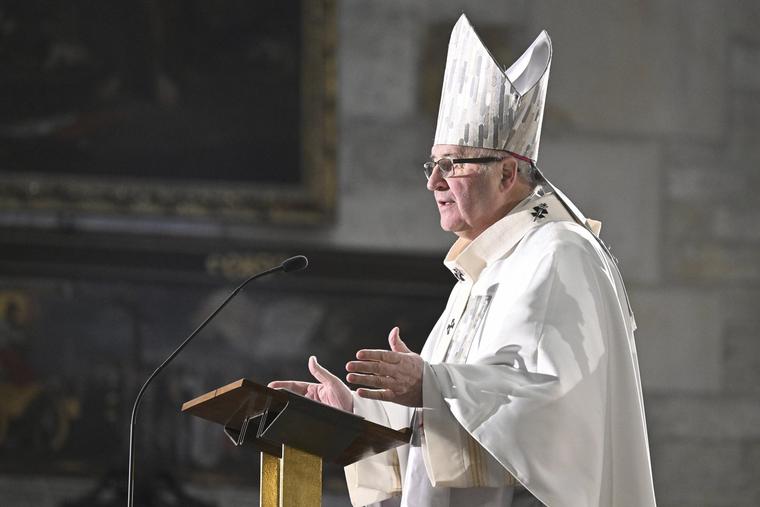 Editor's note: The following is the official English translation of the homily Archbishop Graubner presented at Mass Sunday to open the European continental assembly for the third phase of the Synod on Synodality, which takes place through Feb. 12 in Prague, Czech Republic.
Eminences, dear brothers in the episcopal and priestly ministry, dear deacons, dear sisters and dear brothers,We have come here today, from across Europe, to gather within the context of the synodal process. For months we have been trying, following the invitation of Pope Francis, to meet in an atmosphere open to the Holy Spirit, learning to listen to each other. We can say that we have understood everything that oppresses or hurts many people, what they need and want within the Church community and what they would like to change. However, we failed to discover the sensus fidei of the faithful. It is clear that many people, while working actively in the Church, are familiar neither with the Bible, nor with the teachings of the Church, and this does not really come out in favor of our work. Therefore, I think it is now paramount to listen to God's voice and ask ourselves: What is Jesus, who founded the Church community and invited us to join it, telling us?
We are experiencing a period of unprecedented prosperity in Europe's history and, concurrently, we are going through several crises — some of which stem directly from that prosperity, which has become one of our primary goals. Christians too tend to focus excessively on themselves and on their rights. God has often become a mere assistant who helps us fulfil our projects and pursue our happiness. Those who thought their assistant had not helped them enough simply fired him. They stopped considering him. They no longer need the Church. Such an attitude was somehow justified by the bad example set by some believers and the scandals that involved some priests. This is particularly to be seen among young people. Jesus' words in today's Gospel seem to be extremely topical: "But if salt has lost its taste, how shall its saltiness be restored? It is no longer good for anything except to be thrown out and trampled under people's feet" (Matthew 5:13-16).
Today, Christ reminds us, with emphasis, of our task: that of being the light of the world (Matthew 5:14) "I have come into the world as light, so that whoever believes in me may not remain in darkness" (John 12:46). And "As long as I am in the world, I am the light of the world" (John 9:5). Perhaps these words are telling us that we are the light of the world in so far as Christ lives in us. Indeed, John the Apostle said: "And this is the judgment: The light has come into the world, and people loved the darkness rather than the light because their works were evil" (John 3:19).
If we must come to the conclusion that we, being the Church in Europe, don't shed enough light on society, then we must humbly admit that we too are among those who have loved the darkness, for some of our works were evil.
No human wisdom, shrewdness or excuses can help us overcome this situation, nor will the attempt to adapt to the world. The only correct approach is that of accepting the invitation of Christ, with which he began is public preach: "Repent! For the Kingdom of Heaven is at hand!" (Matthew 4:17). Some have translated the plea "repent" inappropriately. Start thinking differently. I think that today the meaning could be the following: Stop thinking in a secular way and embrace God's way of thinking. Do not impose your views, embrace that of God.
The second reading teaches us how Paul the Apostle opposes those who dazzle us resorting to human wisdom and eloquence, to human power and human success, while Christ, crucified, professes not only through words and proclamations, but also through his own life and work. Christ sacrificed himself. And let us not forget that he also says: "And whoever does not take his cross and follow me is not worthy of me" (Matthew 10: 38).
If we want to experience the closeness of the Kingdom of Heaven, we must start thinking differently and once again consider the crucifix our model. Without it, the Church cannot exist, nor can it be renewed.
In the first reading we listened to Isaiah's advice as to how to repent. In the previous verses, the Lord, praising his people, says that "they seek me daily and delight to know my ways, as if they were a nation that did righteousness and did not forsake the judgment of their God; they ask of me righteous judgments; they delight to draw near to God" (Isaiah 58:2). But then they complained: "Why have we fasted, and you see it not? Why have we humbled ourselves, and you take no knowledge of it? Behold, in the day of your fast you seek your own pleasure and oppress all your workers" (Isaiah 58:3). God calls for a change in thoughts and actions: selfless acts of love in favor of the needy. Only then will light be shed on you.
Dear sisters, dear brothers,
I think that in today's liturgy the word of God gives us fundamental advice for our common actions: Be brave enough to come out of your darkness and take a new stance in favor of the crucified Christ; find the courage to break free from the prison of your own self, to shift the epicenter of your thoughts from your own self to YOU meaning God; find the courage to avoid seeking human wisdom and seek the foolishness of the cross instead; find the courage to overcome the narrow European mentality and build a society of welfare that generously, with sincere love, tends to the poorest in the world, including those who suffer in Ukraine and in Africa. Have mercy on the children who were never taught how to love our Lord Jesus Christ. Only then will the light shine on us, only then will Christ himself shine in us, drawing the younger generations and entire peoples to him. We have nothing to offer them other than an encounter with the God that lives in us and among us. Only God can inspire them and draw them to him. Let's bring God to them!
Archbishop Jan Graubner is the shepherd for the Archdiocese of Prague.