Bishop Morlino Was Truly a Churchman of His Time
COMMENTARY: The life and service of the late shepherd of the Diocese of Madison tracked in an unusual way the ecclesial shifts of his era.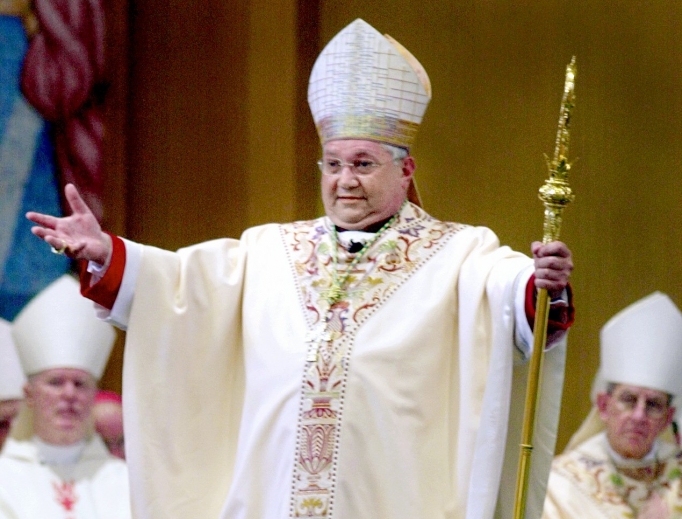 The death of Bishop Robert Morlino will be noted far beyond the Diocese of Madison, Wisconsin. The late prelate's outspoken orthodoxy and support for traditional liturgy will ensure that. Yet his life is of interest beyond his diocese and his admirers. It tracked in an unusual way the ecclesial shifts of his time.
Robert Morlino was born on New Year's Eve 1946 into the solidly Catholic culture of Scranton, Pennsylvania. He would attend the Jesuits' Scranton Preparatory high school, belonging to the last generation where it was wholly unremarkable that some of the graduates would enter the Society of Jesus. Morlino did, studying at Fordham and Notre Dame and in Weston, Massachusetts — a typical formation for thousands of Jesuits in the United States.
He was ordained in 1974 and experienced as a young priest the upheaval in the Society of Jesus, as theological confusion, disciplinary breakdown, widespread homosexuality and a culture of dissent sent Jesuits heading for the exits in droves. Most left to embrace a liberalizing world outside the order; fewer sought refuge in the diocesan priesthood, where they could live their priesthood undeterred by the deep dysfunction of Jesuit leadership in the 1970s. Father Morlino was one of the latter, incardinating in the Diocese of Kalamazoo, Michigan, in 1981.
He held various diocesan offices before completing his doctorate and teaching at Sacred Heart Seminary in Detroit. There, he was part of a widespread renewal of seminaries that marked the United States in the 1990s. Sacred Heart would become a noted center for orthodoxy, producing from its faculty several bishops: John Nienstedt (New Ulm, St. Paul and Minneapolis), Allen Vigneron (Oakland, Detroit), Earl Boyea (Lansing) and Leonard Blair (Toledo, Hartford).
Morlino was part of that cohort of Sacred Heart professors when he was appointed the bishop of Helena, Montana, in 1999. In 2003, he was transferred to Madison, where he would confront the culture of one of America's most aggressively secular cities.
Early 21st-century Madison was a long way from mid-20th-century Scranton. The aspiration of Scranton Catholics in the 1950s to join the American mainstream was the reason for places like Scranton Prep — a place where talented Catholics would receive the quality education they needed to live the American dream.
In Madison, Bishop Morlino made it clear that the American mainstream was a dangerous place for the faith and that Catholics were called not to join it, but to critique it and convert it.
"Your peers in this generation and so many others are running toward hell with much more enthusiasm and strength than so many mediocre people are running toward heaven," Bishop Morlino said earlier this year in a May commencement address at Thomas Aquinas College.
Bishop Morlino was, to be sure, among few bishops who spoke like that. More important, he was one of the few who even thought like that. He was not the only prelate whose approach to the New Evangelization rejected accommodation in favor of a bracing presentation of the Gospel alternative — he was just the most outspoken and perhaps the most successful.
His support for the traditional Latin Mass made him a hero to many in traditionalist circles, but the importance of his witness was important also to those not in the Tridentine camp. Bishop Morlino recognized that young people desire the markers of strong Catholic identity and the riches of our liturgical tradition.
St. Raphael's, the Madison cathedral, was heavily damaged in a 2005 fire — set by a mentally ill arsonist — and later demolished. Bishop Morlino intended to rebuild it, but he realized that the New Evangelization depended far less on the buildings that earlier generations of Catholics had put a priority on building. So while St. Raphael's is now a park awaiting possible future rebuilding, Bishop Morlino put his time, energy and money into campus ministry and priestly vocations.
The exotic mission territory of the University of Wisconsin-Madison was given a priority attention and — like so many other flourishing campus ministries across the country — became a center of a vibrant Catholic culture in unfriendly confines. In that, Bishop Morlino's pastoral priorities also reflected the best practices of 21st-century bishops.
A new St. Paul Catholic Center opened in 2017, a magnificent church and student center in the heart of the Big Ten campus. The enormous complex, built instead of putting the cathedral first, is a lasting sign of how well Bishop Morlino understood what is central to evangelization in a hostile climate.
The future of the Church in the United States will be determined far more by places like St. Paul's in Madison than in cathedrals. More to the point, given his own upbringing at Scranton Prep and Fordham, campus ministry in secular confines is more vital to the Church than the Jesuit universities that are now thoroughly marginal actors in the New Evangelization.
Bishop Morlino will not leave his diocese a new cathedral, but he will leave it something more important — a renewed and enlarged presbyterate. For a small diocese of fewer than 300,000 souls, Bishop Morlino attracted an abundance of priestly vocations, at one time nearly three dozen. In his 15 years as bishop he ordained more than 40 priests.
Nurtured in the eroding ethnic Catholic neighborhoods of the Northeast and in collapsing Jesuit institutions, Bishop Morlino managed to keep his balance as he charted a path toward the new centers of energy in American Catholicism — orthodox seminaries, dynamic campus ministry in the face of militant secularism, and priestly vocations attracted to the Church's liturgical tradition.
Bishop Morlino perplexed those who thought that he was searching for a past that had long ago been lost. And they will miss the legacy of his ministry in Madison. He was building the future.
Father Raymond J. de Souza is the editor in chief of Convivium magazine.