Tigray Food Crisis Deepens as Catholic Leaders Plead for Relief
Overall, more than 20 million people in Ethiopia rely on food assistance. A persistent drought has made food scarcity even worse.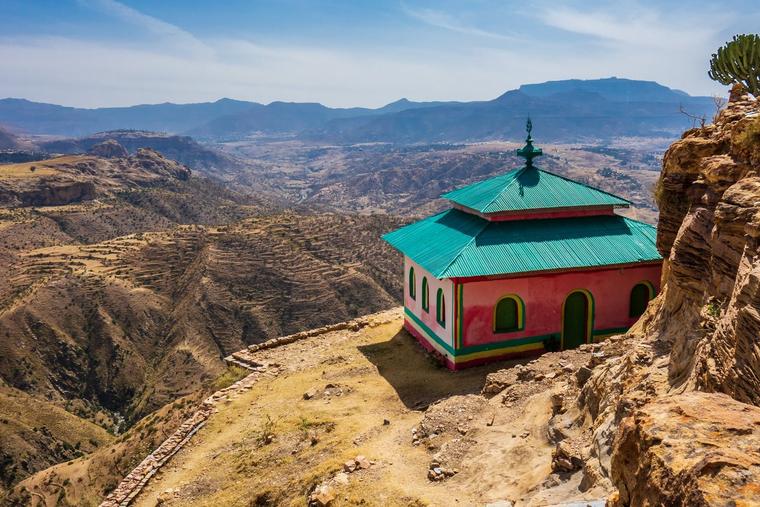 Widespread starvation is being reported in Ethiopia's northern Tigray region, an area that was embattled in a brutal conflict from 2020 to 2022 that has killed hundreds of thousands and displaced millions.
The BBC reported Friday that at least 1,400 people have starved to death in Tigray since food assistance from the U.N.'s World Food Programme (WFP), the global humanitarian organization addressing food security, and the U.S. Agency for International Development (USAID) was suspended about four months ago. The suspension came about after it was revealed by Tigrayan authorities that nearly 500 people had been stealing the food, including government officials and nongovernmental organization staff.
"We simply could not turn a blind eye to the criminal activity and continue to deliver," a WFP spokesperson told the BBC this week.
Overall, more than 20 million people in Ethiopia rely on food assistance. A persistent drought has made food scarcity even worse.
The conflict in Tigray stems in part from the outsized role the Tigray People's Liberation Front (TPLF), the primary political party representing the region, has played in recent decades in national politics in Ethiopia despite Tigrayans' status as an ethnic minority. The political coalition that the TPLF led was dissolved in 2018 by Prime Minister Abiy Ahmed after he took office. The coalition's ethnicity-based regional parties were merged into a single party, the Prosperity Party, which the TPLF refused to join. Tigrayan leaders have said they were unfairly targeted by political purges and allegations of corruption.
On Nov. 4, 2020, Abiy announced a military offensive in response to an alleged attack on a military base in Mekelle, the capital of Tigray. The conflict soon escalated into an all-out civil war in which mass atrocities have been reported. Eritrea, Ethiopia's neighbor to the north and former adversary, joined the side of the Ethiopian government early in the conflict. Some have accused Abiy's government of ethnic cleansing.
For much of the war, Tigray was under blockade by the Ethiopian government, which halted all humanitarian aid and forbid aid workers and media to enter the region.
The Ethiopian government and the TPLF signed a peace deal brokered by the African Union (AU) in November 2022, bringing the war to an end on paper. It is estimated that 600,000 people died in the conflict and there are reports of ongoing violence in various parts of Tigray. Though Ethiopia is extremely diverse overall, the Tigray region is overwhelmingly Orthodox Christian, at around 96%.
Pope Francis has repeatedly called for peace in Tigray. In 2021, after his weekly Angelus, the Pope prayed a Hail Mary for the people of the Tigray region.
"There is famine today; there is hunger there," Pope Francis said. "Let us pray together for an immediate end to violence, for food and health assistance to be guaranteed for all, and for social harmony to be restored as soon as possible. In this regard, I thank all those who work to alleviate the suffering of the people. Let us pray to Our Lady for these intentions."
According to reports from the region, many mothers giving birth at local hospitals in Tigray have been unable to breastfeed due to their own hunger, and many malnourished children "near death" have been showing up at hospitals.
Speaking to the BBC, the WFP spokesperson said the agency was speeding up efforts to resume food aid and has started distributing a limited amount of food in some areas to test stringent new measures being put in place to "make sure food will not fall into the wrong hands again."
Violence in the region has sometimes specifically targeted Christians. In January 2021, at least 750 people were reported dead after an attack on an Oriental Orthodox church in Tigray. Hundreds of people who hid inside the church were brought out to the front square and shot to death by Ethiopian government troops and Amhara militia from central Ethiopia. Locals have said they believe the church was targeted by raiders of the lost ark. (According to Ethiopian tradition, the Ark of the Covenant is believed to be preserved in the ancient holy city of Aksum, in the Tigray region.)
In April on Easter Sunday, two Catholic Relief Services (CRS) workers were shot and killed while riding in a CRS vehicle in the Amhara region of Ethiopia on their way back from an assignment in Addis Ababa. The Amhara region borders Tigray to the south.
In a statement issued Aug. 7, the chairman of the U.S.Conference of Catholic Bishops' Committee on International Justice and Peace called on global leaders to do more to ensure food security for all, citing numbers from the WFP that estimated about 258 million people in 58 countries experienced crisis-level acute hunger in 2022.