VIDEO: Venezuelan Political Exile Proposes to Girlfriend in Front of Pope
A miraculous journey and fervent prayer lead Dario Ramirez, who was forced to flee the Maduro regime in 2014, to pop the question to his girlfriend Maryangel Espinal at an audience with the Holy Father.
When the regime of Venezuelan President Nicolás Maduro forced local councillor Dario Ramirez to flee the country three years ago, Ramirez never imagined that three years later he would find himself in front of the Holy Father and proposing to his girlfriend.
But that's what happened on Sunday when, as part of a delegation of 80 politicians from around the world, human rights defender Ramirez was received by Pope Francis with his unsuspecting future fiancée, Maryangel Espinal. 
"When we were introduced to the Holy Father, I explained the situation in Venezuela and the situation facing political prisoners," Ramirez told the Register. "The Holy Father said he was praying a lot about it and doing all that he could to help."
Since 2014 and under the leadership of socialist President Maduro, Venezuela has been racked by violence and unrest due to soaring inflation and chronic shortages of basic goods, as well as Maduro's increasingly dictatorial regime that has clamped down on the opposition.
During his encounter with the Pope, Ramirez shared how, since fleeing from Venezuela to Panama three years ago, he had been helping teenagers in a theatre group to perform Catholic plays such as the Passion of the Christ, and showed him photographs of some of their performances.
"I told him that we're looking forward to him visiting Panama in 2019 for World Youth Day and he was very happy," he continued. "I then asked for a special blessing."
Ramirez said his girlfriend "had no idea" what was about to happen. "She thought we were just going to talk about Venezuela and the theatre group. But I then said to the Pope: 'There's a third thing I want to ask you.'"
"I could see that Maryangel was thinking: 'What's he going to do? Is he going to ask for a selfie?' She was shocked. I explained to the Holy Father that the woman next to me is the woman of my life. I met her in church, that God put her in my life, and I want to propose to her. So I got down on one knee and asked."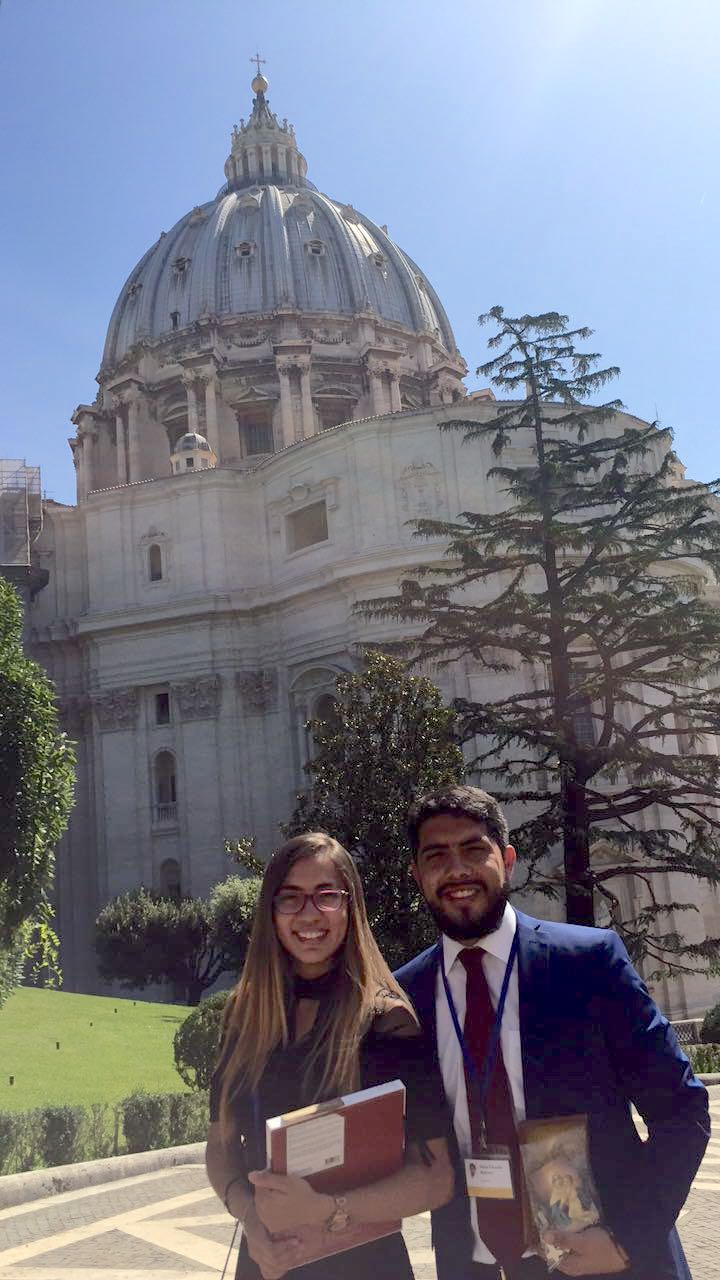 Pope Francis said: "Wow, in front of the Pope!," Ramirez recalled, and added: "She's not speaking — he asked you to marry him, what do you say?"
"She said: 'Of course, yes!' And he blessed us right in front of us," Ramirez recounted.
The other delegates, in Rome for an annual conference held by the International Catholic Legislators Network — a group that aims to encourage and strengthen Catholic politicians from around the world in faith and fellowship — erupted in cheers and applause. "Everyone was excited," Ramirez said. "The African delegates made the loudest noise, singing and cheering."
Some of the parliamentarians present said they wanted to go to the wedding, and other delegates wished them well. "They were very happy for us," said Ramirez, as was Cardinal Christoph Schönborn, ICLN's patron, who gave Ramirez permission to propose in front of the Pope. "I said this is for the history of the ICLN," Ramirez told the cardinal, who replied: "This is for the history of the Church!"
"The Pope was very surprised; the people from protocol were a little mad, but in the end we all laughed a lot," Ramirez said.
The proposal came after much prayer, but also a realization of how God has guided and helped him since fleeing Venezuela.
He met Maryangel 18 months ago, in a Panamanian church, and 6 months ago started thinking about marriage. "I prayed for guidance, and when I had decided, I wanted to propose in the best way I could," he said.  
Ramirez had met the Pope at a previous ICLN meeting in 2015, and explained to him the crisis in Venezuela. But last year he was unable to attend the conference as his Venezuelan passport had expired and it was impossible to have it renewed without being arrested.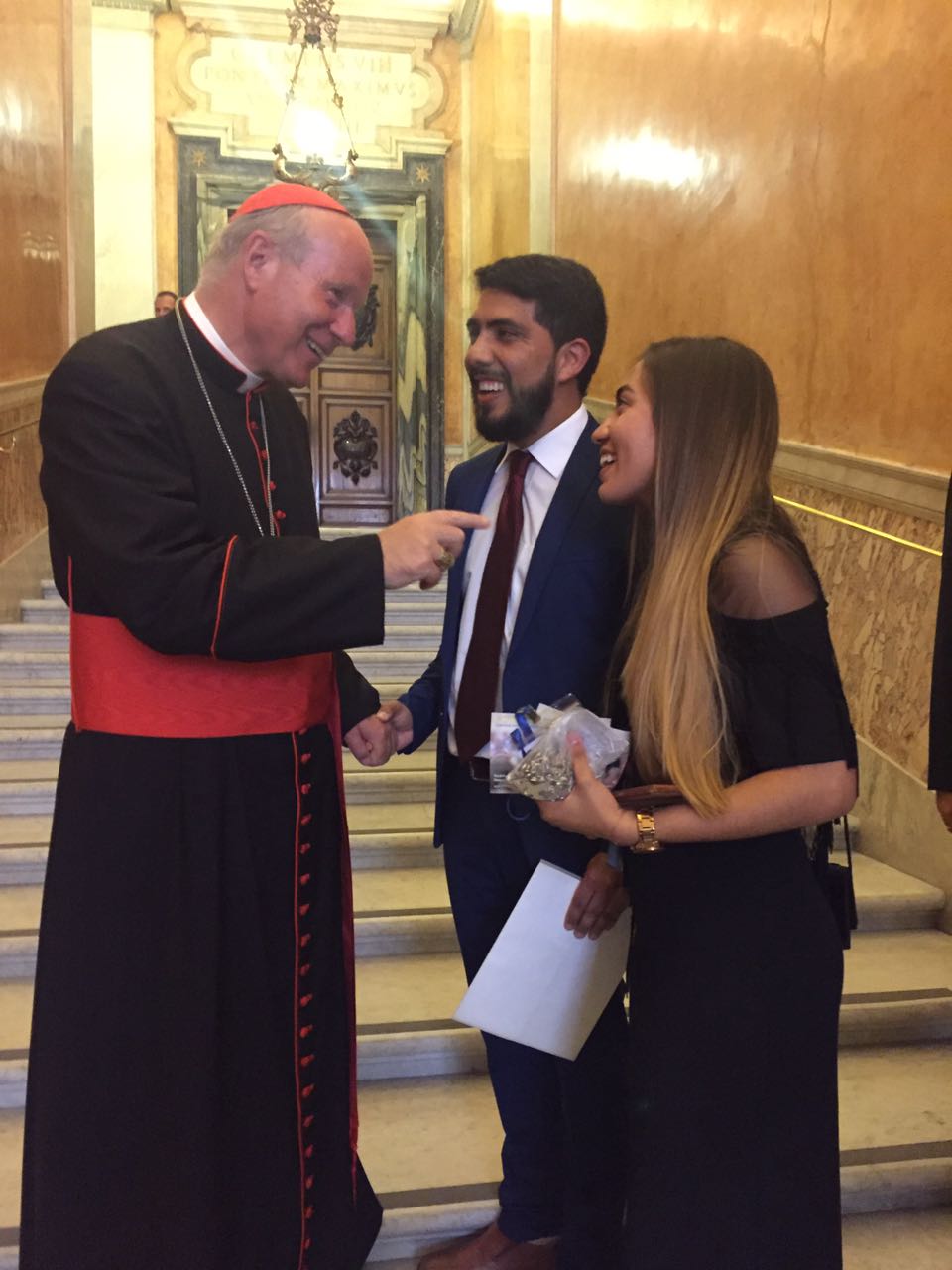 After a long fight, he obtained a "refugee passport" — the first in Panamanian history — and then started wondering if he could then propose in front of the Pope. Some friends paid for him to travel to Rome and, with some training from a jewelry maker, he made the engagement ring himself.  
He is now campaigning for others like him to receive a refugee passport. "A lot of people need this," he said. "I really want to help them."
Within the context of the memorable proposal, Ramirez also wanted to share an important message of faith.
"Three years ago I lost everything," he said, adding that his escape from Venezuela was a miracle. "I lost my employment position, I had to leave home, for three years I haven't been able to return to Venezuela. I miss my friends, I miss my family." 
"I was lost and the only thing I could do was to go to the local church and help these teenagers in the theatre," he said. "I am very happy to help God in any way I can, and I've been trying to help Venezuela from outside the country, too," he said.
"A very good friend of mine said: 'When you put your talents in the service of God, the impossible happens.'"
"Even in my wildest dreams," Ramirez said, "I never thought that this would happen."
Ramirez's theatre group is on Instagram under the handle: @teatrolacaleta
Photos and video courtesy of Dario Ramirez.