Vatican Prepares for Beginning of General Congregations
Every cardinal will have now received the letter of Cardinal Angelo Sodano, dean of the College of Cardinals, summoning them to the first General Congregation, as provided for by the Apostolic Constitution "Universi dominici gregis".
In the letter (pictured), also sent by email and fax, Cardinal Sodano writes that the first General Congregation will take place on Monday, 4 March, at 9:30am in the Paul VI Aula, Synod of Bishops' hall.
He then states that the General Congregations will then "continue regularly, until the complete number of Cardinal electors has been reached and the College of Cardinals then decides the date of entrance into Conclave of those Cardinal electors as prescribed by the recent Motu Proprio of this past 22 February concerning some changes to the rules regarding the election of the Roman Pontiff."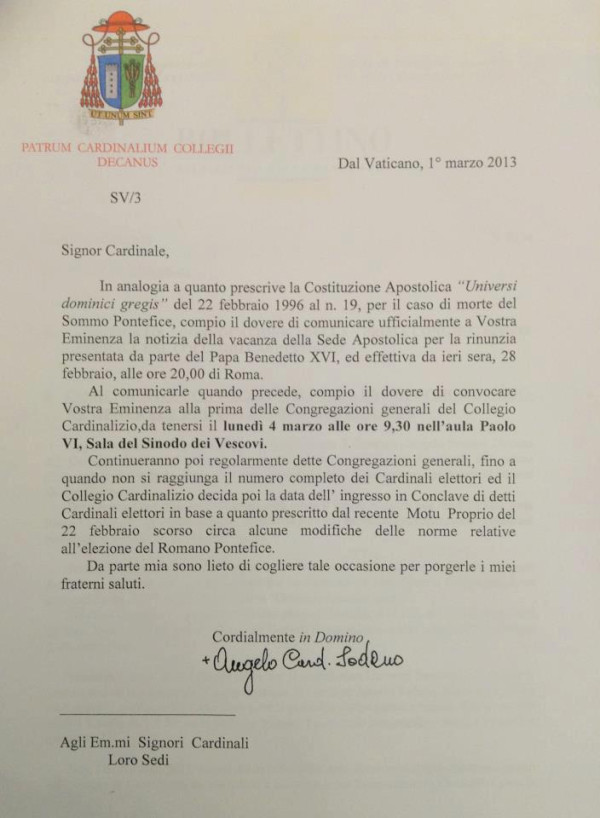 Vatican spokesman Father Federico Lombardi said yesterday it's not likely a date for the Conclave will be set on Monday as cardinals are still arriving in Rome. A second General Congregation is also scheduled for 5:00pm on Monday. 
Meanwhile, at a Vatican press briefing today, Fr. Lombardi made the following points:
* the Sistine Chapel has not yet been closed to prepare for the conclave, since the order to begin preparations must be given in the General Congregation.
* a special prayer for the election of the new Pope is being said before each Mass in St. Peter's Basilica, and a group of contemplative religious sisters from Mexico has arrived to pray for this intention in the Basilica. They will pray in the basilica's Blessed Sacrament Chapel where adoration takes place daily from 8am-4pm. 
* just as two voting cardinals (from Edinburgh and Jakarta) have said they will not be attending the vote, some non-voting cardinals will also not be participating in the general congregation due to ill health. 
* Cardinals continue to arrive in Rome, joining the 75 who live here full time.
* a journalist raised the question whether a new prayer for the special intention of a retired pope will be inserted into the Mass. Fr. Lombardi said Msgr. Guido Marini, Master of Pontifical Liturgical Celebrations, is best equipped to answer that.
* Father Lombardi also recommended the reading of "Roman Triptych: Meditations," Pope John Paul II's poem on Michelangelo's Last Judgement which was published in 2003. The introduction to the book was written by Joseph Ratzinger. (H/T Fr. James Bradley)