Tis the Year for Fatima Reading: 2 New Books, a Classic, and a Bonus
Here are 3 books I've enjoyed reading this year (and one from a few years ago)
'Tis the year for Fatima reading, and with good reason!
It's no small thing that 100 years ago, Our Lady appeared to three shepherd children in Portugal.
And in 100 years, we have had plenty of time to digest this. There are plenty of books, and this year especially, there's no shortage of books.
Our Lady of Fatima, by William Thomas Walsh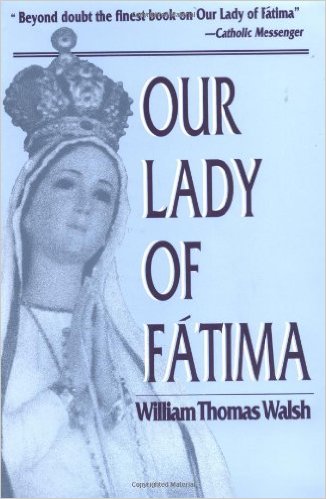 For me, it started with the book club at SpiritualDirection.com. I not only read the classic Our Lady of Fatima, by William Thomas Walsh (Image, 1947), I also wrote about it on alternating weeks.
Walsh actually traveled to Fatima and talked with the parents of the children and interviewed Lucia, one of the visionaries, more than once. He studied her writings, and went in-depth on things in a way that someone with years of journalistic experience will.
That makes this book quite a read. It seemed, at first, to be dry and a bit like a textbook, but as I continued on, it started unfolding in my mind like the drama it was.
Reading this book was a lot like reading the source material, being beside the witnesses who were beside the children. I noticed, in other books I read, that this book was highly referenced — and with good reason!
It also chronicles how the children's spiritual lives developed — and how could they not? They were being visited by the Mother of God!
When you read this book, you travel through the history of the apparitions step by step, week by week. At the end, Lucia, Francisco, and Jacinta were truly people to me, not just lumped together as the three children of Fatima.
I could picture Francisco's hiding to pray (and bounding around like the little boy he was) and Jacinta's intense care for the conversion of sinners. And Lucia's rough relationship with her mother also struck a chord with me in a deeply personal way.
Their love for Jesus became something that inspired me in a special way: these children had an "in" to God, and they shared it in a beautiful way. Thanks to this book, we're able to look deeply into their lives and allow them to help us grow closer to Christ.
This excerpt, from Chapter 9, particularly struck me:
Jacinta was too unselfish to be able to dwell long or complacently on her own good fortune when there were so many others who would never share it. To her the sight of gehennah was like a gate opening upon a steep road of asceticism. "I think I would like down a thousand lives to save one soul of the many I saw being lost," wrote Saint Teresa of Jesus after a similar experience , and the little serrana of Aljustrel was so stricken with the same noble pity that she acquired a thirst for penance to which Lucia could apply only the word "insatiable." Other Christians accepted hell on faith, because Christ had said repeatedly and with solemn emphasis that there is a hell, but Jacinta had seenit; and once she grasped the idea that God's justice is the counterpart of his mercy, and that there must be a hell if there is to be a heaven, nothing seemed important to her except to save as many souls as possible from the horrors she had glimpsed under the radiant hands of the Queen of Heaven. Nothing could be too hard, nothing too small or too great to give up.
Our Lady of Fatima: 100 Years of Stories, Prayers, and Devotions, by Donna-Marie Cooper O'Boyle
In this book (Servant, 2017), Cooper O'Boyle highlights what must have been a towering stack of source material.
The book's arranged so that there's an overview then a closer look at each section of the apparitions. It ends with a discussion of why Our Lady of Fatima is important to us today.
As you dive into each chapter, you don't just find the facts (though they are there), but you also get the results of interviews and conversations Cooper O'Boyle had with a number of people, sprinkled with the writings of popes and other influential Church leaders, such as Fr. John Hardon and St. Teresa of Calcutta, both of whom Cooper O'Boyle knew personally.
In addition, there is "A Time to Reflect" and "In My Own Life" section at the end of every chapter. These make the material more personal: it's about more than just reading the history (captivating though that is). It's just as much about applying the lessons and letting the messages of Fatima make a difference in your life in the here-and-now.
There is also a prayer at the end of every chapter, one which makes the book such a different experience than just reading for information.
There's as much research as there is reflection in this book, which makes it quite an addition to any Catholic bookshelf. This book marries the facts with the devotion and gives those of us in the trenches great ways to apply it to our everyday lives.
This excerpt comes from the end two sections of Chapter 8, which delved into Lucia's religious life and the apparitions at Pontevedra and Tuy, Spain:
A Time to Reflect

We might think that our spiritual lives are going to be smooth and easy. But God often leads his children on demanding paths to perfection. Even as a child, Lucia took on many sacrifices and penances to help save souls. At one point in religious life, Sister Lucia wrote, "I no longer ask for further suffering." This was because she desired only "what His Divine Mercy deigns to send me."

The Angel of Peace's words to the three young shepherd children, which remained in Sister Lucia's heart were: "Make of everything you can a sacrifice, and offer it to God, as an act of reparation for the sins by which He is offended, and in supplication for the conversion of sinners. You will draw down peace upon your country…. Above all, accept and bear with submission, the suffering which the Lord will send you."

In My Own Life

Our Lady of Fatima calls us to make sacrifices and do penances so that we can help save souls. But let's not forget to offer up our daily duties. Remember, the Angel of Peace told the children, "Offer up everything in your power as a sacrifice to the Lord in reparation for the sins by which He is offended, and in supplication for the conversion of sinners…. More than all else, accept and bear with resignation the sufferings that God may send you." Remember to start every day with a Morning Offering so that your prayers, works, joys, and sufferings can be redeemed by Jesus and transformed to help your soul and the souls of others you serve. Try your best to offer up all of your inconveniences, sorrows, and pain to God, asking for the grace you need, that all of it can be used for the good.

Can you make the commitment to make the First Five Saturdays? Even if you have done so in the past, countless graces await you in the next Five First Saturdays. As well, countless souls can be saved by your small sacrifice. The Blessed Mother even guarantees to assist us at the hour of our deaths. Why are we not embracing this First Saturday devotion? But, let's do it for love for Our Lord, Our Lady, and to help save souls.

Prayer

Dear Lord Jesus, I pray to offer my life to you — every single moment, every breath I take. Our Lady of Fatima, please grant me the graces to be a generous soul for the salvation of souls. St. Joseph, and all of the angels and saints, please pray for me. Amen.
Fatima: The Apparition That Changed the World, by Jean M. Heimann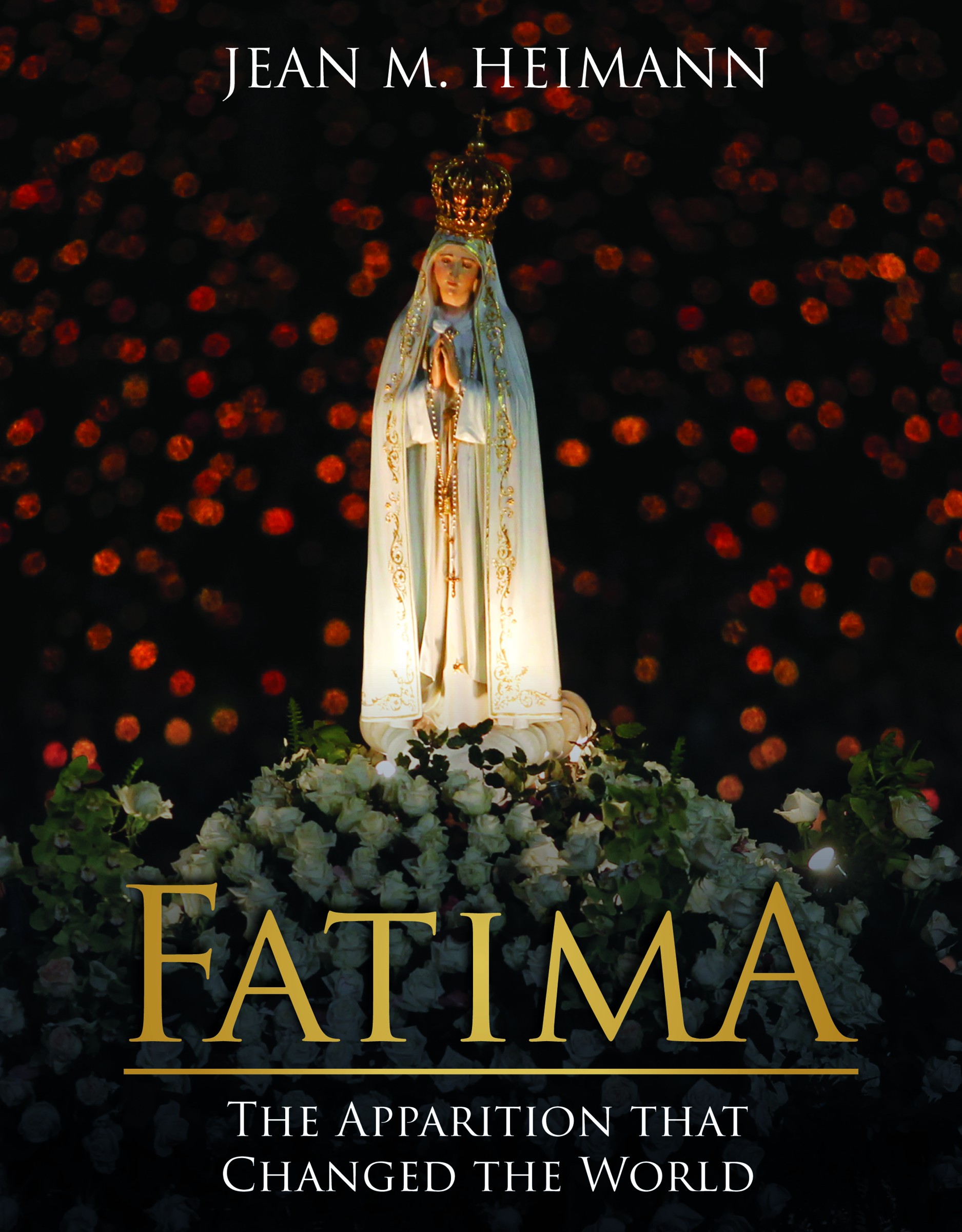 What I expected when I heard this book (Saint Benedict Press, 2017) was on its way to me was far different than what I received.
For one thing, this is not just a book. This is a piece of art.
The folks at Saint Benedict Press have managed to make a coffee table book into something purse-sized and accessible.
This book is under 150 pages, with nine chapters' worth of information, including all that you would expect in a book about the apparitions of Fatima.
It also has many (73, counting everything) full-color photographs and works of art throughout, making it a different sort of experience to read, because you can't help but be engaged by the images that are included. Mind you, some of the images are stock photos and general photos of Fatima as it is today. But even so, this is a different kind of book than any of the others I've read about Fatima.
The book begins with a timeline, which puts all the dates related to the Fatima events in one place. It then continues to introduce you to each of the children, including photographs.
I've seen photographs of the three children before, but after all this reading I've done this year, these photos struck me differently (Or maybe it's that they're on a glossy, heavy weight paper.)  These aren't the happy, smiling kids who dance up and down my hallways at home, but rather serious young people. (It's also a different time and place, I know.)
The book then tells the story of each of the apparitions and the accompanying drama. There are pauses, as well, to discuss the lessons from each apparition and even a few sidebar type pages that describe supporting material, such as the 15 promises of the rosary and meaning of the Immaculate Heart of Mary.
I especially enjoyed seeing the high-resolution scanned images of the newspapers of the day. In some ways, going through this book felt like going through my grandma's old photo albums or scrapbooks (except that the pictures are explained far better).
Punctuating the black-and-white photos are present-day photos, including some from views I haven't seen of Fatima and relevant photos of various popes.
All in all, this is a fabulous little book. It's packed with information. I love how visual it is and how much the photographs add to the context and experience of reading and learning about Fatima.
Here's a taste from the conclusion:
In 1917, Our Lady, the Mother of God, appeared to three simple, uneducated shepherd children from the obscure village of Aljustrel, Portugal, to give them a message that she wanted them to put into practice in their own lives and to proclaim to all mankind. Through her appearances at Fatima, Our Lady came to save the souls of her children from hell and to instruct those who would incline their hearts to her in the way to bring peace to a warring, broken, and godless world. Her message was one of warning but also one of hope.
BONUS: Fatima for Today: The Urgent Marian Message of Hope, by Fr. Andrew Apostoli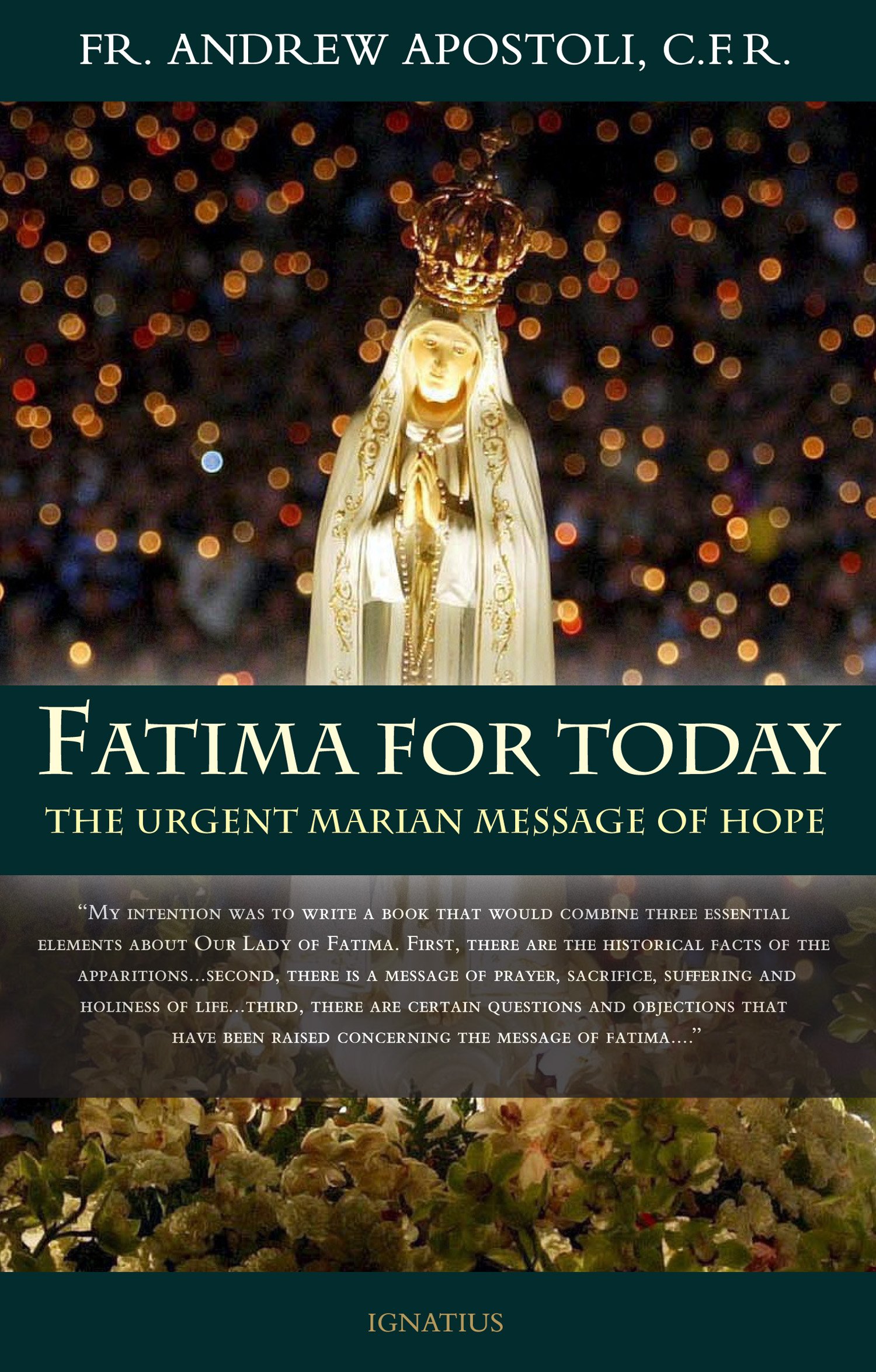 A few years ago, I read Fr. Andrew Apostoli's Fatima for Today: The Urgent Marian Message of Hope (Ignatius, 2010). I read it in the midst of researching and writing about titles of Mary over the course of a couple of years.
It made the message of Fatima come home for me. Not only does Fr. Apostoli share the facts, but he delves into background that makes the facts relevant to me today, now, here. He transforms the three visionaries–Lucia, Jacinta, and Francisco–from saintly figures in a holy card into real people who struggled and yet courageously gave as Mary asked them to.
I found Fatima for Today to be and invigorating read and a page-turner. Good storytelling  will do that to me, I guess, whether in the pages of a novel or in a well-written account of a Marian apparition.
One night, after reading the book, one of the ones where I was up countless times and feeling bleary about five minutes into the first sleep interruption, I found myself praying for the reparation of sinners and for the triumph of Mary's Immaculate Heart. In the midst of praying that way, I had a moment of wonder. Where did THAT come from? I wondered. And then I remembered: Fr. Apostoli covers in-depth just what it means and why it should be something we all do in a knee-jerk, devoted, all-the-time way.
The messages of Fatima aren't restrained to a time and place. In fact, they're more applicable to us today than they've ever been!
Do you find yourself wondering (or even worrying) about conflicts with Muslims and Christians? Are you interested (or even anxious) about the growing secularization of our formerly Christian culture? Is there an intention (or 17) that have you floored and desperate?
This book outlines, brilliantly, the message of Fatima and how it matters to YOU, to ME, to each of us. It gives purpose to our prayers, explains the first Saturday devotion so clearly I can probably teach it to others now, and, in general, is a handbook we should all read and reference as we dive into the most important praying we can do.
Here's a short excerpt that I had highlighted from my initial reading, and upon rereading, it has me wanting to dig back into this book (even though I have other, unread Marian books to delve into…):
Peace in the world must begin with peace in the human heart. If the heart of each person possesses peace, then that peace can be shared with the family, the local parish community, the neighborhood, the nation, the entire Church and ultimately the whole world. Peace, whether personal or worldwide, is ultimately a gift from the Lord. Jesus gave this gift to his disciples at the Last Supper when he said: "Peace I leave with you; my peace I give to you; not as the world gives do I give to you." (Jn 14:27). […] The peace of God keeps us focused on reality, and God is the greatest Reality! If our hearts are at peace, we are not agitated or anxious over things we cannot control such as the past or the future. Rather we live in the present moment with great trust that everything is in God's hands. The person with God's peace knows that everything in this world and everything in our personal lives are guided by God's divine wisdom and providence.