Three Books for Family Living and Thriving
Family life is hard, no way around it. All that joy, crammed into a tiny space, and before long there are bound to be explosions.
This group of newish releases may be just what you need to rejuvenate yourself and remind yourself of all the reasons to smile, with some new ideas, tools, and inspiration to feed you.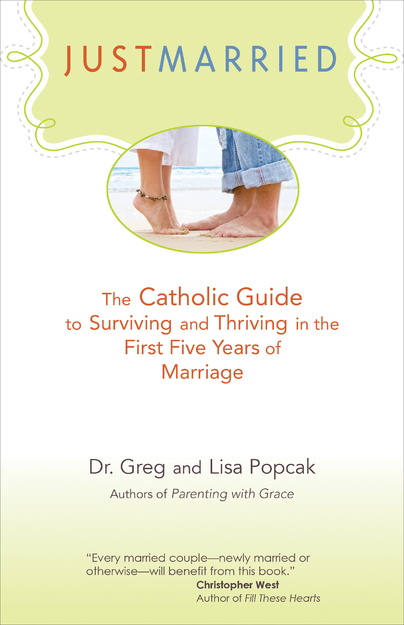 Sometimes, the wedding bells aren't even done ringing before you start to wonder just what you've gotten yourself into. Greg and Lisa Popcak's Just Married (Ave Maria Press, 2013) is a frank look at how you can stay on the roller coaster that the first five years of marriage often presents.
Almost every newly married couple we encounter has two things in common. First, they are deeply in love with each other and rightly excited about the lives they are building together. They are passionate about each other, and hopeful about a bright future filled with blessings. But second, underneath that mutual love, joy, and hope, almost every newly married couple is also a little terrified. They wonder if they have what it takes to make it "until death do us part." Almost every couple we talk to in our years of marriage ministry ask us one basic question; "How can we know if we have what it takes to make it to 'happily ever after'?"
What makes this book a keeper (even for an old married lady like myself) is the tone the Popcaks take throughout. This isn't a preachy "here's the perfect answer" tome that you'll long to throw across the room. Instead, it's a good friend sitting on the other end of the couch, holding your drink and passing you the kleenex.
And then you have life with kids underfoot. The idea of a spirituality in the home is a great one, but if you're like me, it feels unattainable and theoretical. Enter Six Sacred Rules for Families (Ave Maria Press, 2013), in which Tim and Sue Muldoon admit that:
Now, full disclosure: our family doesn't perfectly reflect these rules every day—we doubt that anyone's family does or even can. We are not perfectly pious people, living blissfully conflict-free lives according to a preordained divine plan. Any parent understands that raising children is about living within the tension of knowing what is good for them (and ourselves) while at the same time negotiating the basic reality of what is happening right now.

[...]

Still, the rules (whether for nutrition, good psychological health, or—in this case—a strong faith life) help give us a compass point, both when the skies are clear and when there are storms.
While the rules struck me at first as more theoretical than I could ever accomplish as a wife and mom, the Muldoons break past the theory into practical application and solid advice. They go through an introductory section, a description of their six rules, and a section of application. 
This is the kind of book I'll be dipping back into, reminding myself of my priorities and the helps I have, encouraging myself (and my husband) on this parenting journey. This book is truly a toolbox between the covers of a slim red book.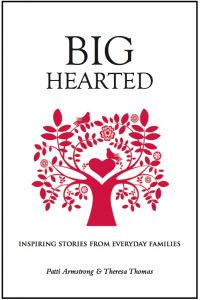 Big Hearted (Scepter Publishing 2013) is a compilation of essays edited by Patti Armstrong and Theresa Thomas. It captures family life through the lens of the everyday. Sixteen different contributors share insights into family life.
When most brides and grooms stand before the altar and say, "I do," little do they know the challenges that await them. While they dream about stepping over the threshold of their new home together, of babies and successful careers, they are mostly unaware of the reality around the corner. Settling into a new home may not happen for years; they may suffer miscarriages or face disability or disease. There may be the stress of the bills, to add to the challenge of loving daily.
Before you think this is just another version of Chicken Soup for the Soul, think again. This isn't just inspiration, this is solidarity. This isn't just an excuse to feel warm and fuzzy; this is your look into family life at its most painful and most successful, a dip into the turbulence of pain and cheering, a support for your own family no matter how large (or not so large) it may be.
All three of these books are great and not the "blowing hot air into my ear" kind of stuff I've come to expect from books that are billed to help me with my family life. They're practical and share-able. And I liked them all, which is saying something. They weren't just required reading: they were enjoyable reading.